Volunteer Day: CCC Bridge Trail Work
Event Dates:
December 16, 2023, 10:00 am
December 16, 2023, 2:00 pm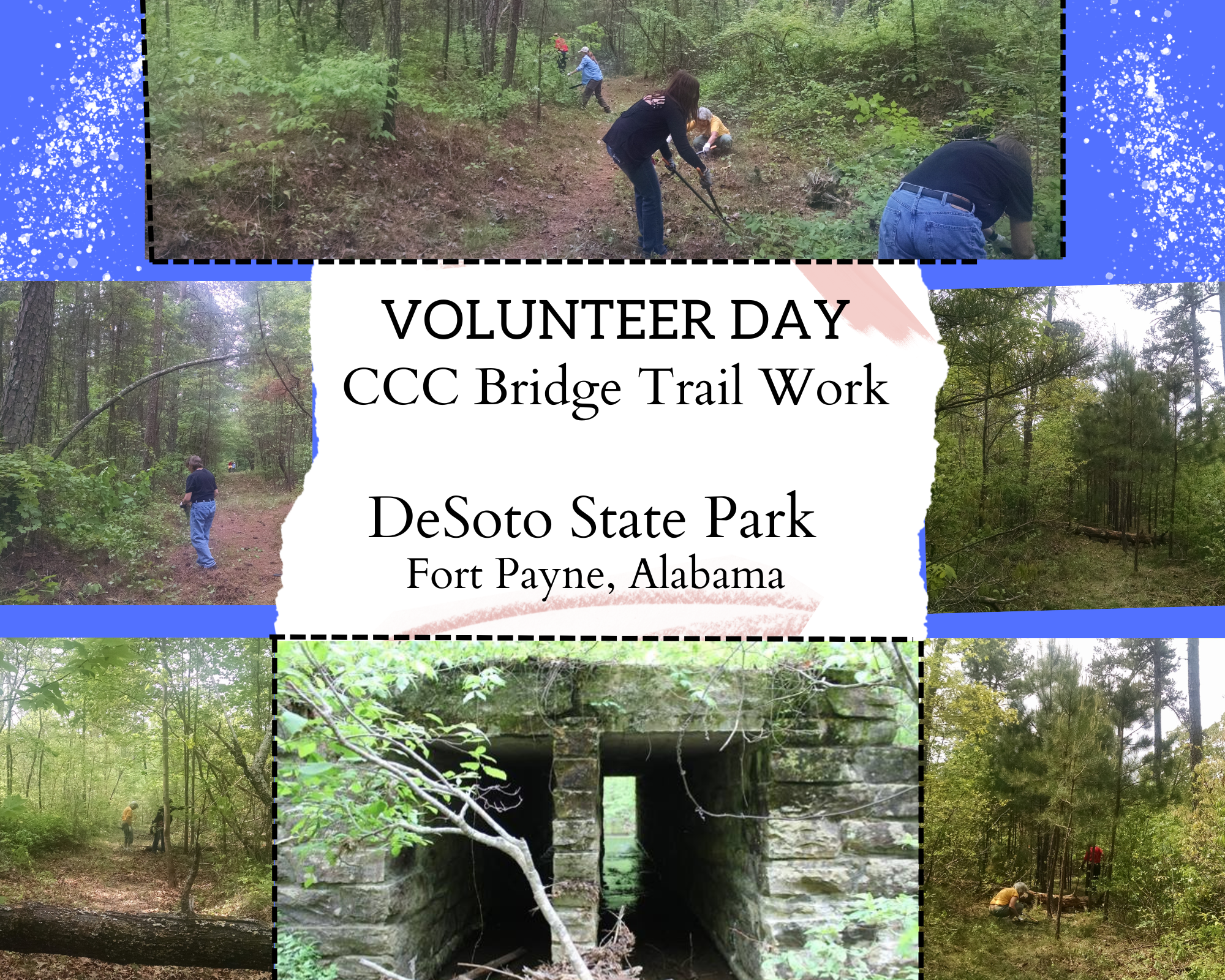 Based on the weather forecast, we are going to postpone the CCC Bridge work day until Saturday, December 16th, same time, same meeting place.
Events In & Around DeSoto State Park: www.alapark.com/parks/desoto-state-park/desoto-events
Volunteer Day: CCC Bridge Trail Work
Join DeSoto State Park staff for the CCC 'Unfinished Bridge' Trail Work Day, to work together to honor the legacy of the Civilian Conservation Corps (CCC) and embrace our servant hearts through community service.
The 'Unfinished Bridge' is a poignant reminder of the CCC's dedication to developing our state park. In the mid-1930s-early1940s, they embarked on several stone projects in the DeSoto State Park area including this bridge over Morris Branch. Their vision was to connect DeSoto State Park to May's Gulf, now known as Little River Canyon, via a direct highway. Sadly, their noble mission was left incomplete when the CCC disbanded in 1942.
_______________________________________________________________________
This historic bridge sits on state land within the Little River Wildlife Management Area, but the trail leading to it has fallen into disrepair over the years. Our mission is to revive this trail and ensure the bridge remains accessible and unspoiled.
The trail presents us with various challenges, from fallen trees to overgrown pine trees and brush. We'll work together to clear the path, making it safe and enjoyable for all who wish to experience this piece of history. Our long-term goal is to maintain the area by selectively removing smaller trees so that the bridge can be easily accessed and admired by generations to come.
Loppers will be provided on a first-come, first-served basis, but please bring your own gloves if you wish. Additionally, remember to pack bug spray, plenty of water/ sports drinks to stay hydrated, snacks/lunch, and wear appropriate footwear for the terrain. (moderate, uneven terrain)
Date: Saturday, December 2, 2023 (moved to December 16th)
Time: 10:00 a.m.-2:00 p.m. Central Time
Where: Meet at DeSoto State Park's Lodge-Parking lot; Fort Payne, Alabama. Caravan to location
Pre-registration is appreciated so we know how many to expect.  Email Brittney.Hughes@dcnr.alabama.gov for more info.
Sign up form: https://forms.office.com/g/nrmg0gqYdM
WEATHER: Please be sure to dress appropriately according to seasonal temperatures/weather. As with all outdoor events, if it is stormy or very poor trail conditions, we may have to cancel. If the weather is questionable, please call the park before you leave home to check if the workday is still on (256.845.0051). If cancelled, we will plan on another day.