Campfire Talk: Cherokee Trail of Tears
Event Dates:
October 7, 2022, 7:00 pm
October 7, 2022, 8:00 pm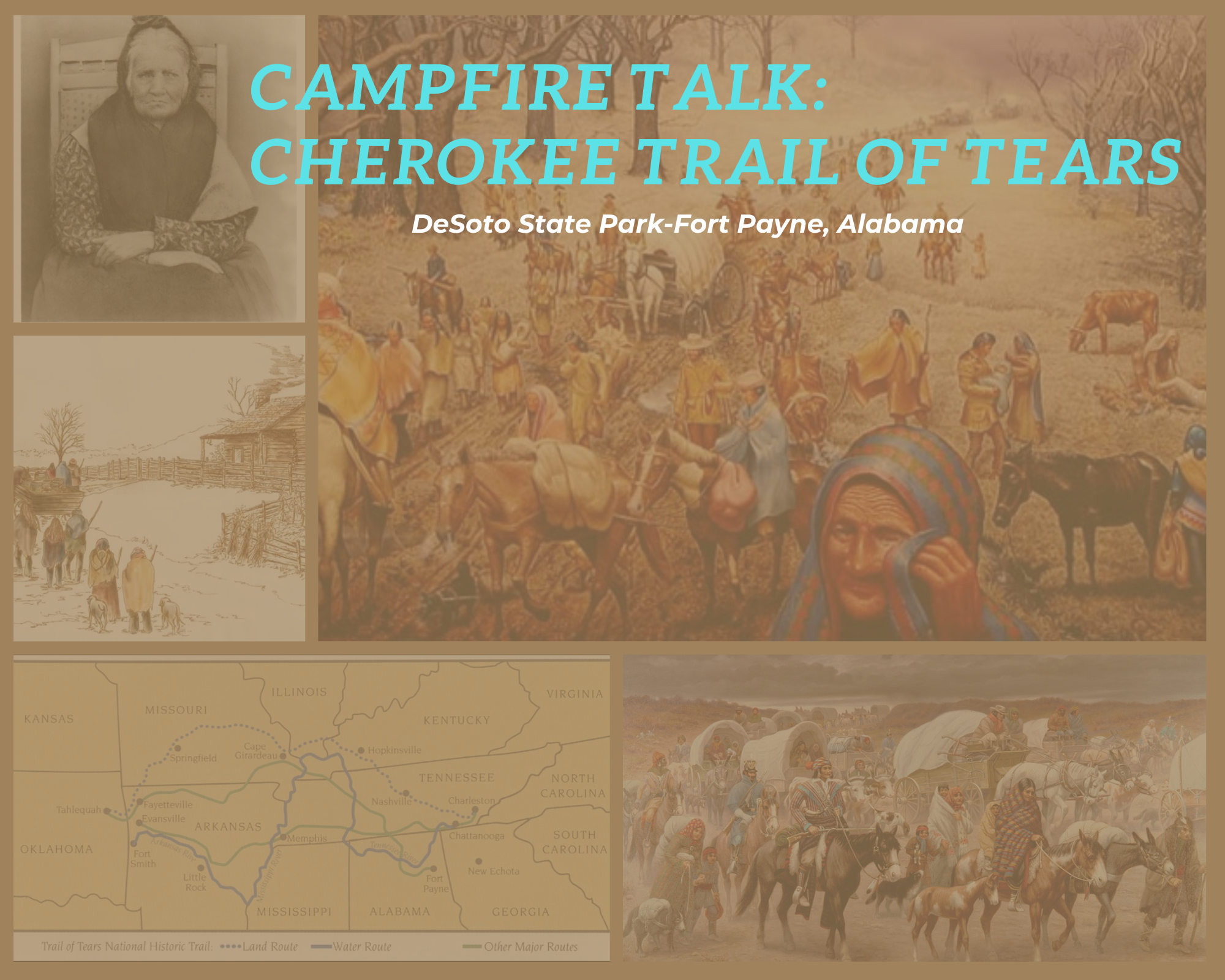 Events In & Around DeSoto State Park: www.alapark.com/parks/desoto-state-park/desoto-events
Campfire Talk: Cherokee Trail of Tears
Join us for a campfire talk in the Great Outdoors! Campfire Talks are a series of educational & entertaining programs located outside in DeSoto State Park. Campfire programs are held many Friday & Saturday evening (June –October) in our large campfire ring inside the improved campground. Talks are for all ages, & open to everyone!
In 1838, the Cherokee Nation -- with more than 16,000 men, women, and children -- was removed from their lands in the Southeastern United States to the Indian Territory (present-day Oklahoma) which resulted in the deaths of approximately 4,000 Cherokees. In the Cherokee language, the event is called Nunna daul Isunyi—"the Trail Where They Cried". Retired JSU professor Dr. Kelly Gregg will share the story of the Native American people before, during, and after this tragic chapter in our nation's history.
Date: Friday, October 7, 2022
Time: 7:00 p.m.
Where: DeSoto State Park-Fort Payne, Alabama. Campfire Ring in the Improved Campground (In case of inclement weather will be located in the CCC Pavilion in picnic area)
Fee: Free & open to everyone, no pre-registration required. For any details about the talk, email Brittney.Hughes@dcnr.alabama.gov