Fused Glass Jewelry Class
Event Dates:
November 16, 2019, 10:00 am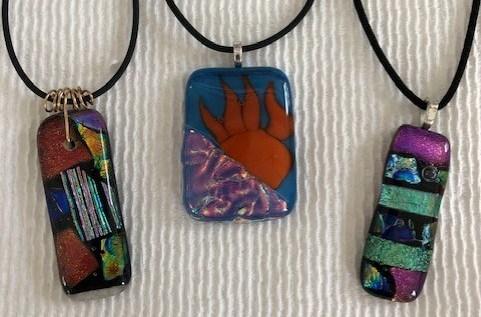 Events In & Around DeSoto State Park: www.alapark.com/parks/desoto-state-park/desoto-events
Fused Glass Jewelry Class
Hosted by JSU Field Schools
Learn the basics of creating your own fused glass jewelry. Create a gift for yourself or a holiday gift for a friend or family member! Join artist, Linda Munoz, to learn the basic steps to making a fused glass pendant. In this class, Linda will guide you to fuse pieces of glass together to create pendants. Each participant will learn the basic skills and take home their very own creations.
Linda Munoz has been working in the medium of glass since 1980 and has been teaching fused glass jewelry classes for over 15 years. Her work in glass mosaics can be seen at Camp McDowell, the United Nations Worship Center, Tuscaloosa, and many other locations. In 2014, Linda was one of four artists selected to make art awards for the 2014 Alabama Launchpad Innovation Awards Ceremony in Birmingham.
This class will meet on Saturday, November 16th beginning at 10 am and then on Sunday, you can return at 2 pm to attach the finishings and take your items home. If you are unable to return on Sunday, Linda will attach the finishings for you and you can pick up your items at a later date from the Canyon Center. Each participant will make 3-4 pendants by the end of the workshop. All materials will be furnished. Class is for ages 14 and up.
When: Saturday, November 16, 2019
Where: JSU's Little River Canyon Center in Fort Payne, Alabama (within 10 miles of DeSoto State Park)
Time: 10 am (CST)
Fee: $50 per person. Pre-registration required by calling 256-845-3548 and speaking to Niki (Monday-Friday 8 am-2 pm); class number is limited to 10. For details, 256-845-3548 email jwayner@jsu.edu
*please note: This event is not hosted by DeSoto State Park, only shared in our Calendar of Events. For details please see the info above