Mentone Fall Fest Kickoff Concert
Event Dates:
October 20, 2023, 7:00 pm
October 20, 2023, 10:00 pm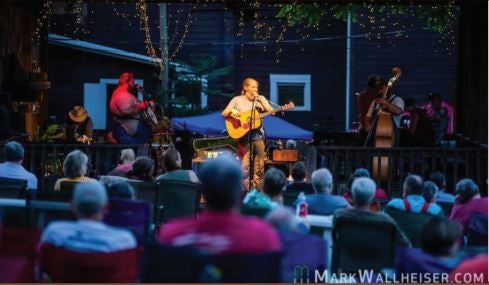 *please note: This event is not hosted by DeSoto State Park, only shared in our Calendar of Events. For details please see the info below
Events In & Around DeSoto State Park: www.alapark.com/parks/desoto-state-park/desoto-events
Concert: Mentone Fall Fest Kickoff Concert
Will Dooley & Company
Enjoy Mentone at night-this free concert will be held at the Linger Longer Pavilion (behind the Mentone Inn in downtown Mentone). Seating on the lawn is limited, so bring a chair or blanket to enjoy an evening under the stars! Food will be served by Fontastic Foods beginning at 6:00 p.m. until they run out.
The town of Mentone, Alabama will host its first annual Mentone Fall Festival, a single-day arts and crafts event  the next day, October 21st.
Date: Friday, October 20, 2023
Time: 7:00—10:00 pm
Where: Mentone Inn in Mentone, AL (within 10 miles of DeSoto State Park)
Address: 6139 AL-117, Mentone, AL 35984