Meandering Moonlight Guided Paddle
Event Dates:
September 14, 2019, 7:00 pm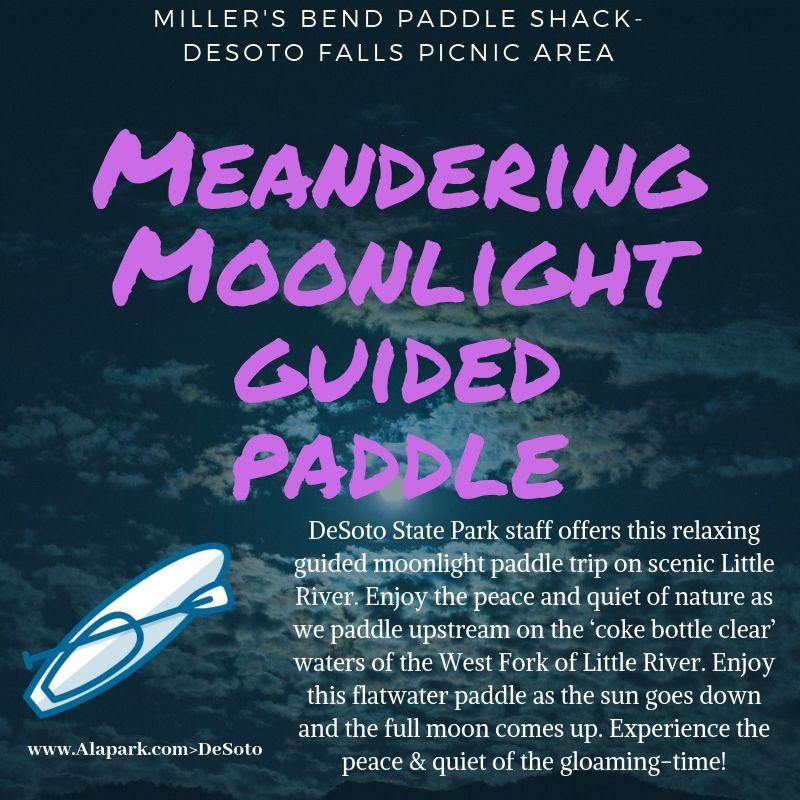 DeSoto Falls Picnic Area-Alabama
DeSoto State Park staff offers this relaxing guided moonlight paddle trip on scenic Little River. Enjoy the peace and quiet of nature as we paddle upstream on the 'coke bottle clear' waters of the West Fork of Little River. Enjoy this flatwater paddle as the sun goes down and the full moon comes up. Experience the peace & quiet of the gloaming-time!
What to know: This trip is approximately 4 miles round trip on flatwater, spans a 3 to 3 1/2-hour period and includes kayak, paddle, & personal flotation device. Groups are small and intimate and range from 2 to 10 participants. Weight limits: 300 pounds for singles & 450 for tandems
What to bring: headlamp or flashlight, bug spray, snacks, and drinking water.
Date: Saturday, September 14, 2019
Time: 7:00 pm-10:00 pm
Where: Meet at DeSoto Falls Picnic Area-Miller's Bend Paddle Shack (about 7 miles from main park area of DeSoto State Park) 
Coordinates: 34.549124, -85.589668.
Fee: $25.00 for single kayak rental (tandem kayaks are available on a limited basis)
Pre-registration closes September 13th by 5:00pm. email Scottie.Jackson@dcnr.alabama.gov to pre-register. Email a phone number, indicate number of boats and what type requested. Payment is due at time of registration.