Outdoor Classroom
Event Dates:
November 20, 2019, 9:00 am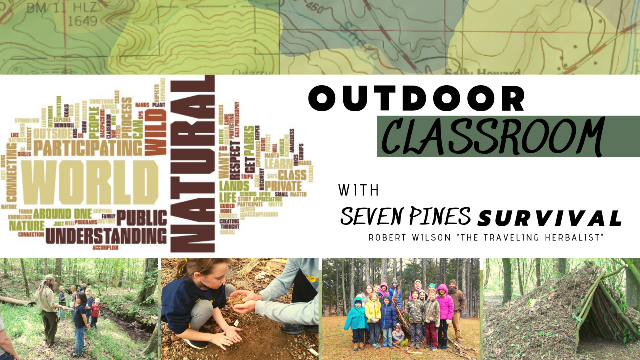 Events In & Around DeSoto State Park: 
With Seven Pines Survival
All ages and for the whole family, this is an outdoor adventure with learning, exploration, skills, and good fun outside. You can expect spending the day outside participating with nature and getting a chance to learn from the natural world and what it has to teach. You will learn hands-on skills to help you understand and inhabit the natural world around you. Meet other families with the same interests, share skills and stories, children will get to make new friends, learn important social skills, play outside, play games that encourage learning and using their senses as well with teamwork and communication skills. Parents will have a chance to meet and learn from other parents, learn how to do outdoor activities in a safe and productive way, and have the opportunity to pass on what they know to not only their kids but other families.
This event is organized by Seven Pines Survival with your teacher Robert Wilson "The Traveling Herbalist" which has been teaching outdoor, hands on and environmentally friendly educational skills to kids and families since 2014. Our practice with outdoor education and hands on teaching have led to a good partnership with multiple State Parks, Youth Organizations, schools, and other non-profits.
Date: November 20, 2019
Time: 9:00am – 1:00pm (4hrs)
Where: DeSoto State Park-Fort Payne, Alabama
Fee: $5 for single child and parent or $10 for the whole family. To pre-register, contact: Seven Pines Survival, Robert Wilson at sps@sevenpinessurvival.com or Call (209) 559 – 0040. Minimum class size required.
What to bring: outdoor clothes (weather dependent), closed toe shoes, water bottle, snacks, lunch, and a blanket to sit on.