Campfire Trail
This trail begins and ends in the northern section of the Park. Rated primarily moderate with several steep areas, this trail is approximately 1.8 miles in length and marked by a yellow trail blaze. The three connectors, blue, white and orange, are approximately 1/5 mile each. During the spring, white dogwood, buckeye and oak leaf-hydrangea paint the hardwood ridges with brilliant color. This trail traverses both mixed hardwood forest and intermittent pine. Midway up the trail, a series of rock outcroppings occurs bordered by an abundance of ferns. Toward the end of the trail, a small stream bisects the path leading south. Thanks to the Vulcan Orienteering Club and Eagle Scout Josh Sumner for the Wind Creek Orienteering Course. 
Wind Creek Orienteering Course Map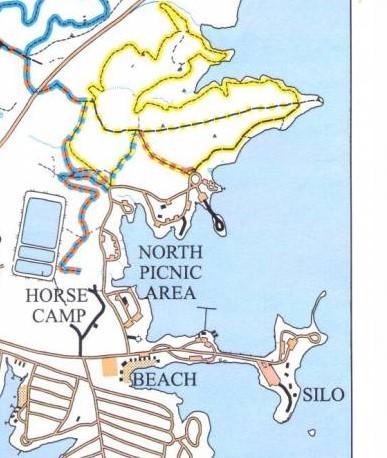 In the above map the Campfire Trail is highlighted in yellow.