Hiking
Hiking
Pack a picnic lunch and head out for a day exploring the ridges, waterfalls, and river in beautiful DeSoto State Park. Located on Lookout Mountain, DeSoto State Park has over 35 miles of hiking trails, including 11 + miles of mountain bike trails in the main area of the park. Most interconnect with each other, while others take you into more remote areas. DeSoto State Park's trail system boasts interesting rock formations, small seasonal waterfalls, a variety of diverse plant communities, plentiful animal life, and beautiful views of the West Fork of Little River, which flows downstream into interconnecting Little River Canyon.  
Trail Information
Terrain on the trails can vary from 'easy' to strenuous.
Alabama State Park printable maps, interactive maps & Google Earth files can be found here
Please be sure to find out what type of terrain a trail might have before setting out; they might be more difficult than you think. Printed trail maps can be found at the Lodge, Country Store, & Nature Center.
For more info on any of the trails, call 256.997.5025 or email us. Dogs are allowed on DeSoto State Park's Trails as long as they are on a leash at all times.
DeSoto State Park Scavenger Hunt
Talmadge Butler Boardwalk Trail Tree Scavenger Hunt (PDF)
Hiking Tips
1. Whether you are a day-hiker or a more adventurous one, being informed is the best way to stay safe on the trail.
2. Wear appropriate clothes for the season, AND footwear. Tennis shoes & hiking boots are recommended no matter what terrain. Open-toed shoes are not appropriate for DeSoto State Park's mountainous terrain.
 3. Take plenty of water and snacks, depending on length of hike. Hiking takes up a lot of energy, so even if you are not going out for long it is better to be prepared.
4. Be informed. Whether it is just taking a trail map from DeSoto State Park's Lodge or Country Store, or asking for directions, it is important to 'know before you go'. It is also important to consider your limits when it comes to the physical aspect of the trails.
5. Stay on the trail- all of DeSoto's trails are marked with a color blaze along the way denoting where the path goes.
6. Be sure to give yourself plenty of time before sundown to finish your hike. The trails close at dusk.
7. Watch your step- watch out for obstructions in the path and be careful of where you place your feet & hands. Have fun & be safe!
The Talmadge Butler Boardwalk Trail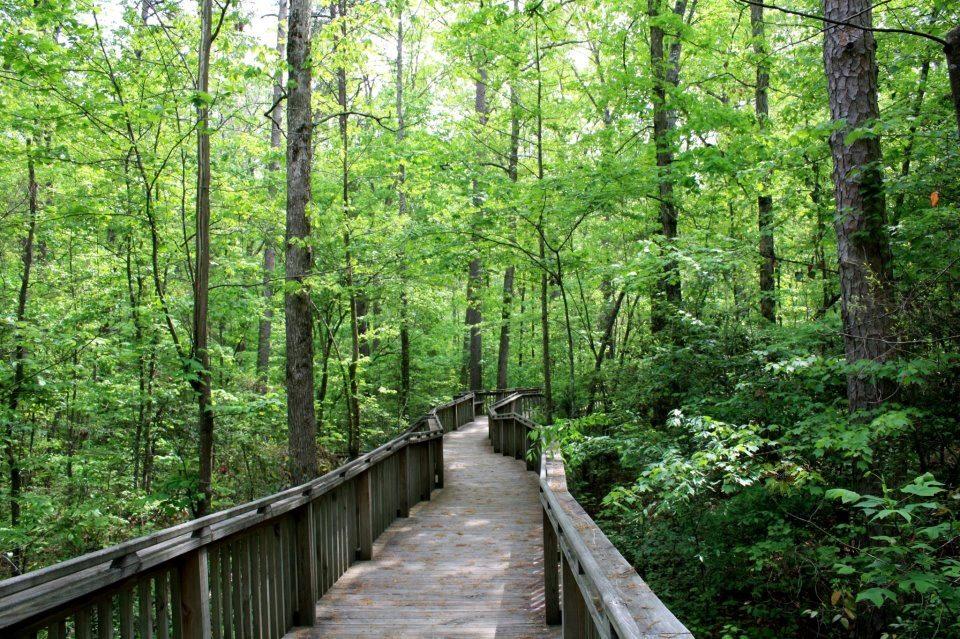 The Talmadge Butler Boardwalk trail was planned and built through a community effort headed by former park superintendent Talmadge Butler. Grants and donations paid for the materials used to build the trail. It was constructed by the Alabama State Parks Maintenance Crew.
The Boardwalk is a 360-yard trail that can be enjoyed and traveled by people of all abilities.  No matter what the season, the boardwalk gives the hiker a unique perspective of the surrounding habitat.
A 20-foot octagon deck at the end of the trail places you over the pool created by the Azalea Cascade.
Wildflower Blooming Season usually ranges from March-November. Fall Color peak is historically sometime from the first of October thru the middle of November. The Talmadge Butler Boardwalk Trail (at Azalea Cascade) is also part of the North Alabama Birding Trail!
The H. Stanley Sims Native Plant Area, a restoration project by DeSoto State Park & Dekalb County Master Gardeners.
Located near the Lodge on Blalock Drive-Fort Payne. An easy 1,000 foot walking loop
This native plant area is a restoration project to return the area to its natural state. In the early 2000s, a combination of an ice storm and Southern Pine Beetle damage caused most of the trees to be taken out. Over time the area grew up quickly and needed some attention. In the middle 2000s, then-Park Superintendent Tim Whitehead asked Stanley Sims, a staff member on the maintenance crew to develop a plan for the rehabilitation of the area. Stanley being a member of the Alabama Master Gardeners and a plant enthusiast was eager to help. Over the years many hours have been dedicated to this area by DeSoto park staff, master gardeners, and volunteers. A gravel path was created, an overgrowth of pine trees and sweet gums were continuously thinned out, & other native trees & plant species were put in place.
With the help of Stanley and the Dekalb County Master Gardeners several grants have been obtained over the years for this project. The partnership with DeSoto State Park continued with a mosaic glass bench project in 2022. Concrete garden benches were turned into works of art and installed along the gravel path providing points along the way for rest and reflection.
This area continues to grow with educational signage coming and will be used for continued environmental education into the future. This small piece of DeSoto State Park has over 200 individual plant species to be seen in different seasons of the year.

Trail Trekker Hiking Club
Can you say "I Hiked Them All"?  DeSoto State Park challenges you to become a DeSoto State Park Trail Trekker! We have designated 23 miles of DSP's Hiking and Biking Trails, all you have to do is start! Whether it takes you a week or 75 years, get a trail log, hike them all, and collect your prize, a Trail Trekkers Patch. Hike (or bike designated trail) and record the date for each trail listed. Sign completed form and turn in to DeSoto State Park Country Store or Lodge to receive your patch. 
Established March 1, 2014, hike dates prior to March 1, 2014 can not be counted toward the Trail Trekkers Program. Good luck and Good hiking! 
Trail Trekker Logs can also be obtained at the Country Store or Lodge in DeSoto State Park.
~~~~~~~~~~~~~~~~~~~~~~~~~~~~~~~~~~~~~~~
Trail Trekker Hike Suggestions-Personal suggestions & directions on each trail at the link below (They are on facebook, but no log-in required to view)
Red Trail/Talmadge Butler Boardwalk Trail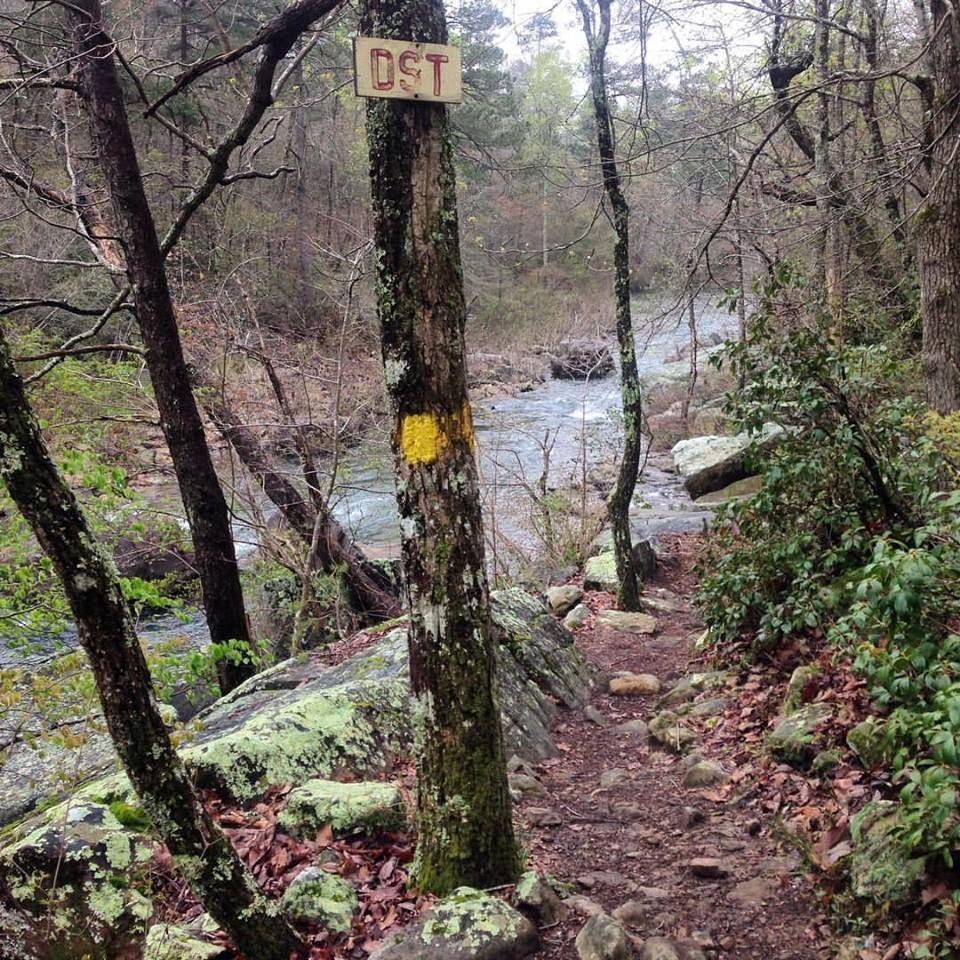 DeSoto Scout Trail
Want a more challenging hiking experience? Check out the DeSoto Scout Trail! This historic trail starts at Comer Scout Reservation, continues through Desoto State Park, and into Little River Canyon National Preserve. It follows the beautiful West Fork of Little River and continues downstream to Highway 35. Currently, the DST can be accessed from DeSoto State Park's north border downstream to the backcountry trailhead on road 5 in the Little River Canyon Wildlife Management Area. This trail is marked with yellow blazes in DSP and changes to brown & white metal signs as pass over the border between DSP & the Little River Canyon Management Area. Historically the Trail is about 16 miles long, but due to flooding and overgrowth; only certain sections are clear. It had even been detoured onto backcountry roads in some places.
Partnerships
A Partnership to revitalize the trail has been formed by the following agencies:
Little River Canyon National Preserve
Desoto State Park
The Boy Scouts of America
Russell Cave National Monument
& Volunteers like you