Since the opening of the first state parks in Alabama, trails have been a fundamental part of the park system's mission to provide and maintain outdoor recreational opportunities. In addition to promoting a variety of health benefits, one of the best ways to protect and preserve state parks is to have visitors engaging with the trails.
Trail users are one of the largest user groups that visit and use the state parks. According to the nonprofit research group The Outdoor Foundation, the number of Americans who use multi-use trails has grown steadily over the last decade. In the past three years alone, hiking, trail running, and mountain biking participation increased to more than 100 million Americans aged 6 and up. Because of their significance to the parks system, we have created a new trails program that will focus on improving and managing the entire Alabama State Parks trails system. 
 
One of the challenges facing the parks system's revitalized trails program is funding. The Alabama State Parks is addressing that challenge through a robust grant-writing program and the revenue received from your donations. This new Dirt Pass Trail Crew program provides a way that trail users and others can financially contribute to improving and managing the trails system.
The $35 annual donation for the Dirt Pass Trail Crew membership is made online. A wristband, trails gift and t-shirt will be mailed to you immediately.
All Dirt Pass Trail Crew membership donations are made online. Make your $35 donation online and get a cool, new Trail Crew t-shirt to show your pride.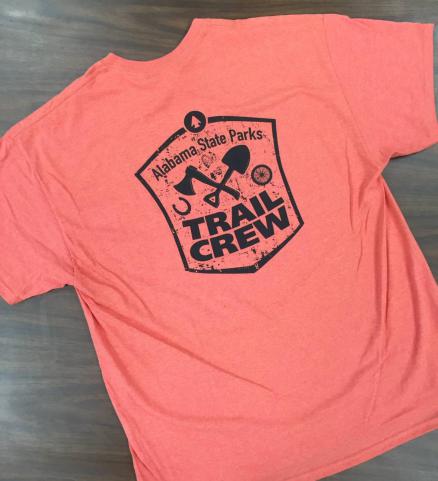 Click here to use our new online donation tool for becoming a Dirt Pass Trail Crew member.
This new Dirt Pass Trail Crew program is a donation program, but we hope that most of our park supporters and trail users will see the value in this partnership, donate and become a member so that we can provide outdoor trail recreation for future generations.
Where does your money go? Your money goes directly to the maintenance, enhancement and planning of the Alabama State Parks trails system. This includes:
Organized trail work days for community involvement
Supporting a full-time trail crew.
Provides professional support to existing volunteer groups.
Surveying the needs of the trail users.
New trail building equipment to ensure efficiency.
Overall improvement to your favorite trails.
The annual donation of $35 identifies you as a Dirt Pass Parks Trail Crew member and supporter of the Alabama State Parks and our trails program.
 We are excited about the new Alabama State Parks Dirt Pass Trail Crew program and the relationships we hope to build.  The majority of our trails were built by user group clubs and volunteers and we feel this new program will bring us all together for a great cause.
Make your Dirt Pass Trail Crew donation online.
View and download this flyer to learn more about the new Dirt Pass Trails Team Program.
For more information on the Dirt Pass Trail Crew please refer to our Frequently Asked Questions.