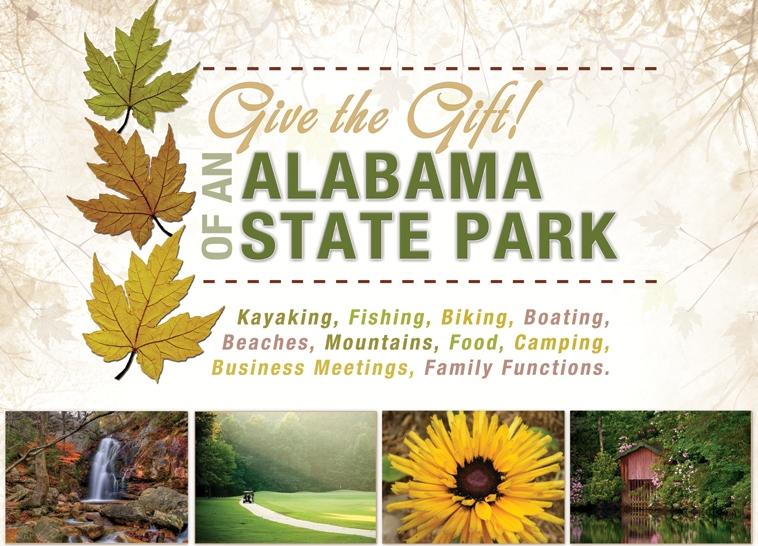 Alabama State Parks works constantly to improve the guest experience at our parks and through our online reservation system. Due to guest and staff feedback, Alabama State Parks is planning to transition to a new reservation system on October 10, 2023. 
As of September 10, 2023, we will temporarily suspend gift card sales online and at our park locations. All currently existing gift cards purchased before that time will be accepted and honored at any Alabama State Park during this period. Gift card sales will resume on October 2023.
________________________________________________________________________________
We are excited to announce our new *online gift card program. You can still purchase gift cards at our larger parks and by calling 1-800-Ala-Park, but now an added convenience of *purchasing the gift cards online.
Looking for a unique gift for a special person?
Give the gift of an Alabama State Park.
Did you know all the wonderful services offered at Alabama's State Parks can be paid for with a convenient swipe of a card? Visitors can pay for recreational activities and many other park amenities with an Alabama State Park gift card. Guests simply purchase their gift card for the specified amount and use it to pay for services such as:
Food
Golf
Lodging
Camping
Gift Shops
Gate Fees
Download the gift card flyer for more detailed information.
*Purchase your gift card online.
Alabama State Parks gift cards can also be purchased onsite at credit/debit/gift card machines located in 16 of our 21 State Parks. To buy your gift card, visit or call your nearest state park or call 1-800-ALA-PARK for more information.
 
*Please note that once you click the online gift card link you will need to create an account in the system in order to purchase a gift card.