Buck's Pocket State Park reopened on June 16th, 2020 with a renovated campground and a new ORV(Off-Road Vehicles) trail. These amenities create a family-friendly destination for campers, off-road enthusiasts, and vacationers. This is an exciting time for the Alabama State Parks and our park visitors. Please follow the Buck's Pocket State Park FB page to keep up with all the current events at the park.  
The
campground
features 23 campsites with 13 of those being sewer hook-up sites, 4 of those being pull-through sites, and all of those providing water and electricity. Each of these sites features a 16' x 60' concrete camper pad, picnic table, fire pit, and grill. There are also 11 primitive campsites located within the interior of the campground and more are planned for the future. Backcountry sites are also planned for the future. A bathhouse, a separate ADA bathhouse, and a dump station are provided. Other campground amenities include:
One ADA-accessible campsite (no sewer hook-up)
High-speed WiFi within the main campground
Pavilion for rent in a common area 
How to make camping reservations:
Reservations are taken within the park office (256-622-8400) during normal business hours or

online here. Reservations must be secured with payment for the total stay, plus taxes, and will be charged when reservations are made. 

After-hours check-ins can secure site if it was reserved site-specific. The camp host is usually available on-site c-1 until 9pm. 

All charges are payable by cash or credit (Visa, MasterCard, Discover, and American Express), with no checks.

Cancellations must be made 72 hours prior to arrival for a deposit refund. Not applicable on group or convention reservations. Two

(2) nights minimum during the season (March 1 - October 31). Three (3) nights minimum is required for Memorial Day, 4th July, and Labor Day.

The minimum age to rent a site is 18.  A responsible adult must check in and occupy the site during the entire reservation. 

One extra tent is allowed on a site only for children under the age of 18 years. There will be an additional charge of $5.00 per night plus tax for the 2nd tent.

Limit of 8 persons per site - 2 ORVs and trailer and 2 vehicles. 
For a full list of park policies please aske the office for a copy. 
The ORV trail was the first of its kind for the Alabama State Parks. This endeavor created an exciting new amenity for us and we look forward to learning more from the ORV community. We encourage trail users to give us feedback on the positive and negative aspects of our new trail system.
The trail offers a unique way to discover some of Alabama's most beautiful and rugged terrain. The ORV trail was designed to be a slow ride through beech/hardwood forest, paralleling South Sauty Creek. The trail passes through the back country campsite area and then runs towards Morgan's Cove boat ramp where it continues another 2.3 miles.
Along the 6.2 mile ORV trail, there are many opportunities for scenic views to see some of Northeast Alabama's unique flora and fauna. In addition, there are a few locations to picnic and fish.
*Bucks' Pocket State Park will be operated and managed as a facility of Lake Guntersville State Park.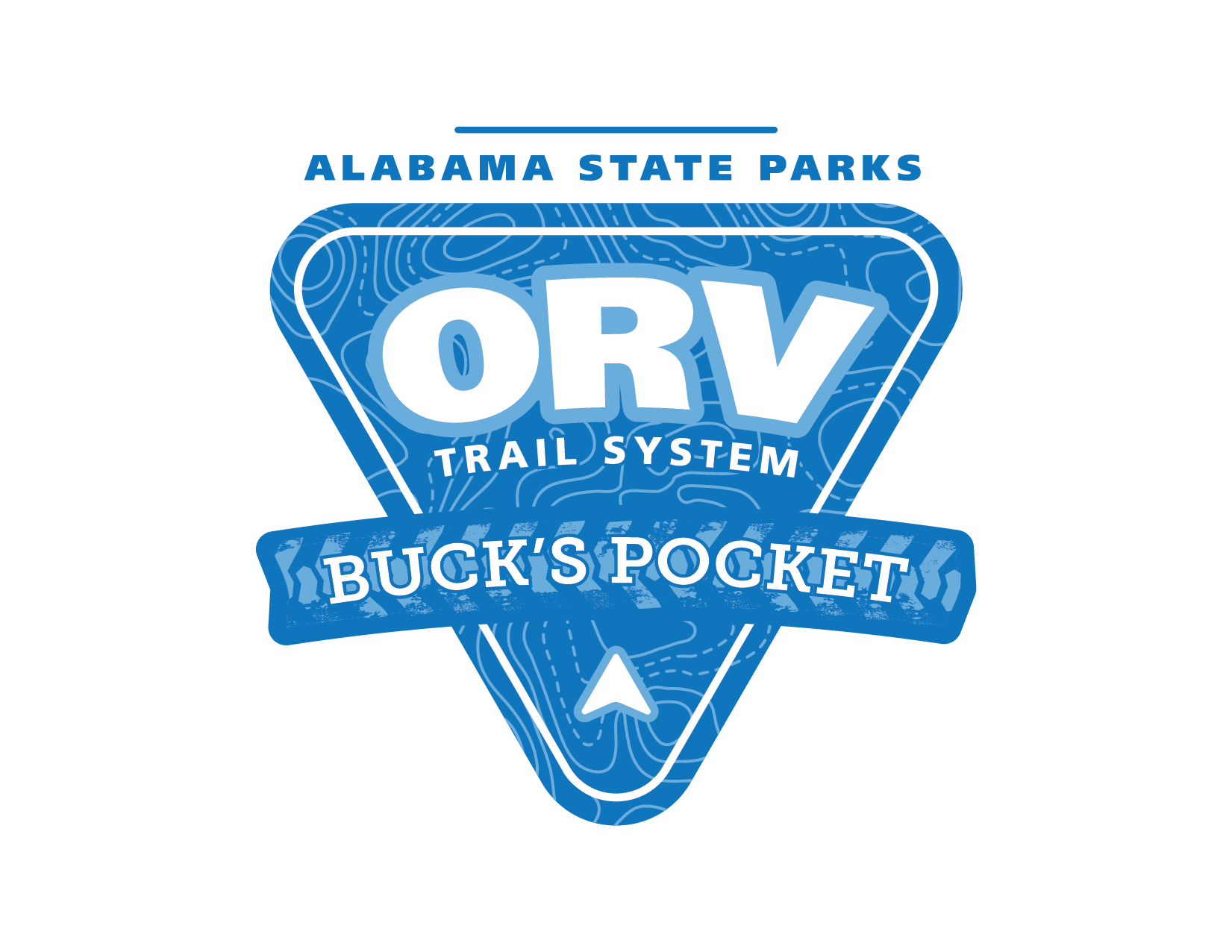 NATURE
Located in three counties (DeKalb, Jackson and Marshall) and secluded in a natural pocket, Bucks Pocket State Park is one of the most peaceful & tranquil places in Alabama. The park is a pocket of beauty atop Sand Mountain's plateau. Known for the sweeping views of its rugged, seemingly untouched landscape provided from the heights of Point Rock.
Use the ADCNR Interactive Map to learn more about the Alabama State Parks.
AREA ATTRACTIONS
Other nearby attractions include bald eagle watching at Lake Guntersville, the award-winning country music group Alabama's fan club and museum, High Falls Park, the Walls of Jericho Forever Wild Tract, Lake Guntersville State Park, DeSoto State Park, and Mentone, Ala.
Visit North Alabama: www.northalabama.org