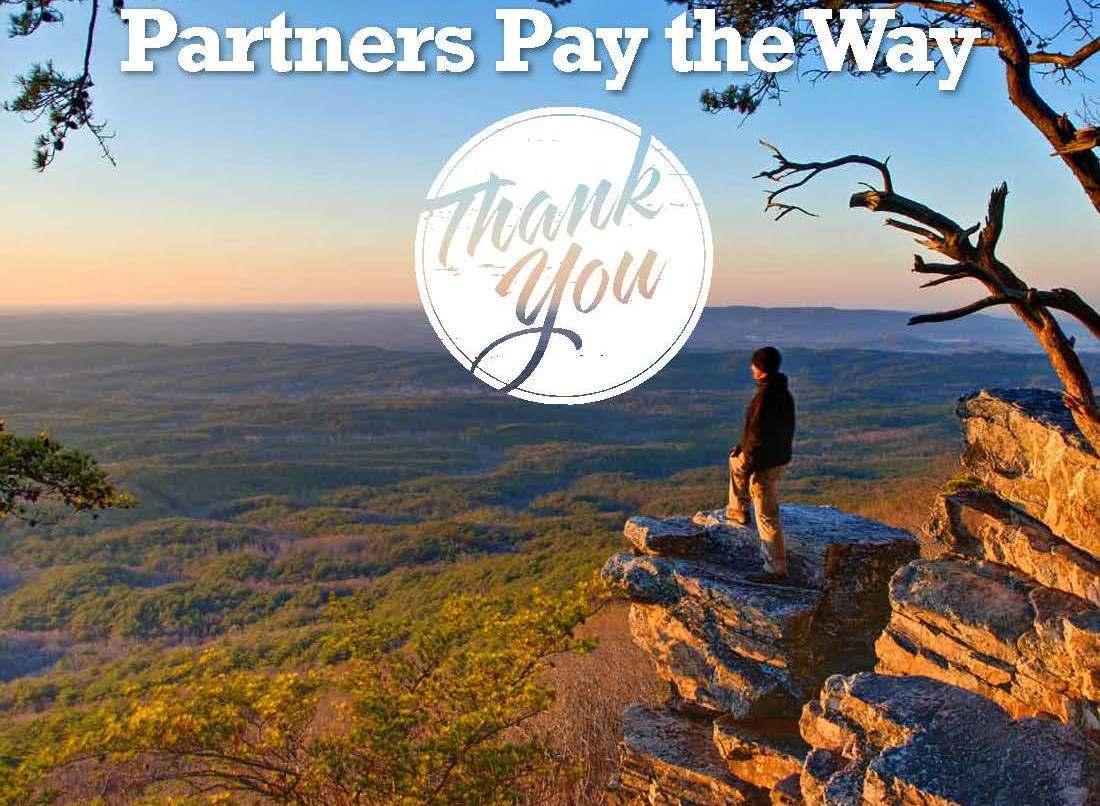 Partners Pay The Way – Who is a Parks partner and what does it mean?
The Alabama State Parks Division operates and maintains 21 state parks encompassing approximately 48,000 acres of land and water. These Parks rely on visitor fees and the support of other Partners like local communities to fund the majority of their operations.  
______________________________________________________________________________________________________
 Since 1939 The Alabama State Parks Division has operated under the same philosophy; to provide and maintain natural areas, to develop and operate recreational facilities, and to educate the public on our natural environment. In recent years, the Parks system has been forced to operate much like a business instead of a public service. These demands have made it increasingly more difficult to provide a service that the citizens of Alabama deserve. We are proud to say that because of our supporters we have met those challenges head on.
These Supporters are our Partners!
Partners are not only our visitors, but community organizations such as chambers of commerce, civic organizations and city and county governments. They are the ones who support our efforts to provide recreational activities for all to enjoy.
Because 100% of our operational funds are generated through our visitors and the remaining maintenance funds decided by the Alabama legislature, it is important that you know that Alabama State Parks are your Parks. The revenue to operate all 21 state parks is generated by your money in user fees such as: gate entry, campsites, lodging, boat ramps, etc. Each and every time you spend money at an Alabama State Park our recreational funds are increased.
The Parks are in great hands because our Partners use the Parks. From day-use activities such as hiking and biking to overnight accommodations such as camping and lodging, the facilities are used by people that care about our Parks. There are many different ways in which people can spend their free time. We appreciate your choice of spending time at an Alabama State Park.
The Alabama State Parks are enjoyed not only by Alabamians, but people from all over the country.  Each year we have thousands of people from the Northern United States and Canada descend on the Parks of Alabama to spend their winters with us. Their campsite, lodging, and volunteered time working at the parks are very important to us. The "Snowbirds" are our Partners.
Some of our Partners have established user groups that not only build and maintain amenities for themselves, but for all park patrons. A great example of this type of initiative is the Birmingham Urban Mountain Peddlers (BUMP) at Oak Mountain State Park and the Central Alabama Mountain Peddlers (CAMP) at Chewacla State Park. Their support provides world class mountain biking activities that the parks system could not provide alone. They too, are our Partners! 
The Alabama State Park system wants our Partners to be aware of the other unique opportunities and services we provide. Whether it is business or pleasure everyone has times in their lives when they need help with a unique occasion. We provide special facilities and attention to meet those needs. Some of the special events that we cater to include:
* Weddings
* Business meetings
* Corporate retreats
* Family and class reunions
* Organization functions
* Association gatherings
Our Partners are different in many ways, but the appreciation of sharing outdoor recreation is our common bond. The support from our visitors, our groups, our governments, our communities….our Partners, ensures that the Alabama State Parks will be here for future generations. We are proud to say that our Partners Pay the Way!  
Please visit www.alapark.com for more information on Alabama State Parks.