Wall Tent Campsite
Wall Tent Campsite
Whether you are trying re-live your days at summer camp or take a little of the "rough" out of roughing it, DeSoto State Park's Wall Tent Primitive Campsite might be what you're looking for.
Site is located in the Primitive Campground.
The 12 foot by 10 foot Diamond Brand Wall Tent is set atop a 20 foot long wooden deck.  Bring your own air mattress, cot, or sleeping pad.  The walk-in campsite has a small, two-vehicle parking area, ground grill/fire ring and a small picnic table. A vaulted toilet, picnic tables, trashcans, picnic shelter, and a water faucet are centrally located in the campground a short walk from the wall tent site. Campers are allowed access to the Improved Campground (approx. 1 mile away) to use comfort stations, showers, flush toilets, & laundry room.
DSP Primitive Campground Map (PDF)
Rates
$19.00 per night
For up to 4 people, no extra tents allowed
•    Prices do not include 13% Lodging Tax 
•    One-time Reservation Fee for all overnight accommodations - $4.75
•    3.75% Resort Fee applied to each night
A deposit of one-night's rent plus resort and transaction fees are required to hold a reservation. 
Cancellation of a reservation has to be within 72 hours of arrival.
Check out time: 11:00 AM
We recommend that reservations for holiday weekends should be made at least 3 months in advance.
Additional Information
We suggest you bring your own sleeping essentials: sleeping bag, cot,  pillow and air mattress,etc.  We also suggest you bring your own water or you can use community water spigot about 200 yards away in Primitive Campground.
Vaulted toilet located in primitive campground about 200 yards away.
Pets are welcome but must remain on leash at all times (State Park Regulation 220.-5-.05)
This project was completed as a partnership between DeSoto State Park and the Boy Scouts of America.  Christian Curry of Fischer, Alabama, Troop 75 fulfilled the projected as part of his Eagle Rank (2016).

Check in at DeSoto's Country Store on County Road 89. Store is open 9:00 am-4:30 pm(CST) Thursday-Monday (closed on Tuesdays & Wednesdays) If you arrive after hours or on closed days you may stop in the Lodge Front Desk or call 256-845-5380 to register over the phone.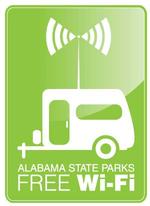 FREE WiFi Hotspots
*Campground Comfort Stations(does not reach every campsite)
* Lodge Lobby
* Motel Rooms
* Restaurant
* Park Office
* Country Store