DeSoto Falls Picnic Area
DESOTO FALLS PICNIC AREA
NOW OPEN with new improvements 
DeSoto Falls is one of the tallest and most visited waterfalls in Alabama; Named for Spanish explorer Hernando De Soto, the 107 foot waterfall & the picnic area is part of DeSoto State Park on Lookout Mountain. (7 miles from the main park area, near Mentone, Alabama)
Located just off the Lookout Mountain Parkway, the waterfall is reached via a paved pathway that leads a few hundred yards from the parking lot, down approx. 50 steps, and down to the railed overlook. The historic A. A. Miller Dam & the upper falls can be seen by visitors of all abilities, but the lower or main waterfall requires a walk down 50 concrete stairs to the overlook. 
The DeSoto Falls Picnic Area is open daily during daylight hours(closes at Dusk)
Visitors will have access to picnic tables, stand grills, restrooms, the DeSoto Falls viewing overlook, a small boat ramp, and the scenic West Fork of Little River for boating, swimming, & fishing. There is access to the West Fork of Little River, over 35 miles of trails, and more waterfalls in the main park area of DeSoto State Park, which is located 7 miles away from DeSoto Falls area.
Annual Pass to DeSoto Falls Picnic Area (PDF file)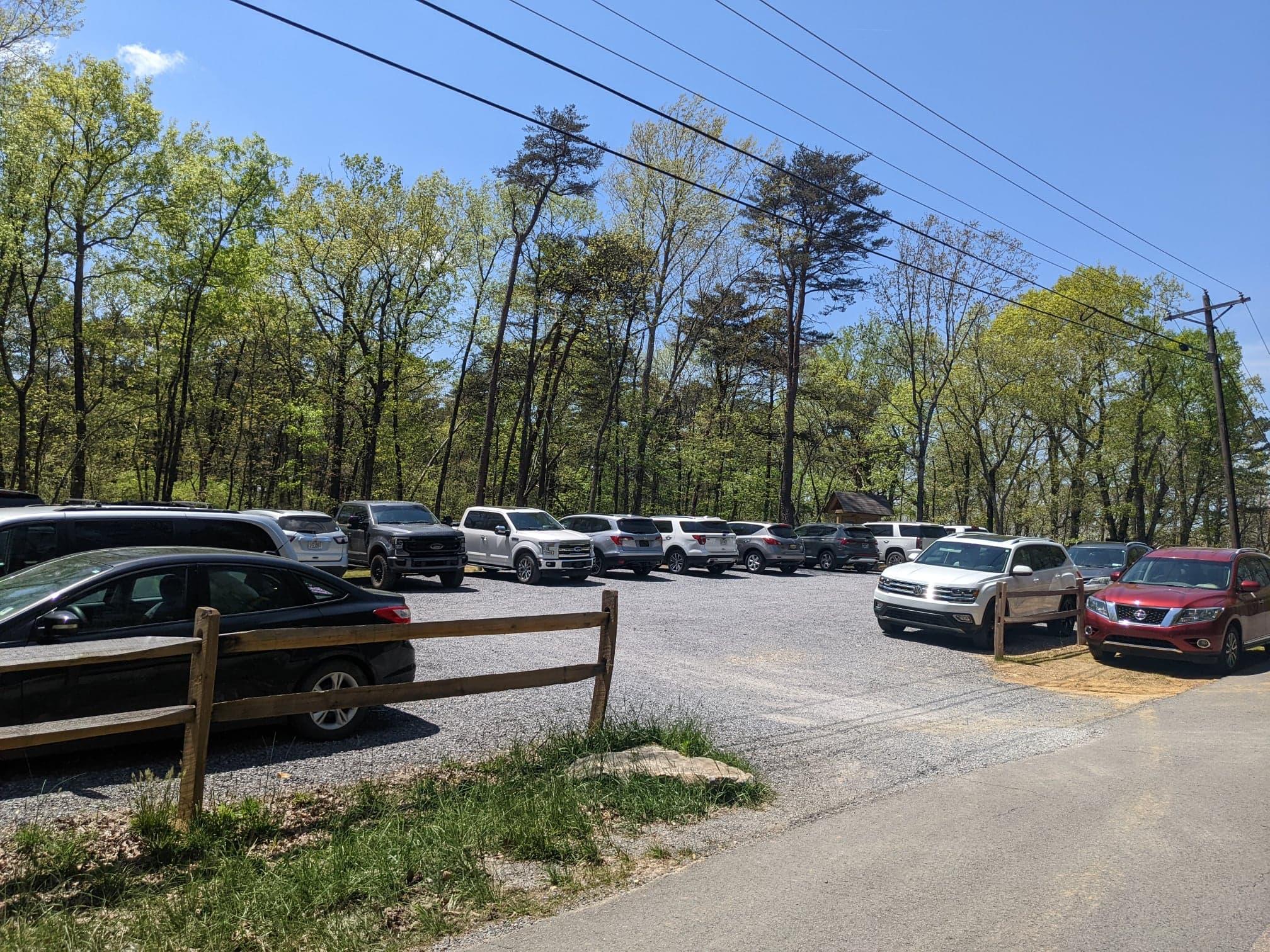 Please note that there are limited parking spaces in the picnic area, and often fill to capacity on weekends.
If you are planning to visit the DeSoto Falls Picnic Area and the trailhead on weekends, during peak of the day you will probably find that parking is limited (or non-existent). There is no overflow parking or parking alongside the road, so plan to arrive earlier or later in the day. There is no access for larger vehicles such as RVs, trailers, etc. Please be advised that cell service can be spotty & GPS directions are not reliable, for driving directions see Plan Your Trip 
Small watercraft such as kayaks, canoes, paddleboards, johnboats, etc. can be launched in the picnic area at the boat ramp. No charge except for the $4.00 per vehicle parking fee.
PDF: written directions to DeSoto State Park & DeSoto Falls Picnic Area
DeSoto Falls Picnic Area & Trailhead Map (PDF)
DeSoto State Park Color Trail Map(Page 1 PDF)
Desoto State Park Color Trail Map (Page 2 PDF)
DeSoto State Park Basic Park Map including trails(PDF)
DSP Hike/Walk Suggestions (PDF)
DSP See & Do Brochure/Area Map (PDF)
The amount of water going over the falls depends on the amount of rainfall. In the winter and early spring the water level is high. During the summer and fall, the water level is much lower & sometimes dry.
KAYAK LITTLE RIVER
Visit DeSoto State Park staff at the Miller's Bend Paddle Shack located in the DeSoto Falls Picnic Area to help you begin your scenic kayak trip up the West Fork of Little River. Rent sit-on-top kayaks or launch your own boats to enjoy a peaceful flatwater paddle on Little River overlooking beautiful DeSoto Falls. Your adventure can be up to 4 miles round trip or as long as you want to make it! Paddle trips are perfect for individuals or groups. Life vests & paddles are provided with kayak rentals. Launch boats at the boat ramp above the A. A. Miller Dam.
For paddle shack hours, rental prices, & more info, see www.alapark.com/kayak-little-river