Jobs In Desoto State Park
Looking for a great place to work?
DeSoto State Park takes applications for good people who enjoy working with the public in an indoor & outdoor setting. Working for DeSoto State Park involves weekend and holiday work but can be very rewarding for someone who enjoys providing guests with gracious hospitality in a fun environment.
Positions
All jobs thru DeSoto State Park are hired on a hourly basis. Maintenance staff, Housekeeping, Restaurant/Kitchen staff, Country Store/Front Desk staff, etc.
Pay
The rate of pay is determined by the type work performed. Most hourly employment is seasonal and will end during the slow business periods for parks. There are occasionally some full-time hourly positions available that offer paid insurance and retirement after one year of employment.
To apply for any of these positions:
Employment Application Form(PDF)
Email us or turn in the application to:  7104 DeSoto Parkway NE-Fort Payne, AL. 35967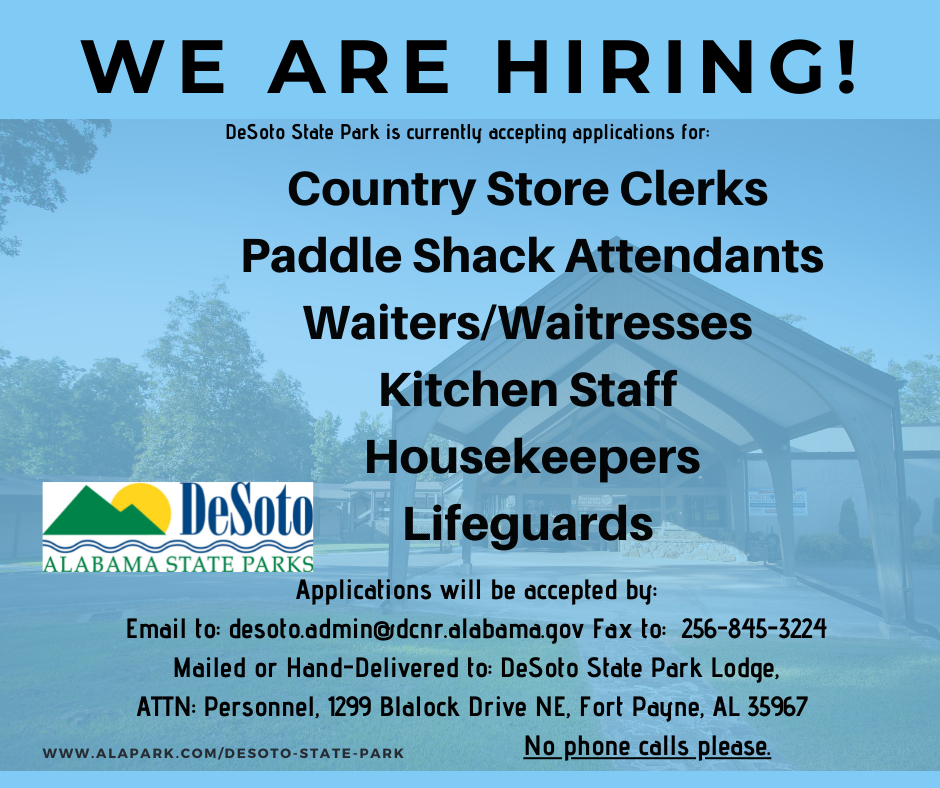 Additional information
The below positions are NOT currently open in DeSoto State Park, but to view merit positions that are open in the State of Alabama, please see the State Personnel website.
Other Alabama State Park Career Opportunities(for all state parks):
These jobs do not include merit positions such as Parks Administrators, Park Rangers, Lodge Manager, facilities operator, etc. These are just a few of the registers to apply for, please see the State Personnel website. for job announcements.
The Department of Conservation and Natural Resources does not discriminate on the basis of race, color, religion, age, gender, pregnancy, national origin, genetic information, veteran status, or disability in its hiring or employment practices nor in admission to, access to, or operations of its programs, services, or activities.