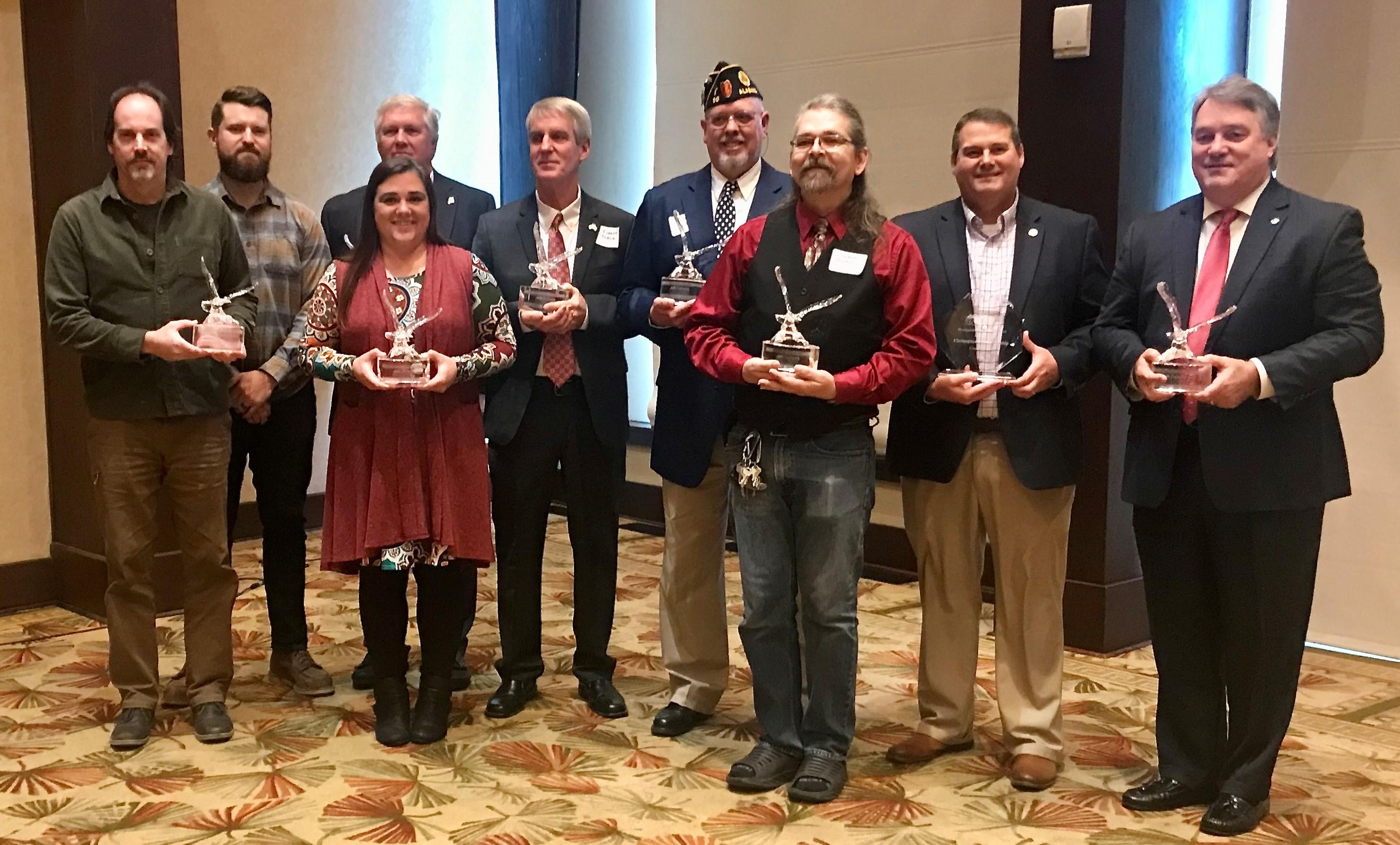 Congratulations to this year's Eagle Award winners, who were honored by Commissioner Chris Blankenship and State Parks Director Greg Lein at a ceremony and luncheon Saturday, Feb. 5, at Lake Guntersville State Park.
The honorees:
1) Bryan Eslava and Michael Sumlin with Down Under Dive Shop, of Gulf Shores (Community Partner)
2) Oliver Caver, of Gulf Shores (Youth)
3) Eufaula Mayor Jack Tibbs Jr. (Elected Official)
4) State Rep. Nathaniel Ledbetter, of Rainsville (Elected Official)
5) Huntsville Area Mountain Bike Riders (Park Partner)
6) Mirandi Watson and Monica Fells, both of Collinsville, with Girls Who Hike Alabama (Park Partner)
7) Billy Glenn Rushing American Legion Post 90 in Atmore (Park Partner)
8) Robert Black, of Huntsville (Volunteer in Parks)
9) Shawn Donahoo, of Somerville (Volunteer in Parks)
The Eagle Award – sponsored by the State Parks Division of the Alabama Department of Conservation and Natural Resources – is presented annually to people and organizations who have made outstanding contributions in support of the Alabama State Parks. 
"We know our parks couldn't thrive without the tireless efforts of so many groups and individuals." said Greg Lein, Director of the Alabama State Parks System. "So many people give their time and talents to the park, and that's why it's a challenge to select the Eagle Award winners each year. The Eagle Awards provide the perfect way for us to say thanks and recognize people who truly make Alabama State Parks so special."
Here's a closer look at each winner:
Bryan Eslava and Michael Sumlin (Community Partner): As co-owners of Down Under Dive Shop, they partnered with Gulf State Park on a project to clean debris from under and around the iconic Gulf State Park Pier. This work keeps the area environmentally safe for the many species of aquatic life that visit the pier, as well as with the park's guests. This was strictly a good Samaritan project with a free lunch provided for all volunteers. The local dive shop also donated raffle items to selected volunteers, and they continue to work with a passion for the conservation of our natural resources at Gulf State Park.
Oliver Caver (Youth): Known as a "Little Man with a Big Mission," the 6-year-old was instrumental in the development of Clean Horizons with his dad, Ryan Caver. Because of his love for nature and his desire to keep our beaches safe, clean and beautiful, he and his family wrote and published a book called "Litter, Litter, Please Come Here." With each book sold, Oliver will pick up a pound of trash. He has hosted a trash rodeo and has helped with Gulf State Park's Dive for Debris, Earth Day Clean-up, which was in the rain, and the Earth Day Celebration. It is his mission to inspire younger generations and their families to reduce their own plastic consumption while promoting quality family time spent outdoors.
Mayor Jack B. Tibbs, Jr. (Elected Official): Serving as mayor of Eufaula, he has been a superb ambassador for Lakepoint State Park. He works constantly to attract fishing tournaments to benefit the local economy and the park, and he takes time from his busy schedule to welcome conventions and groups to Eufaula making them all feel welcome.
Rep. Nathaniel Ledbetter (Elected Official): A former mayor of Rainsville who has served as a member of the Alabama House of Representatives since 2014 representing DeKalb County, he advocated for the bill to authorize a bond issue to support State Parks during the 2021 Legislative Session. Rep. Ledbetter, who currently serves as the House Majority Leader, is also an enthusiastic supporter and frequent visitor to DeSoto and Lake Guntersville State Parks.
Huntsville Area Mountain Bike Riders (Park Partner): The SORBA Chapter of Huntsville/Madison County organizes trail workdays, and its members work relentlessly to maintain the trails at Monte Sano State Park. They call the state park home and spend countless hours maintaining and improving the trail resources at Monte Sano.
Mirandi Watson and Monica Fells, of Girls Who Hike Alabama (Park Partner): They created Girls Who Hike Alabama and have promoted Alabama State Parks while planning events for women to explore hiking trails all over the state. In 2021, those events included guiding the kayak paddles at DeSoto State Park, organizing hikes at Oak Mountain State Park, and organizing the Summit Conference at Cheaha State Park. They use their time and energy to inspire and encourage women to enjoy the outdoors.
Billy Glenn Rushing American Legion Post 90 (Park Partner): Led by Dave Graham, Commander of this American Legion Post in Atmore, the group worked to create and place a steel vault called Old Glory Lookout, just off the Bald Rock Boardwalk, at Cheaha State Park. The vault was dedicated Dec. 7, 2021, the 80th anniversary of Pearl Harbor, during a public ceremony at the Old Glory Lookout. The first ashes interred were those from a flag retirement ceremony at Post 90 on the 20th anniversary of 9/11. The group had a dream to create a place that remains undisturbed and serves as a location for military, veteran and civic organizations in Alabama to inter the ashes of retired flags with dignity and honor, and they made it happen.
Robert Black (Volunteer in the Park): He created and started working on the North Alabama Japanese Garden, located at Monte Sano State Park in Huntsville, in 1988. Since then, he has worked incessantly on a volunteer basis as the caretaker and spends countless hours renovating structures in the garden and making sure the attraction is appealing to the thousands of park guests who visit each year. His commitment to serving and volunteering for the park is unlike any other.
Shawn Donahoo (Volunteer in the Park): A musician, artist, and composer, he has worked throughout the year by donating his time and releasing all rights to his promotional video and soundtrack for the "Wonderland Under Warrior" holiday attraction at Rickwood Caverns State Park. The music clearly enhanced this magical experience of the holiday season on display at Rickwood.