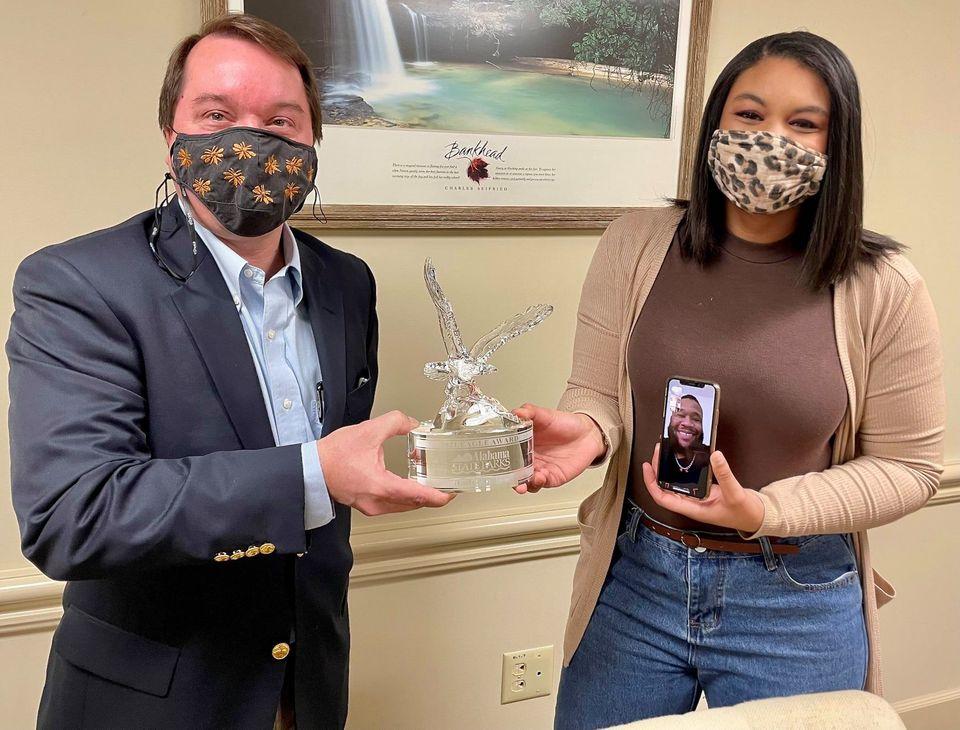 Alabama State Parks Director, Greg Lein presents the 2020 Eagle Award to Hailey Sutton and Christopher Cole (photo on phone) of WSFA News 12. 
The winners of the fifth annual Eagle Awards have been announced by the Alabama State Parks.
The Eagle Award is presented to people and organizations who have made outstanding contributions in support of the parks. For 2020, 10 winners were selected from nominations submitted. Congratulations to all of our 2021 Eagle Award Winners!
 
1) Randy Householder, of Montgomery, from Alabama Outdoor Adventurer (Community Partner)
2) Hailey Sutton and Christopher Cole, of Montgomery and reporters for WSFA News 12 (Community Partner)
3) Steve Jones, of Huntsville (Park Partner)
4) Shar and Phil Roos with A Year to Volunteer, Joe Wheeler and Buck's Pocket State Parks (Volunteer in the Park)
5) Pam and Rick Kerheval, Gulf State Park (Volunteer in the Park)
6) Carol and Jim Wehr, Gulf State Park (Volunteer in the Park)
7) David Rogers, DeSoto State Park (Volunteer in the Park)
8) Ed Rogers, of Huntsville (Volunteer in the Park)
9) Garrett Southers, of Scottsboro and Eagle Scout Troop 708 (Youth)
10) Alabama State Senator Tom Whatley, of Lee County (Elected Official)