Backpacking Campsites
Backpacking Campsites
DeSoto State Park is the place to camp in the Great Outdoors!  DeSoto State Park features improved & primitive campgrounds, with campsites located in a wooded, mountainous setting.
DeSoto State Park's Backpacking Campsites are a one-of-a-kind camping experience, for those that prefer a camping site with a more rustic view of nature.
To reach these sites you must carry in your supplies over a distance of a couple of miles.
Trail Map showing backpacking sites(PDF file)
Backpacking campsite information (PDF file)
There are 2 backpacking campsites to choose from in DeSoto State Park: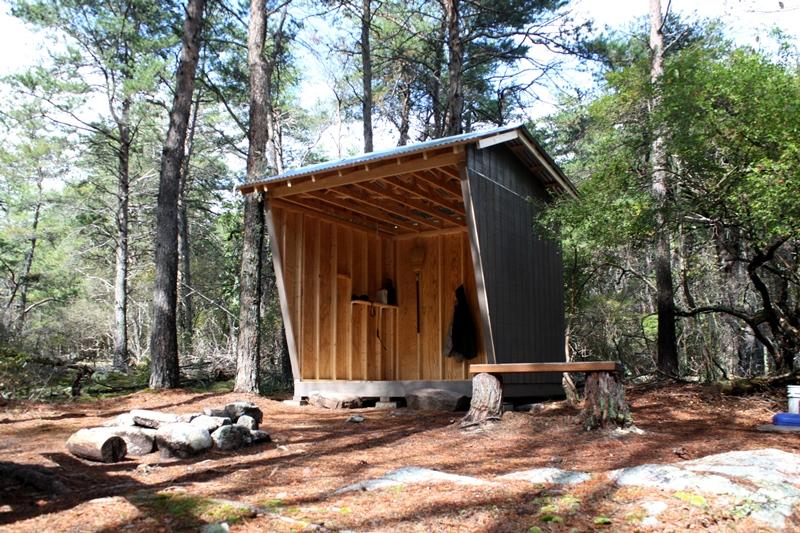 Never-Never Land Backpacking Campsite
Latitude N34.49313     Longitude W-085.63768
Located in the Forever Wild Tract purchased in 2005, this backpacking campsite sits near an unnamed seasonal stream.  The area was nick-named Never-Never Land, by the many mountain bike volunteers who built the trails in the area.  The shortest route to this backpacking campsite is .75 miles from the Lost Falls Trailhead.  Longer routes can be taken by accessing other trails.
An 8 ft. by 10 ft. 3-sided trail-side shelter was added to the Never-Neverland backpacking campsite in the fall of 2011 and was made possible through a partnership between Alabama State Parks, National Park Service and NASA.
Directions: Look for small green/yellow backpacking symbol at the trail junctions. From Lost Falls Trailhead, walk across the road and take the trail to the far right. After a few yards you come to a trail junction; turn left. Follow this trail for approx. .53 miles until you come to a junction(Straight ahead is Neverland Trail Loop). Turn to the left onto the Neverland Bypass trail. After approx. .18 miles you will come to a small bridge over a stream, turn to the right and several yards along this path is the backpacking campsite/shelter.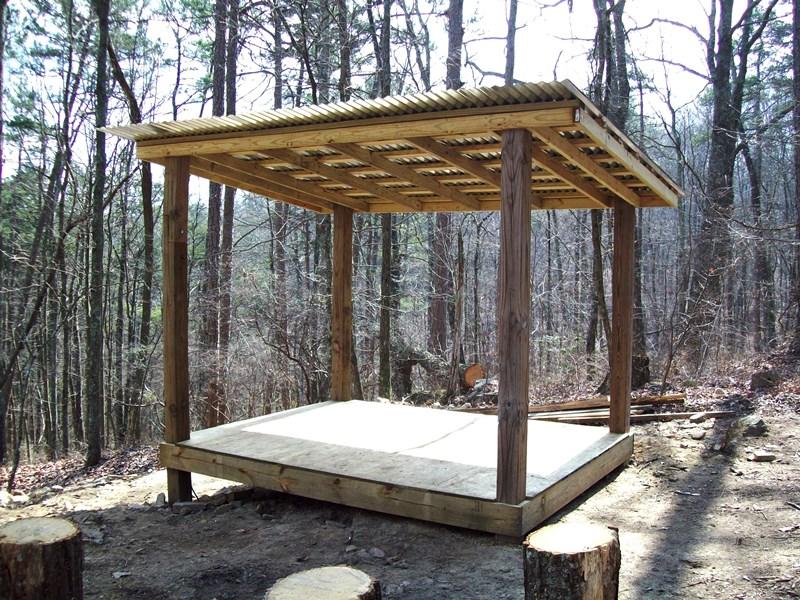 CCC Quarry Backpacking Campsite
Latitude N34.50678  Longitude W-085.62658
The CCC Quarry backpacking campsite is located northeast of the old Civilian Conservation Corps quarry off the white trail.  One of the shortest routes to this backpacking campsite is 1.1 miles from the Country Store parking lot, following the white trail.
An 8 ft. by 10 ft. open shelter was added to the CCC Quarry backpacking campsite in the winter of 2013 and was constructed by the Fort Payne High School Ag Class.
Directions: From the Country Store Trailhead-park at the end of the parking lot furthest from the Store. Walk across the road and join up with the white trail. Follow this trail approx. .67 miles until you come to a junction-veer right/straight to keep following the white trail(don't take the Quarry bypass to the left) Hike approx. .27 miles until you reach the quarry. Once at the quarry, walk around the rim until you reach the campsite on the lower end. Watch for the green/yellow backpacker symbol signs.
Regulations: 
All backpackers must register and pay backpacking fees at least one hour before sunset. No one will be allowed to register or start on the trail system any later. Sunset times change with the seasons so plan your arrival accordingly.
Vehicles must be parked at designated trailheads or parking areas with a vehicle pass displayed in the windshield.
Please make sure all doors are locked before leaving vehicle. Valuables left in vehicles should be placed out of sight. DeSoto State Park is not responsible for stolen or damaged property.
2:00 PM Checkout.  Notify park staff upon safe exit.
All minors must be accompanied by a legal adult.
Important Backpacking Campsite Information
It is recommended that all drinking water be packed in
Carry out all cans, bottles, aluminum foil, or other trash. THE BURNING OR BURYING OF TRASH IS PROHIBITED.
FIRES ARE ALLOWED IN DESIGNATED FIRE PITS ONLY, UNLESS UNDER NO BURN RESTRICTIONS.
Only dead and down wood may be gathered for firewood.
Thoroughly extinguish campfires leaving no smoke or embers before leaving backpacking sites.
Backing type stoves are recommended for cooking.
Pets are allowed under the Alabama State Park Regulations: Pets and Animals (220-5-.05)
Bringing a dog, cat or other animal into a State Park unless it is crated, caged or upon a leash not longer than 6 feet or otherwise under physical restrictive control at all times shall be unlawful.
No person shall keep a noisy, vicious, or dangerous dog or animal or one which is disturbing other persons, in a State Park and remain therein after he has been asked by a Park officer to leave. 


Backpacking sites are limited to a maximum of 6 people and 2 tents.
One-time Reservation Fee for all overnight accommodations - $5.00
4% Resort Fee applied to each night
Additional Information
Reservations may be made for these sites by phone or in person, otherwise backpacking sites are registered on a first come first serve basis. Overnight backpackers are entitled to camp at a designated backpacking campsite only. Backpackers are not entitled to use the improved campground facilities.
CONTACT US! 
For more information or to make a reservation by phone, please call the Country Store at 1-800-760-4089 or 1-800-ALAPARK. 
Online Camping Reservation Tool (backpacking campsite reservations are not available online)
When traveling to the park, please be advised that GPS directions are NOT reliable (especially when pulling a large rig). Please see our written driving directions on the webpage Plan Your Trip.
Alabama State Parks is proud to be a Community Partner of Leave No Trace Center for Outdoor Ethics. 
To ensure the future of Alabama State Parks and their enjoyment by future generations,
we encourage all guests to abide by the Seven Principles of Leave No Trace
PLAN AHEAD AND PREPARE
TRAVEL AND CAMP ON DURABLE SURFACES
DISPOSE OF WASTE PROPERLY
LEAVE WHAT YOU FIND
MINIMIZE CAMPFIRE IMPACTS
RESPECT WILDLIFE
BE CONSIDERATE OF OTHER VISITOR