Gross Out Camp
Event Dates:
June 19, 2023, 9:00 am
June 23, 2023, 5:00 pm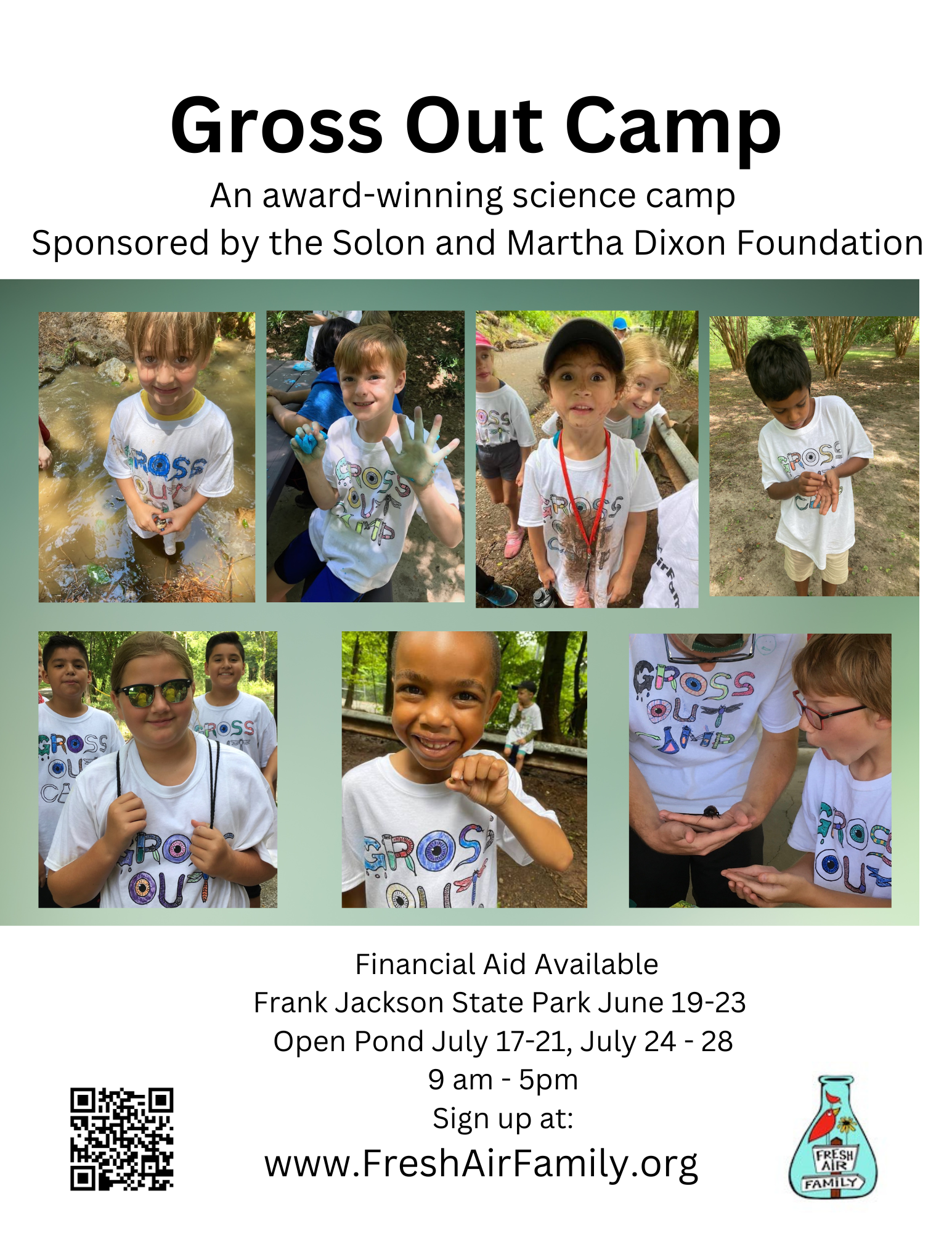 If it is icky, stick or gross, it's Gross Out Day Camp! It's coming to Andalusia and Opp this summer. Slimy salamanders, slugs, bugs, crawdads and roly polies will  all be found as campers explore their world through hands-on field biology. (It's science but please don't tell the kids.)
         Camps are held at Frank Jackson State Park June 19-23 and Open Pond July 17-21, July 24 - 28. The camps, a program of Fresh Air Family (FAF), are sponsored by the Solon and Martha Dixon Foundation, which is providing financial aid for campers whose families can't afford summer camp. A non-profit, it is FAF's policy to never turn a child away based on their ability to pay.
            "We are happy and delighted to be supporting these camps that stir up curiosity in young students. We are interested in programs that open the world of the outdoors. It makes you realize who you are and how big the world is. Nothing accomplishes that better than a pair of dirty hands," said Phillip Jones, board member of the Solon and Martha Dixon Foundation.
In this award-winning science camp, campers from 1st through 4th grades learn about plants, trees, animals and chemistry. Students in 5th through 7th grade can participate as Counselors-in-Training. The camps are small, with a maximum of 20 children, the perfect class size. Camps run from 9 am – 5 pm, with an 8 am – 6 pm option. The cost is $250 for the week and financial aid is available. In 2022, Fresh Air Family awarded $25,000 in financial aid to make sure every child can participate. Registration is found at www.FreshAirFamily.org/gross-out-camps.
Campers return to the summer days of finding crawdads in the creek, playing with roly polies, building frog forts and learning to skim rocks – all of these activities have been proven to make kids smarter and better adapted.
"We studied the best way to get the brain engaged and found it was the old way – through nature exploration," said Verna Gates, founder and executive director of Fresh Air Family. "Our goal is to teach children how to think. Science gives you the tools of logic. If children make good decisions through life, they prosper and we all prosper."
Founded in 2006, Fresh Air Family has served thousands of children and families in camps, weekend adventures and school field trips. Fresh Air Family guarantees tired, dirty children.
About Fresh Air Family
Fresh Air Family is dedicated to environmental and scientific education, outdoor exploration, and an appreciation of the beautiful and biologically diverse state of Alabama. It offers summer and holiday day camps, school field trips and weekend family adventures in the great outdoors. www.FreshAirFamily,org