Waterfalls
Beautiful Waterfalls on Lookout Mountain
DeSoto Falls
DeSoto Falls is one of the tallest and most visited waterfalls in Alabama; Named for Spanish explorer Hernando De Soto, the 107 foot waterfall is part of DeSoto State Park on Lookout Mountain.
Located just off the Lookout Mountain Parkway, the waterfall is reached via a paved pathway that leads a few hundred yards from the parking lot down to the railed overlook. The historic A. A. Miller Dam & the upper falls can be seen by visitors of all abilities, but the lower or main waterfall requires a walk down concrete stairs to the overlook. 
The DeSoto Falls site is open daily during daylight hours. Visitors will enjoy a beautiful lake, picnic area and other facilities as well as the waterfall. 
The amount of water going over the falls depends on the amount of rainfall. In the winter and early spring the water level is high. During the summer and early fall, the water level is much lower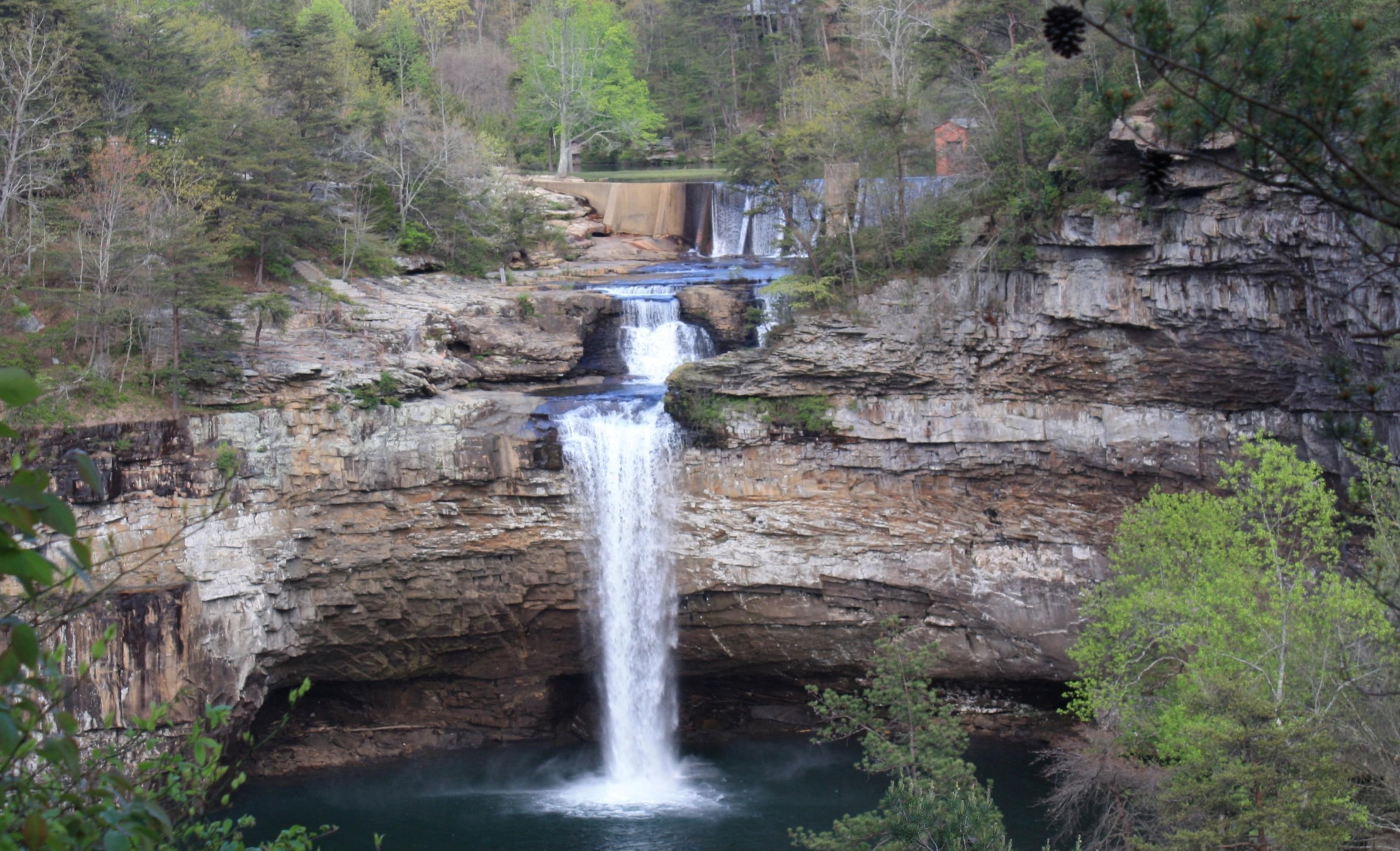 Litter River Falls
Located in the Little River Canyon National Preserve 10 miles South of DeSoto State Park, 45-foot Little River Falls is located off Alabama Highway 35 in Fort Payne, Alabama. The most popular way to see Little River Falls is via the falls parking lot across the Al Highway 35 Bridge. A 100-foot ADA-accessible boardwalk leads from the parking lot to an overlook near the falls. The Little River Falls parking area is open daily during daylight hours
The amount of water going over the falls depends on the amount of rainfall. In the winter and early spring the water level is high. During the summer and early fall, the water level is much lower.
Little River Canyon National Preserve Website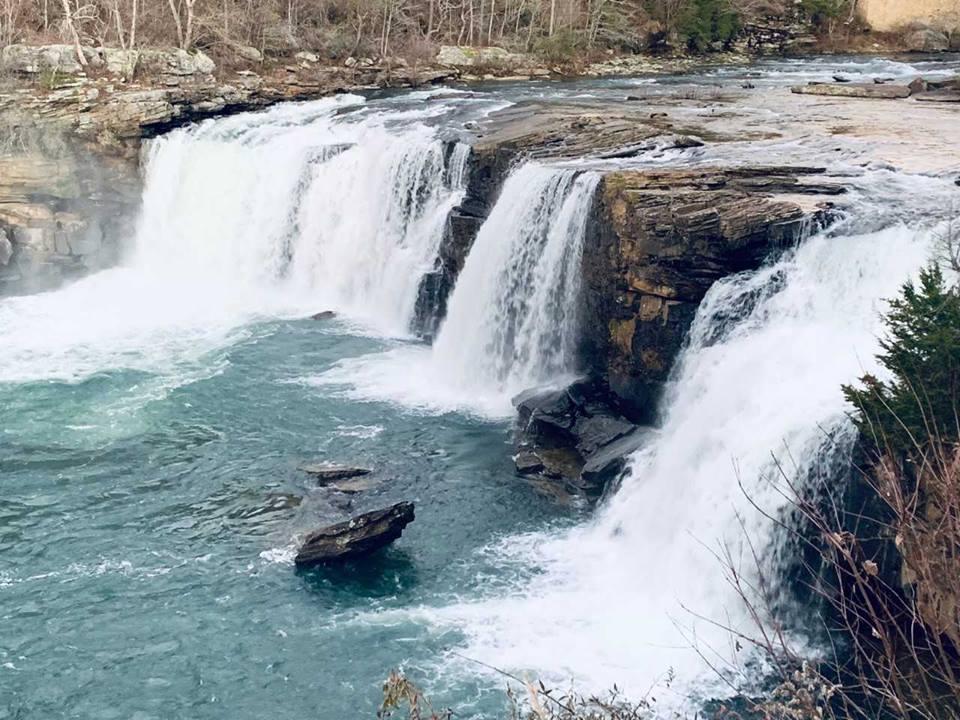 Grace's High Falls
Located in the Little River Canyon National Preserve a several miles South of DeSoto State Park, this 133 foot waterfall is one of the tallest in the state. The Graces Falls Overlook can be reached by taking the Canyon Rim Drive (AL Hwy 176) off of AL Highway 35.
The amount of water going over this seasonal waterfall depends on the amount of rainfall. In the winter and early spring the water level is high. During the summer and early fall, the water level is much lower.
Grace's Falls Overlook Website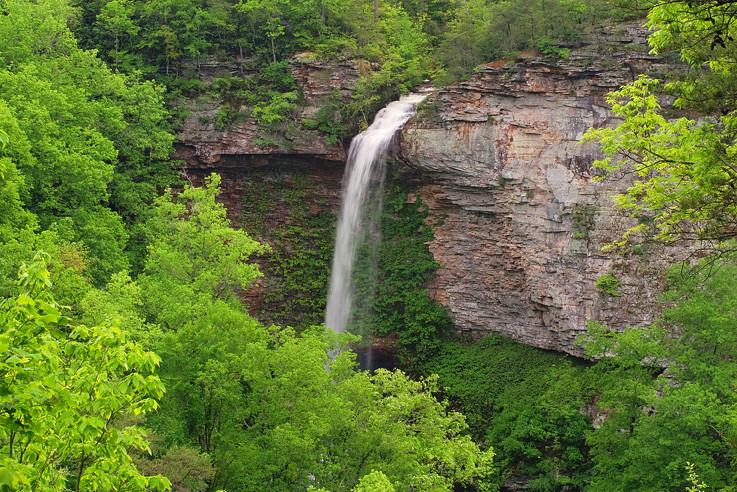 Laurel Falls
This small but beautiful waterfall can be found off of the orange trail and falls about 6 feet. It is about 0.75 miles from DeSoto's Country Store and the trail is rugged & moderate with some uphill climbs.
Indian Falls
This interesting waterfall falls about 20 feet into a small ravine, located just across the road from the Talmadge Butler Trailhead. Indian Falls is about 0.1 miles from the trailhead and is easily reached over a small footpath. A wooden footbridge crosses over the top of this beautiful sight.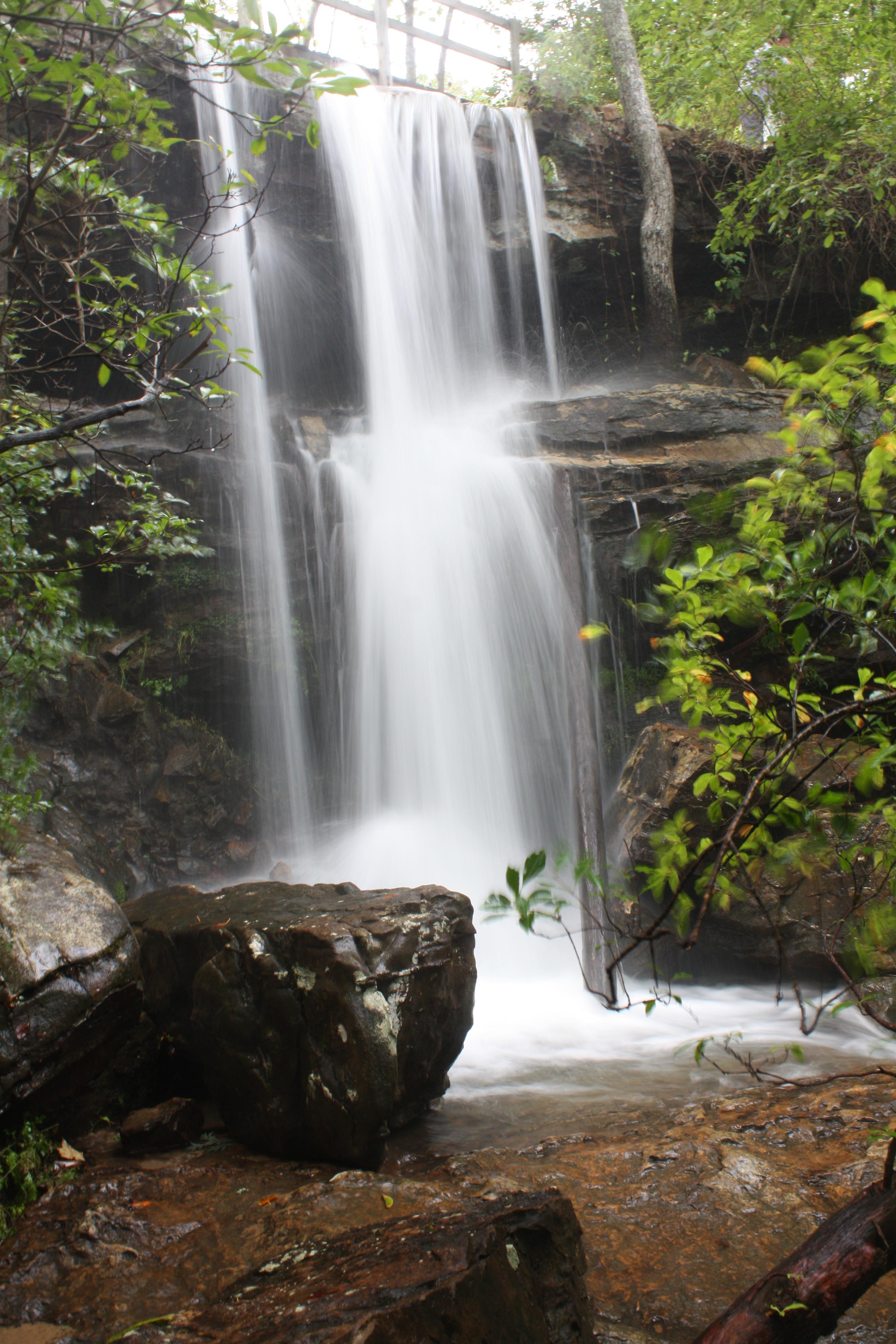 Lodge Falls
This easy to find waterfall is located just behind DeSoto's Lodge. Lodge Falls drops about 25 feet and is very rainfall dependent. The best view point of this waterfall is reached by hiking down into a small ravine and then getting on the yellow trail for a short distance and coming back out next to the Lodge.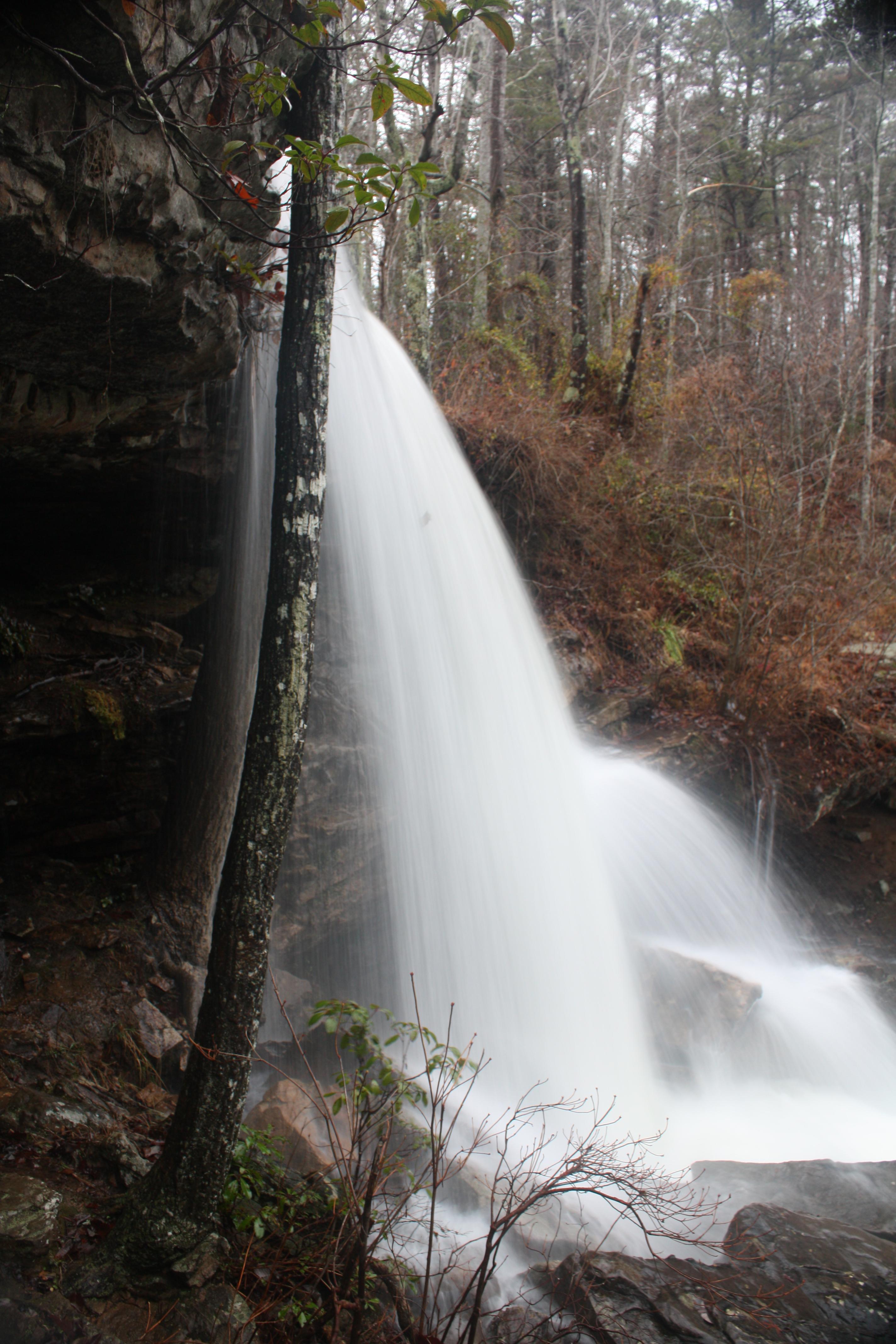 Lost Falls
This waterfall is the hardest to find in DeSoto State Park, mostly because when no water is flowing, it is truly lost! The best time to see this small 5-foot waterfall is in the Spring or Winter seasons. Lost Falls is located about 1.5 miles from DeSoto's Country Store and terrain can be moderate to mildly strenuous.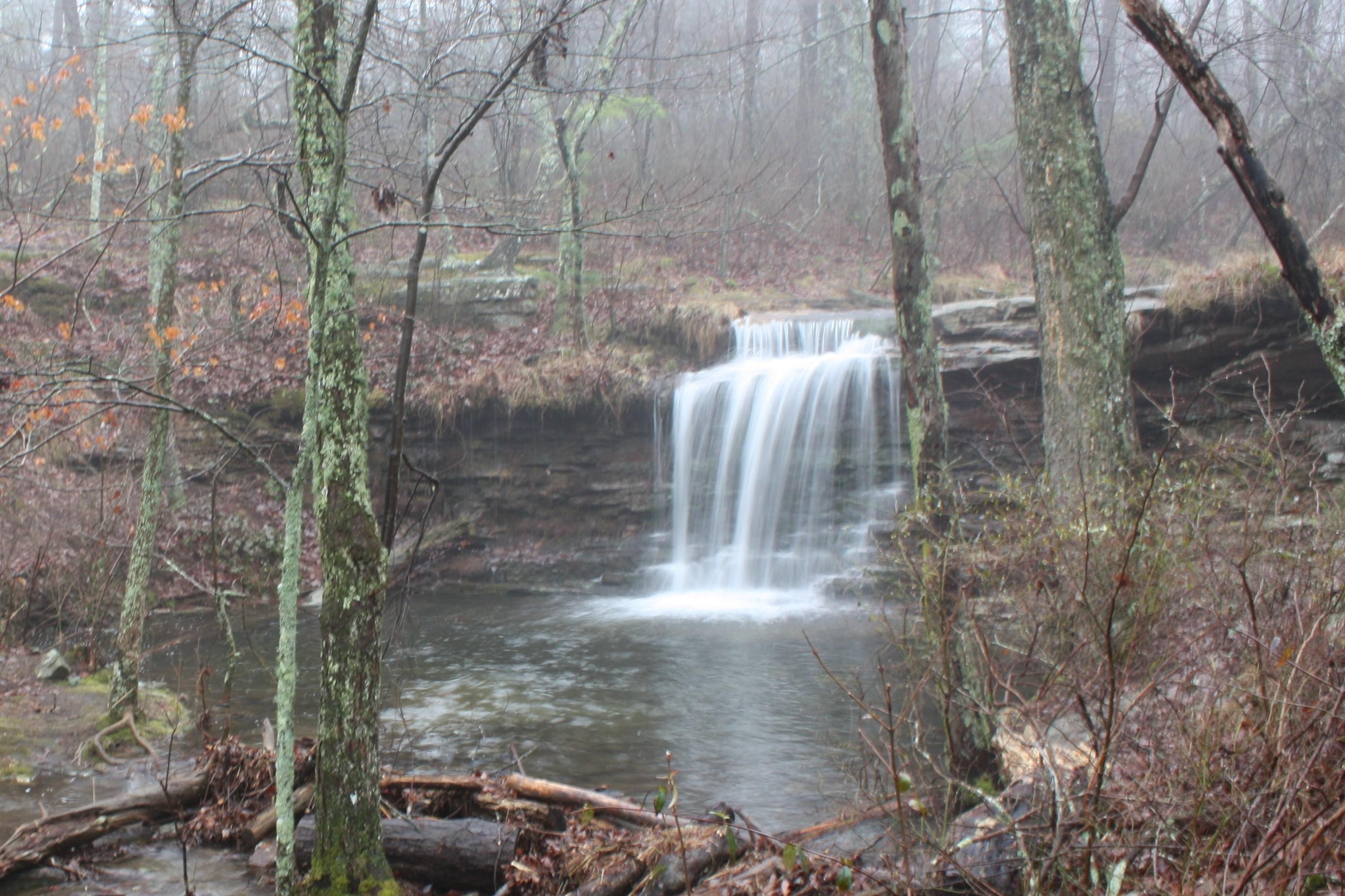 Azalea Cascade
This small cascade flows into a pool located at the end of the Talmadge Butler Boardwalk Trail. Can also be reached by the red trail behind the Country Store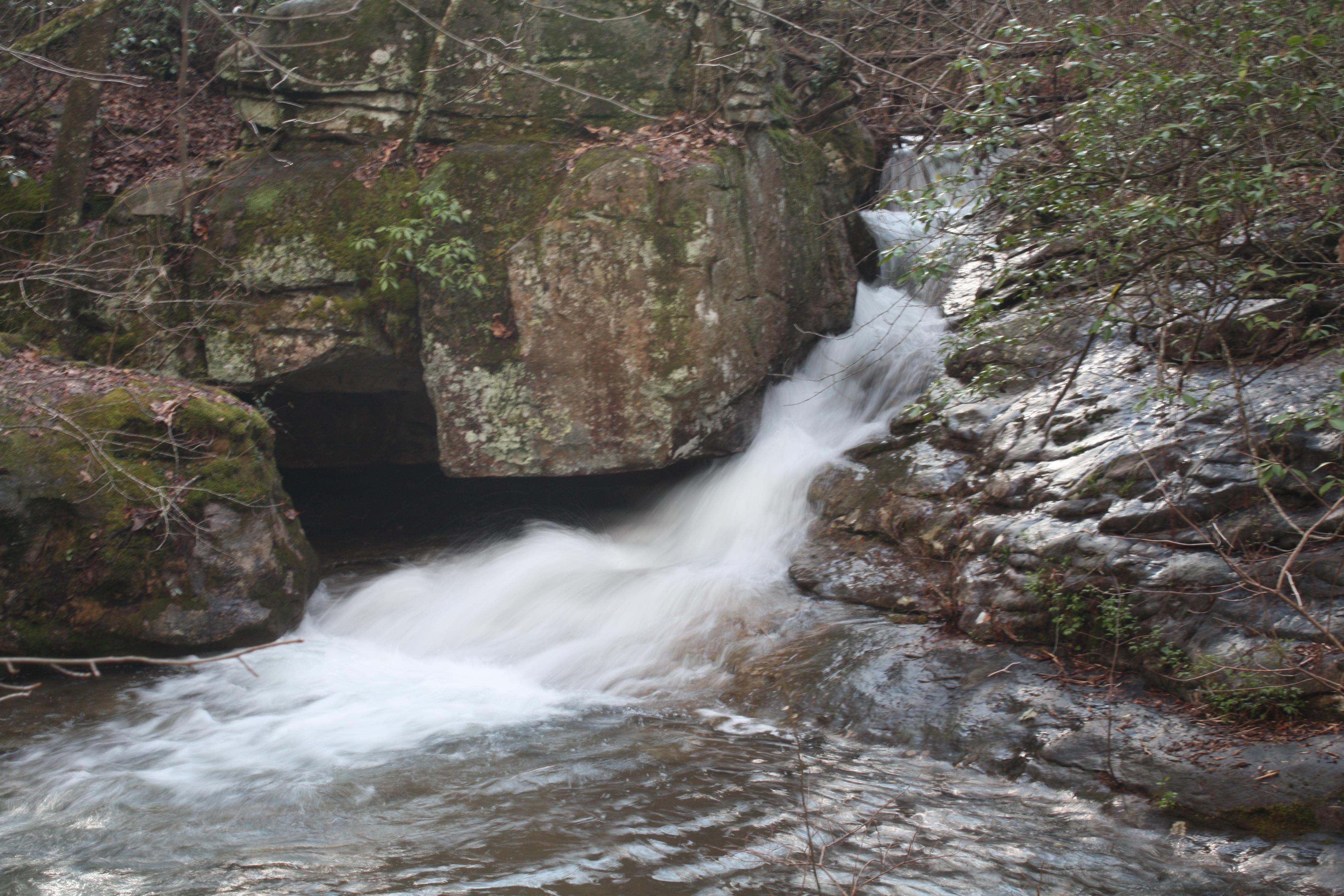 The best time to see the most water flow is usually in Spring, Late Fall, & Winter. Please Note: Most of the falls & streams at DeSoto State Park are dry in summer months, depending on rainfall.