Spookapalooza Spooktacular Campsite Contest
Event Dates:
October 30, 2020, 8:00 am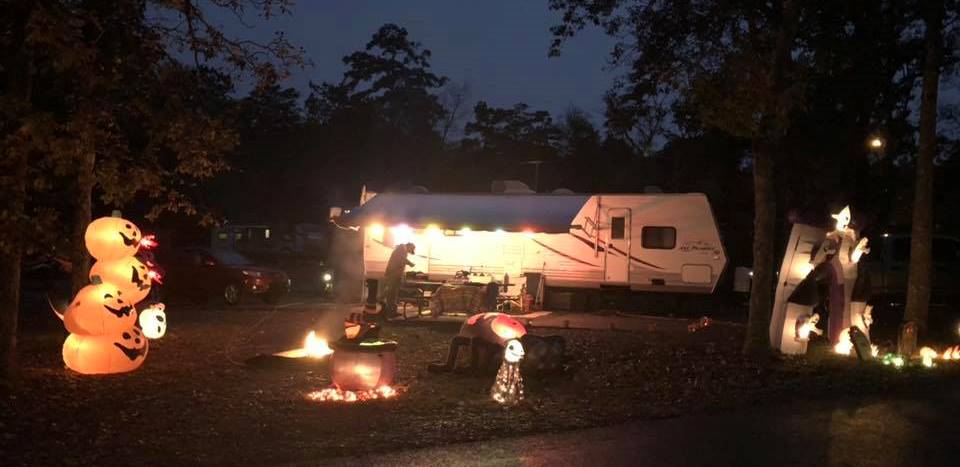 Events In & Around DeSoto State Park: www.alapark.com/parks/desoto-state-park/desoto-events
Spookapalooza Spooktacular Campsite Contest
Campers in DeSoto State Park have been decorating their campsites with Halloween decorations for years……this year, there will be a campsite decorating contest! Decorate your site with the most original and creative Halloween décor you can find … you might win a prize! The best decorated sites will win great prizes like free camping and more-there will be a 1st, 2nd, & 3rd place winner, as well as 'Spookiest'  to boost that competitive spark!
Winners will be announced on Sunday, November 1st via DeSoto's Facebook/Instagram. Feel free to share your Spookapalooza photos with us using (#desotostatepark) Winners will be contacted via email or phone from their reservation.
Regulations:  We ask that decor remains on the individual sites and does not bleed over into others sites, roadways, trails, etc. Décor must be completely removed from site at camper checkout-PLEASE no glitter/confetti, paint, toilet paper or other materials that cause damage to the park. Please help us observe Leave No Trace in the park where we can, especially with picking up litter.
Date: Halloween Weekend 2020
Where: DeSoto State Park in Fort Payne, Alabama. Improved Campground
Email Brittney.Hughes@dcnr.alabama.gov for any details.
After much deliberation the decision has been made to cancel most Spookapalooza activities for 2020. This decision has been made after reviewing current CDC guidance, reviewing the plans of other local organizations, and discussions among our park staff and state level leadership.
While we will still be hosting a Campsite Decorating Contest and a Pumpkin Carving Contest, all other events including trick-or treating will not take place this year.
While we understand that this decision may not be popular among many of our overnight guests and day use visitors, it has been made with your safety in mind.
We apologize for any inconvenience this may cause and look forward to seeing you all at Spookapalooza 2021.