Gross Out Camps
Event Dates:
July 17, 2023, 9:00 am
July 21, 2023, 5:00 pm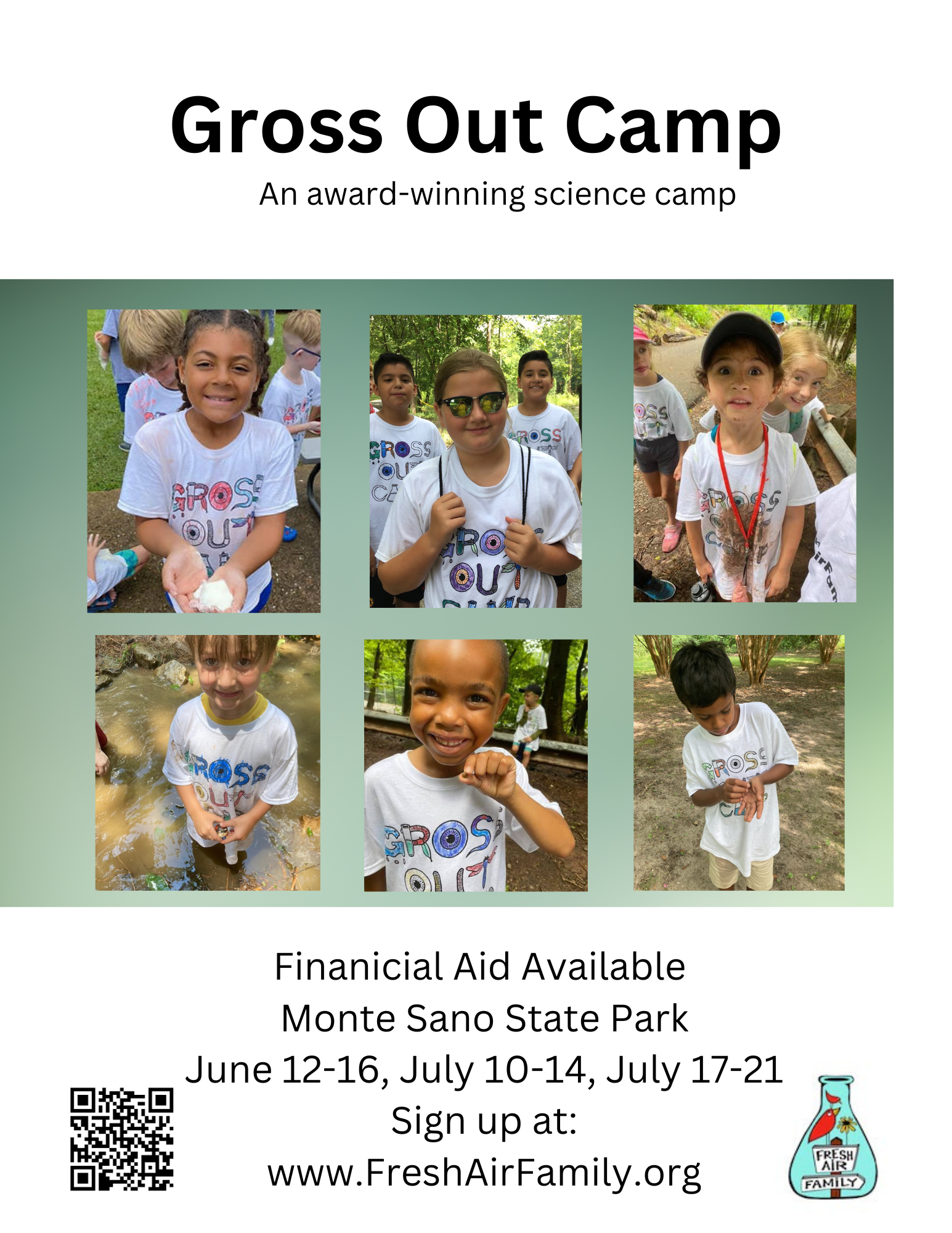 If it's icky, sticky or gross – it's Gross Out Camp! Slimy salamanders, slugs, bugs, crawdads and roly polies are all found as campers explore their world at camp through hands-on field biology. The camps are held June 12-16, July 10-14 and July 17-21 at Monte Sano State Park. The camps are a program of Fresh Air Family.
In this award-winning science camp, campers from 1st through 4th grades learn about plants, trees, animals and chemistry. (It's science but please don't tell the kids.)  Registration at www.FreshAirFamily.org/gross-out-camps.
"Gross Out Camp is a grand adventure for children. Nothing is more fun than learning when you are free to study what you find. Gross Out Camp is designed to engage children in the Great Outdoors, where they develop life skills along with scientific knowledge and critical thinking," said Verna Gates, founder and executive director.
The camp runs from 9am – 5pm with before and after care available from 8am-6pm. Each camp consists of 20 campers taught by an expert in outdoor education. The cost is $290 for the week, and scholarships are available. In 2022, FAF awarded more than $25,000 in scholarships to children whose families could not afford the camp.
"We have never turned a child away because they couldn't pay. We make a way," said Gates.
The camp combines experiments, exploring, journaling, and nature-inspired arts and crafts to address a variety of learning styles. Activities include Meet-a-Tree (scientific observation), Build-a-Beast (scientific method), and making slime (chemistry, plus it's fun -- and gross).
Founded in 2006, Fresh Air Family has served thousands of children and families in camps, weekend adventures and school field trips. Fresh Air Family guarantees tired, dirty children.
About Fresh Air Family
Fresh Air Family is a non-profit dedicated to environmental and scientific education, outdoor exploration, and an appreciation of the beautiful and biologically diverse state of Alabama. It offers summer and holiday day camps, school field trips and weekend family adventures in the great outdoors. www.FreshAirFamily,org.