RV Camping
Feel free to make your campground reservations by using the online tool, calling the park office or simply walking in. We encourage advance reservations. If you experience any issues using our online campground reservation tool we would appreciate your feedback. Thank you for choosing the Alabama State Parks.   
Online Camping Reservation Tool
Meaher State Park has 61 RV campsites. Each site is paved, roughly 65' in length, and has 20, 30 and 50-amp electrical connections as well as water and sewer hookups.  You have a grill and picnic table at your site and plenty of space between you and the next guest. We have 10 improved tent sites with water and 20-amp electrical connections. All of our tent sites have a grill/fire pit and picnic table available. We do allow tent camping at some of our RV sites as well as hammock camping. If you are interested in going primitive we offer that as well either as a group or individual. Our campground features an air conditioned/heated main shower house equipped with laundry facilities for overnight campers and a smaller bathhouse equipped with restrooms only.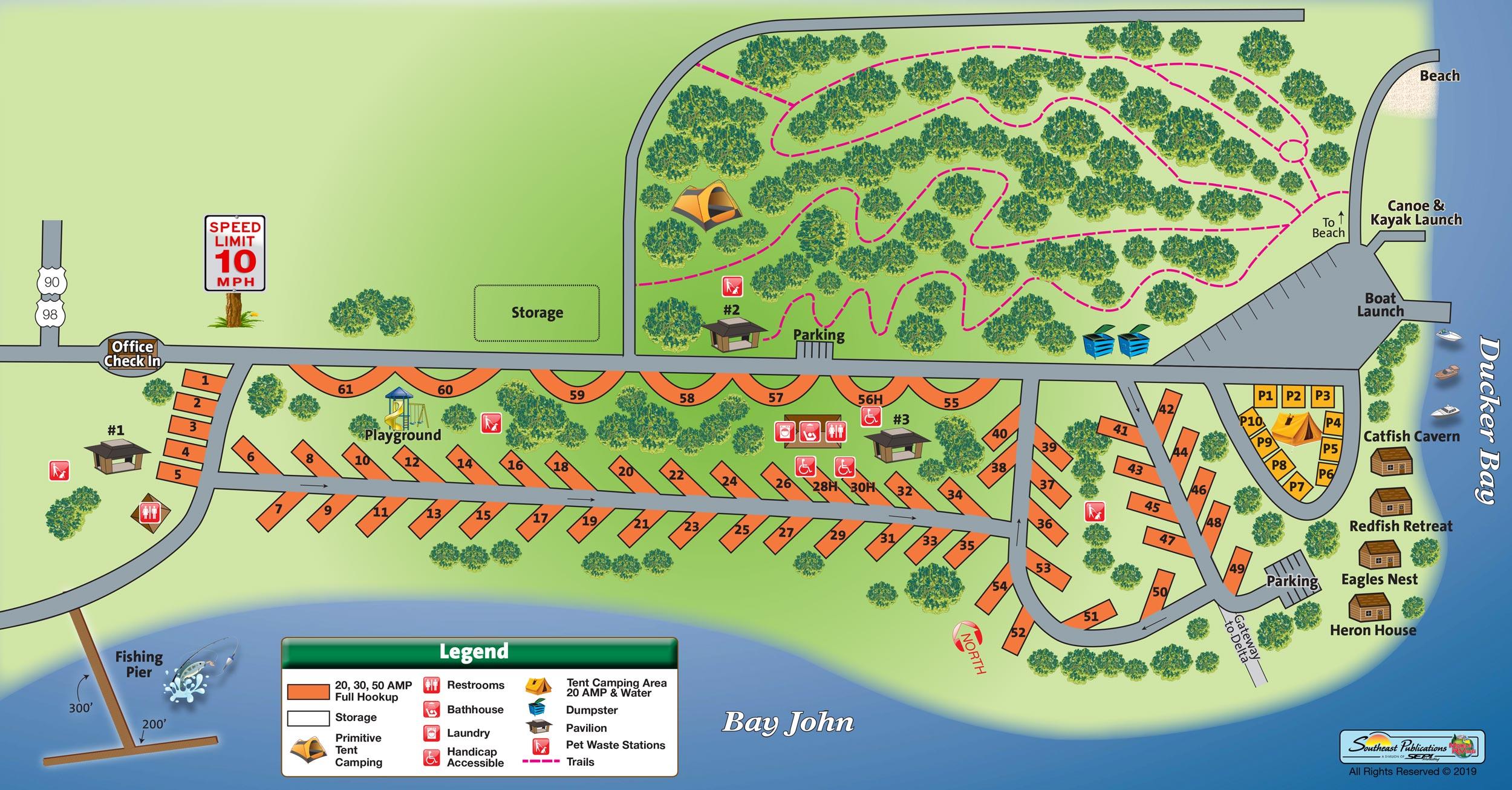 Rates 2023: (PRICES SUBJECT TO CHANGE)
Rates vary by date, availability, and unit amenities. Please visit www.reservealapark.com to check rates and date availability.
$42.20/n** if you are staying less than 7 nights
$35.85/n** (Sun-Thurs) if you are 62+, veteran or disabled (please provide proof upon arrival)
$31.95/n** if you are staying 7 nights - no discounts on top of the weekly rate - $246.54 total
If you are staying over a holiday (Memorial Day, 4th of July, Labor Day) during your 7 nights holiday rates still apply.  
Monthly Rate:$1,074.69 per month - March 1- Oct 31 (season) - 28 nights
                        $859.98 per month - November 1 to Feb 28 (off-season) – 28 nights
Two night minimum for weekends
Three night minimum for holidays
**A one-time Reservation Fee of $5  per visit, a 4% Resort Fee based on total camping fees and lodging taxes apply to all above rates.
Camping Rates
Rates vary by date, availability, and unit amenities. Please visit www.reservealapark.com to check rates and date availability
Camping rates based on:
One tent or RV per site.
1-4 individuals per site.
Additional persons are $3/person/night (up to 8 persons per campsite).
CANCELLATION POLICY:
In order to receive a refund or be able to change the dates of your reservation you must reach out to us by phone, email or through contacting us on our website... at least 72 hours prior to your reservation. If you contact us within 72 hours of your reservation you forfeit your deposit. 
*Notice - UNIQUE WILDLIFE*
Thank you for choosing Meaher State Park as your destination to relax. We would like to take a moment and educate all of our guests, present and future about possible wildlife you might encounter while you are here. Meaher State Park is located on an island in the Mobile-Tensaw Delta and is a beautiful natural habitat for various types of wildlife and insects. We would like to provide notice of the Argentine Ant colony that has greatly affected our area before April 2018. Argentine Ants are foraging ants… they do not bite or sting. However they will forage for water and food and can be invasive. There have been issues in the past with the ants making their way into campers, storage tents, and other similar structures, but we have taken steps to greatly downsize the population. In April 2018, we started our pest management plan that has been successful. We have a local pest company come out once a week for baiting and spraying all the while not only taking in to consideration the local terrestrial and aquatic wildlife but more importantly you as our guest. Some of the things we would ask you to do regardless of whether we had ants or not... don't leave trash outside; pick up food scraps around your site; properly store food left in containers outside your camper or tent. These are all things that could attract wildlife other than ants like raccoons, opossums, mice, etc. As a just in case measure, if you want to protect your camper or tent anyway bring borax to lay around your RV/tent (sprinkle around anything that touches the ground... jacks, hoses, cables, tires, etc that would allow ants entry in to your living quarters). The boric acid is harmful to the ants and will keep them from coming inside. We again would like to stress these are foraging ants. They are looking for food and water; they are not harmful. Thank you for your patronage and please feel free to contact us with any questions you may have.
If you would like more info on the Argentine Ants please follow this link https://en.wikipedia.org/wiki/Argentine_ant to an informational website not affiliated with the Alabama State Parks.