Tent Camping at Meaher
Tent camping with us… 
Rates 2020 (PRICES SUBJECT TO CHANGE):
Improved Tent Sites: $24* per night 
Weekly: $152*
Two night minimum for weekends
Three night minimum for holidays                                                        
**Plus:**  
A one time Registration Fee of $4.75 per visit, a 3.75% Resort Fee based on total camping fees and lodging taxes apply to all above rates.
You must call to make reservations. 251-626-5529
Deposits for camping reservations are nonrefundable.
Discounted Rates
All senior citizens (62+) and 100% disabled persons are eligible for a 15% discount on camping fees Sunday through Thursday nights from March 1st to October 31st  with the exception of holiday weekends.  A 15% discount on camping fees is offered from Sunday through Saturday nights from November 1st  to Feb 28 with the exception of holiday weekends. Proof of age or disability is required. Discounts are not available in conjunction with group rates, special packages, or other discounts. Discounts are not valid on weekly or monthly rates, or on holiday weekends. Discounts must be mentioned prior to reservation completion.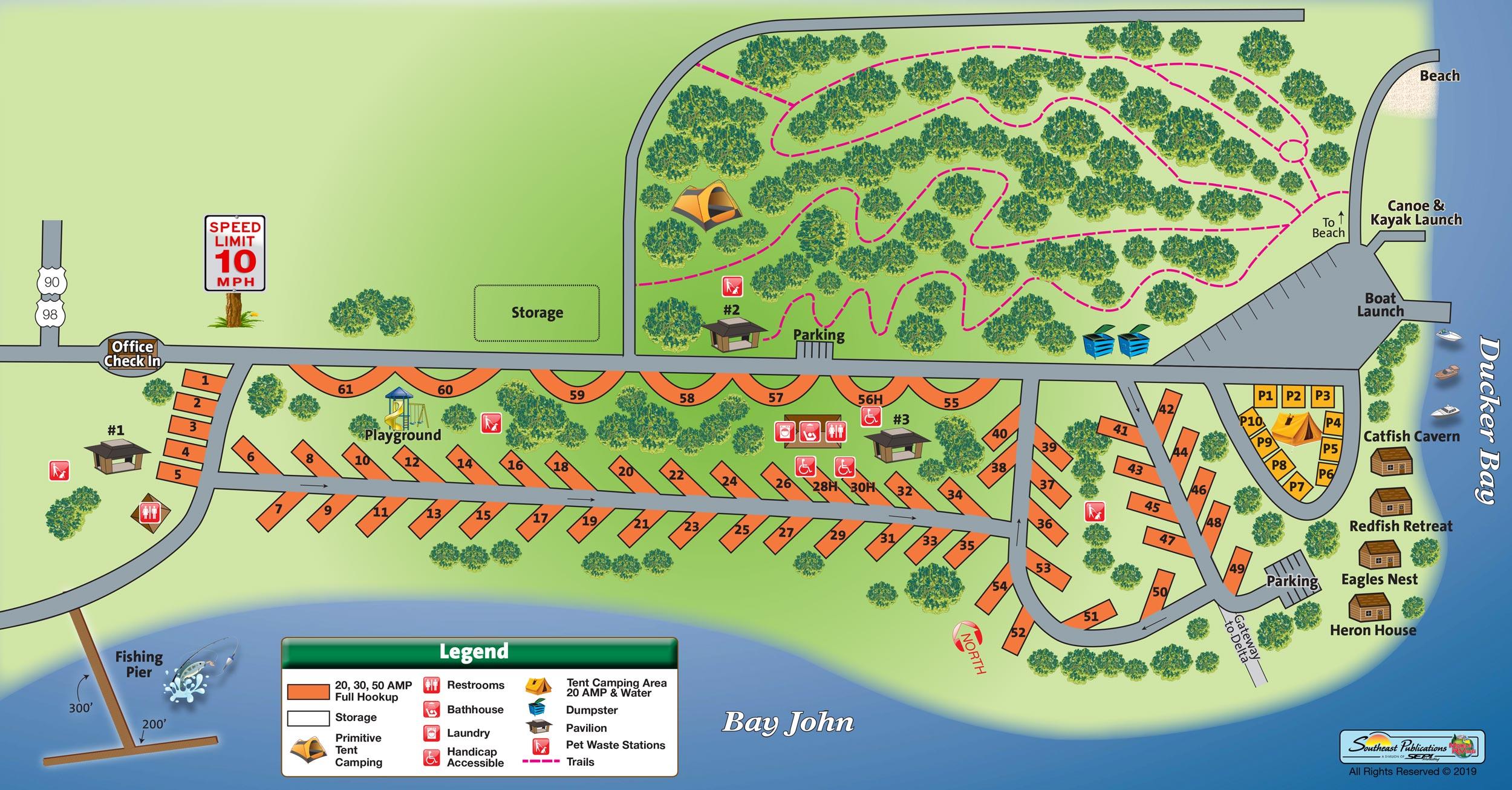 We want everyone to have a fun and relaxing time with us. Please respect all guests' space and stuff. And let us know immediately if there are problems. Come by the office or call 251.626.5529…Office is open 7 days a week from 7am-3pm Sat-Tues and 7am-5pm Wed-Fri. (After hours 251.472.6226).
Please help us by reading the following…
We ask that you leave the site the way you found it and if you found it in disarray when you arrive please let us know. We want you to have the best experience possible!
Frequently Asked Questions
When I arrive can I pick a different site then what I was assigned to?
When you made your reservation we assigned you a site according to what was available for the dates you requested. If you find that there is a problem with your site upon arrival please let us know immediately. We ask that you do not move to an empty site because that site might be reserved for someone else who hasn't checked in yet or it may be closed for maintenance issues.
What do I need to know about my site?
We ask that you set your tent on the pad (gravel area inside railroad ties). Due to utility and water lines, the central area in the tent section is off limits for setting up anything other than hammocks. Please do not use nails in the trees to stake your tent. Please do not park in the grass. Please do not park in the drive way (gravel road around tent section). There is parking just south of the tent section. Unload at your site, then move your vehicle if you do not have room to park on the pad.
What if I am arriving after the office closes?
Our staff will call you the day of your reservation. If you will be checking in late they will give you the gate code and the camp host phone # as well as answer any questions you might have.
What size tents will my site accommodate

?​
​​​​​​There is space for 1 large 8-10 person tent (10'x10' or smaller) or 2 smaller 2-4 person tents (7'x7' or smaller). Each site should have no more than 8 people staying on it. Your site includes a circular, on the ground grill with the grill plate suspended over top and a picnic table. You also have 2-20-amp plugs (traditional household plugs) and a water spigot. A pole and hook hang at your site for food or trash. Your site is gravel surrounded by railroad ties. We ask that you set your tents up on the gravel so bring extra padding for under your tent.
What activities are there for us to do at your park?
We have a fishing pier, a motor boat and canoe/kayak launch, a boardwalk, a beach to fish off of. If you wish to fish you will need an AL freshwater fishing license. We do not allow swimming due to dangerous wildlife. We are conveniently located close to Mobile, Daphne, Fairhope and even Gulf Shores, AL so there are plenty of local shops, activities, eateries, etc to enjoy.
Extras:
There are street lights near the tent section that come on at night.

The tent section is close to the water so you may experience wind off of Ducker Bay.

We are located just off Hwy 90/98 and I-10 is just south of us off in the distance. You will hear some road noise.

We have all sorts of wildlife. We suggest bringing baking soda, borax, comet, etc to sprinkle around your site to keep ants from coming in.

Pets are always welcome as long as they are on a leash and under your control at all times when outside your tent and you must clean up after them.

If you are bringing a boat, we ask that you park it in the boat launch parking lot within sight of the tent section. We have a very busy boat launch so we ask that you do not leave your boat tied up at the launch unless you are just coming in or about to head out.
*Notice - UNIQUE WILDLIFE*
Thank you for choosing Meaher State Park as your destination to relax. We would like to take a moment and educate all of our guests, present and future about some things at the park. Meaher State Park is located on the Mobile Delta and is a beautiful natural habitat for various types of wildlife and insects. We would like to provide notice of the Argentine Ant colony that is affecting the area. Argentine Ants are foraging ants… they do not bite or sting. However they will forage for water and food and are very invasive. There have been issues in the past with the ants making their way into tents, coolers, food storage containers, etc. and we are taking steps to remedy it, but we need your help. Any and all food items and drinkable items need to be stored away from your tent. This will help keep them outside and assist us in effectively treating the colony. We again would like to stress these are foraging ants. They are looking for food and water and they are not harmful. Please take extra care around your site, pick up any litter, and do not leave any standing water that would attract them. Thank you for you patronage and please feel free to contact us with any questions you may have.
If you would like more info on the Argentine Ants please follow this link Argentine Ants - Wikipedia to an informational website not affiliated with the Alabama State Parks. 
To learn more about the Argentine Ants and how to control them check out this article provided by the County Extension Office.