Paddling
2 places to launch - both are due east from the main gate (only way in to the park) - $5/person entrance fee for canoe/kayaking from our shores (if no attendant at office please put cash in red honor box located next to office door)
Oyster shell beach (not a beach to swim from due to dangerous wildlife) - drops you right into Blakely River; head north or south; park so you aren't blocking anyone
Boat launch - ADA approved canoe/kayak launch - enter Ducker Bay head east then south and meander under the boardwalk out in to Bay John where our fishing pier is located; or continue east out in to Blakely River; head north or south; a parking lot is available for you - please park in spaces designated for vehicles only unless you are pulling a trailer.
Our park is open from 7 am-7 pm (or sunset - whichever comes first). If you are in the park before the gate closes you are welcome to stay til 7 pm (or sunset). However, if you are wanting to access the park after the gate has closed at 5 pm access into the park for day use is over.
We offer an annual pass for day use.
Cost: $50/person; $80/family up to 4
Access for 1 full year from date of purchase.
Access from 7 am - 7 pm (or sunset; whichever comes first).
Paddle, picnic, take pics, hike, bring your pet, bring a friend, fish, etc.
This does not include use of the boat launch for motor driven boats.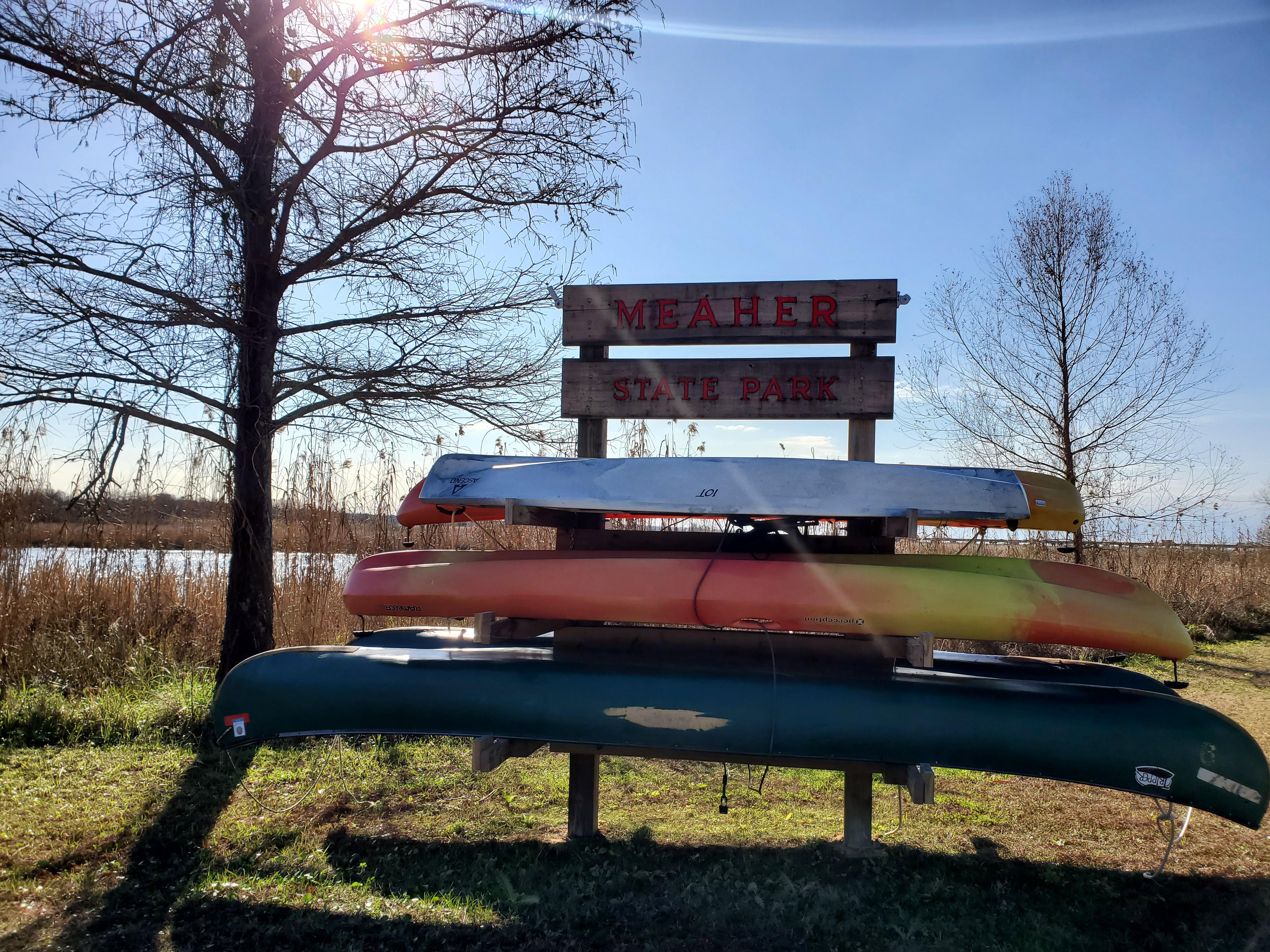 Kayak and Canoe Rentals
We have canoes and kayaks available between the hours of 7 am and 2 pm everyday. Rental Prices are $15/hr or $45 for 4 hours.
We also offer rentals for larger groups. RSVP at least 72 hours ahead of time with the park's naturalist by emailing chloe.drexel@dcnr.alabama.gov
Guided Paddles in the Delta
Meaher State Park offers guided kayaking paddles with the Naturalist. These events are posted in our events tab and on Facebook along with a link to RSVP ahead of time. Prices are $15/person and an additional $15 if you need to rent a park kayak.
This is a great opportunity to learn more about the biodiversity and history in the Mobile-Tensaw Delta so keep an eye out for these event posts!