Conquer The Cave 5K Run
Event Dates:
September 29, 2019, 2:00 pm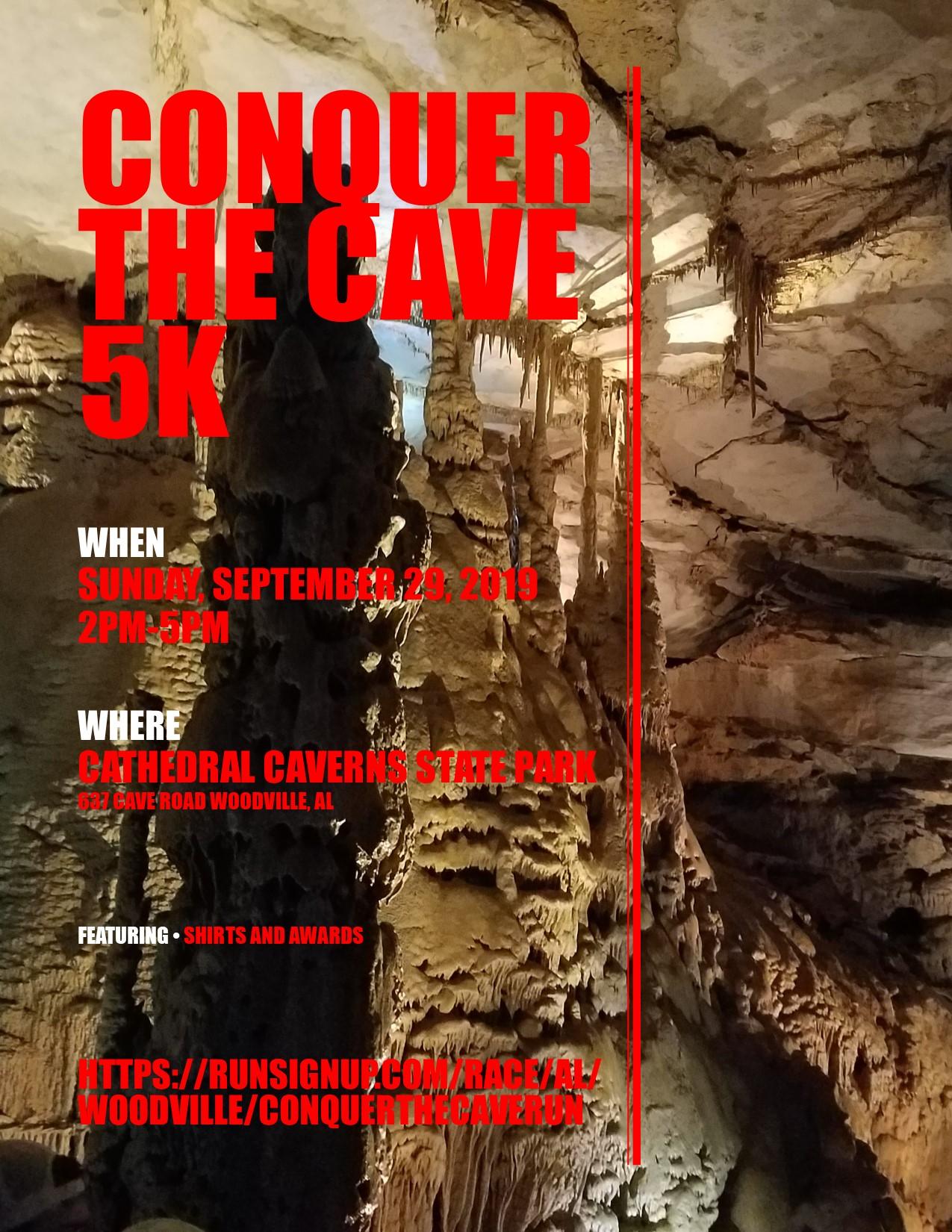 Race Registration and Web Site
https://runsignup.com/Race/AL/Woodville/ConquertheCaveRun
When
Sunday, September 29, 2019 from 2PM-5PM
Where
Cathedral Caverns State Park
637 Cave Road
Woodville, AL 35776
Description
Welcome to the 2019 Conquer the Cave 5K! The race starts in a beautiful valley with picturesque mountains and fields in the background. Once runners get to the 1.9 mile mark they will enter the crown jewel of caves in the Southeast. The portion of the 5k course that runs through the cave is an out and back 0.6mi that is wide enough for 2 way traffic. Runners will pick up a glow stick at the turn around point and the decorative lighting will be on at all times. The average temperatures for race day are a low of 54F, high of 79F. Meanwhile inside the cave the year round temperature is a cool 58F. This will truly be a race like no other.
Shirts & Awards, Weather & Cutoffs
The race shirt will be a short sleeve tri-blend shirt. ALL participants will receive an awesome finisher medal.
Age groups will be ten years: 19 and under, 20-29, 30-39, 40-49, 50-59, 60+
In the event of severe weather we will delay the start as necessary to avoid lightening. If severe weather threatens the entire day and does not appear to let up, we may be forced to cancel.
There will be very loose cutoffs. Our goal is for everyone to have a blast and a one of a kind experience running through a natural wonder, no matter what your experience level is. There will be a 1hr and 5min cutoff. We ask that you please respect the state park and volunteers and adhere to this cutoff time.
There are no refunds, credits or friend/ family transfers on entries.
Overview
Course Maps & Elevation profiles:
5K: https://www.strava.com/routes/12984717
Driving distance from:
Huntsville: 31 miles
Chattanooga: 83 miles
Birmingham: 93 miles
Florence: 103 miles
Nashville: 139 miles
Atlanta: 161 miles