Camper Cabins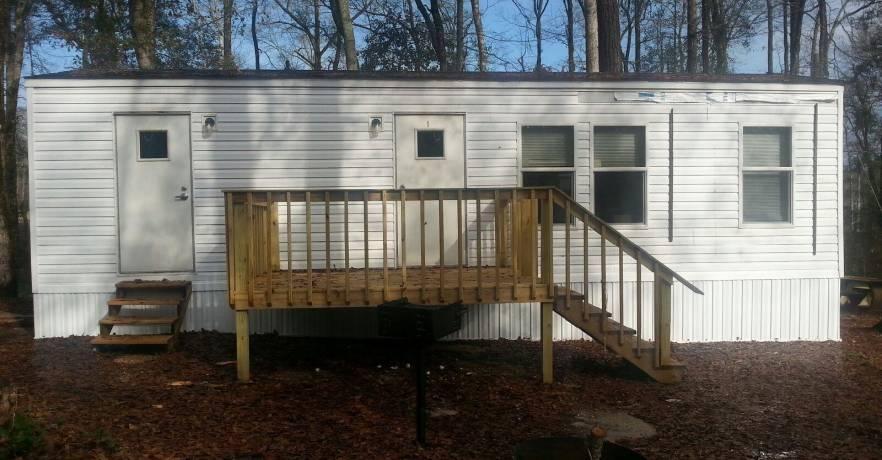 We now have rental cabins available. Come stay in one of our fully furnished cabins for your family get away.
Cabins #1&#2 will sleep up to 6 persons
Cabin #3 will sleep up to 4
Cookware, dishes, microwave, coffee maker, TV, dinning table are furnished with all cabins
Bring your own bed linens and pillows
Located within a short walk or drive to the spring pools and fishing pond
No smoking is allowed in the cabins
Cabin #2 is our only pet friendly cabin
Dog charge of $20.00 per night per dog, if staying in a cabin.
Dogs are not allowed in non-dog friendly facilities.  Please reserve the specific facilities.
The clerk must be notified upon check in of the number of dogs staying.
Guest must have current credit card on file to serve as deposit on any damages – guest will be notified if any damages occur.
Park management reserves the right to prohibit any dog on premises.  Any dog that is intimidating, destructive, dangerous or noisy will not be allowed to remain in the park.  If evicted, the dog owner will be responsible for the full amount of the reservation.
Dogs are permitted in designated day use areas and dog friendly facilities if on a leash and attended at all times (dogs may not be left unattended at any time in the cabin unless in pet carrier or crated).  Dogs are not allowed in any other building or at the beach.
Dog owners are required to clean up after pets and are responsible for their actions.
Dogs must be current with all vaccinations and have tags or documentation.
Dog owners are responsible for any and all damages.  Extra charges for damage or full cleaning may apply.
Maintenance or staff might not enter cabin unless dog is leashed or confined. 
Other policies may be applicable depending upon Park amenities
Please have your pet's shot records on hand for the duration of your stay
2 night minimum on non-holiday weekends
3 night minimum on holiday weekends
$82.00 per night plus 4% lodge tax
A one-time $3.00 transaction fee applies to all stays
For cabin reservations: