Picnic Areas
We apologize for the inconvenience:  T-Mobile will be working on the Alabama Public TV Tower during Monday August 2 – Friday August 6, 2021.  The following park areas will be CLOSED:
Tower Road, Bunker Tower (Highest Point), CCC Museum, Mike Bosarge Dog Park, Imagination Tree Playground, Bigfoot Pavilion, Redbud Pavilion, Dogwood Pavilion, Upper Primitive Camping Trail,  Leave No Trace Bigfoot Trail, and Heritage Trail. Because there is danger from tower work (high in the sky), we ask that NO GUESTS enter the area. This means no driving, walking, hiking, or cycling on Tower Road or along the two closed trails.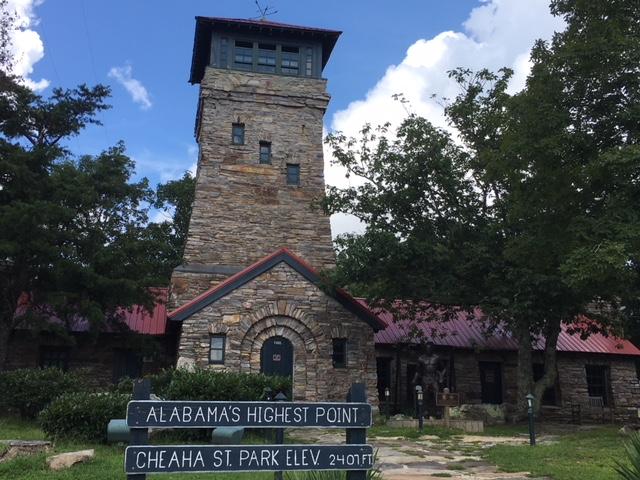 Spread a blanket in the field near Cheaha Lake, or claim a picnic table near the highest point.  Cheaha State Park has a "mountain" of reasons to enjoy a picnic with your family!
The Picnic Trail is located on top of the mountain near the CCC Observation Tower. There are several tables near the playground and the Bunker Observation Tower. Many people enjoy a picnic on the rocks by the playground.
This area has two pavilions that you can reserve for your group by calling 256-488-5885 or email our Sales Department  Shannon.Waters@dcnr.alabama.gov
Pavilion rentals are from 8:00 a.m. - Sundown.
The picnic area at Cheaha Lake offers lots of fun for the entire family.  There is swimming, fishing, and a walking trail to go along with your picnic!
Pick up food to go from Vista Cliffside Restaurant, bring your picnic along with you, or pick up items at the Mountain Store. Cheaha State Park, where every day is a vacation!
If your child loves nature, Cheaha is the perfect place for your next birthday celebration.