*Event is FULL* Fairy Tales and Trails! Family Fun and Tiny Opening of New Enchanted Garden
Event Dates:
June 3, 2022, 10:00 am
June 3, 2022, 12:00 pm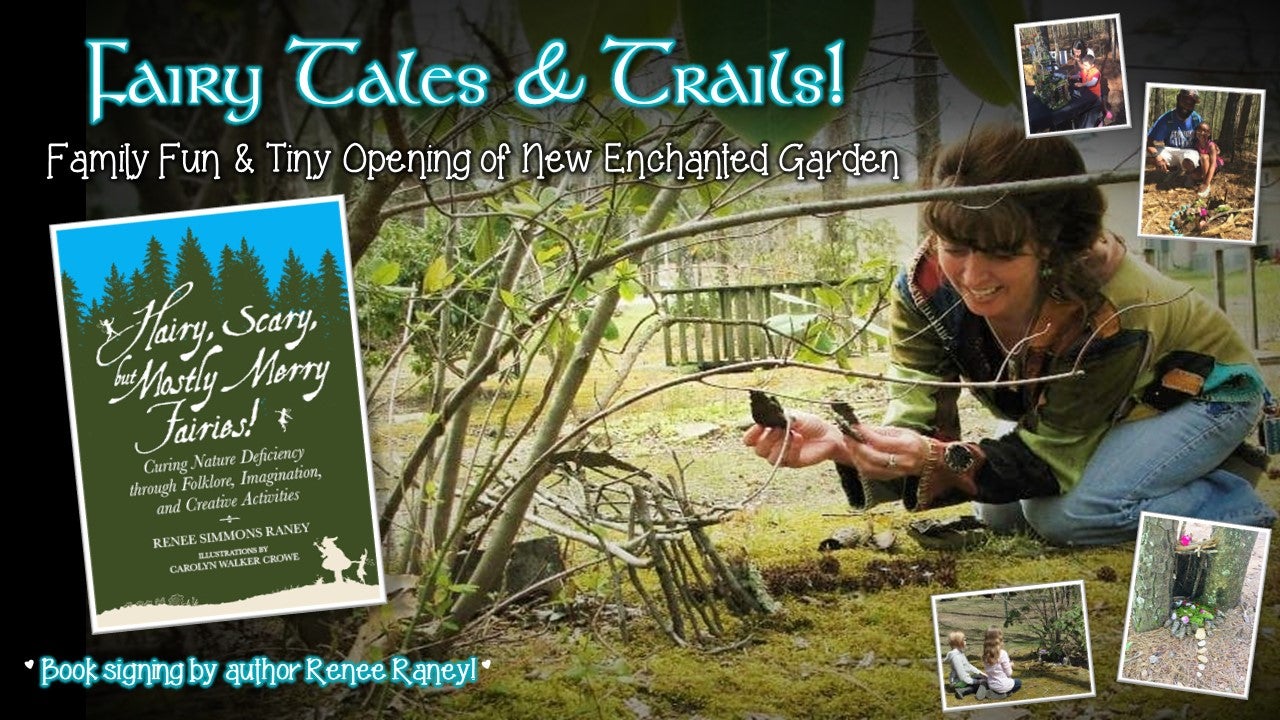 Fairy Tales and Trails! Family Fun and Tiny Opening of New Enchanted Garden
*Event is FULL* 
Email: Lauren.Muncher@dcnr.alabama.gov for the next Fairy Tales & Trails! 
"Every moment spent in nature is a Once Upon a Time moment!"
-Renee S. Raney
Join author and storyteller, Renee Simmons Raney (aka Central District Parks Superintendent), for a fairy house workshop. This magical program is a unique way to connect children with nature, teach conservation ethics, and have fun in the park. Her book (Hairy, Scary, but Mostly Merry Fairies!) will be available at the program and Renee will happily sign them. 100% proceeds from book sales go to the park. There is no fee for this program but regular admission fees to the park apply at gate.
*There is limited space available, so PRE-REGISTER by emailing: Lauren.muncher@dcnr.alabama.gov.
Email confirmations will be required to attend. The Program will be held in the NEW Enchanted Garden at the OMSP Interpretive Center.
EVENT SCHEDULE
10am -10:30am:
Introduction/Storytelling (Interpretive Center Classroom)
10:30am - 11:30am:
Ceremonial Ribbon Cutting to open the NEW Enchanted Garden AND Building Natural Fairy Houses (Enchanted Garden)
Fairy Houses will be constructed of natural materials such as sticks, pinecones, sweet gum balls, wildflowers, lichen, etc.
11:30am - NOON:
Participants gather for a walking tour of the structures and learn about each one! Bring your camera for photos!
*We encourage you to bring materials from home/yard for your Fairy House "enhancements". The list below details approved building materials. Please do not gather any natural items from inside the park. The wild fairies need these supplies to decorate their own park homes. 
*
Approved "Building" Materials:
- Fresh Flowers
- Dried flowers
- Pine cones of assorted sizes and shapes
- Lichens and lichen covered sticks
- Sticks of assorted sizes and shapes
- Tree bark (some of you may have river birch trees or a fallen log where you can collect)
- Acorns/Acorn caps
- Natural Clay
- Small stones
- Sea Shells
- Moss (either harvested off private property or purchased at Hobby Lobby)
- Any other littles natural item you find that you would like to include in your Fairy House!!
**Please no glitter or plastic- fairies are allergic to these things (and a sneeze can crumple fairy wings)!**