Fire on the Water
Event Dates:
July 3, 2021, 5:00 pm
July 3, 2021, 9:00 pm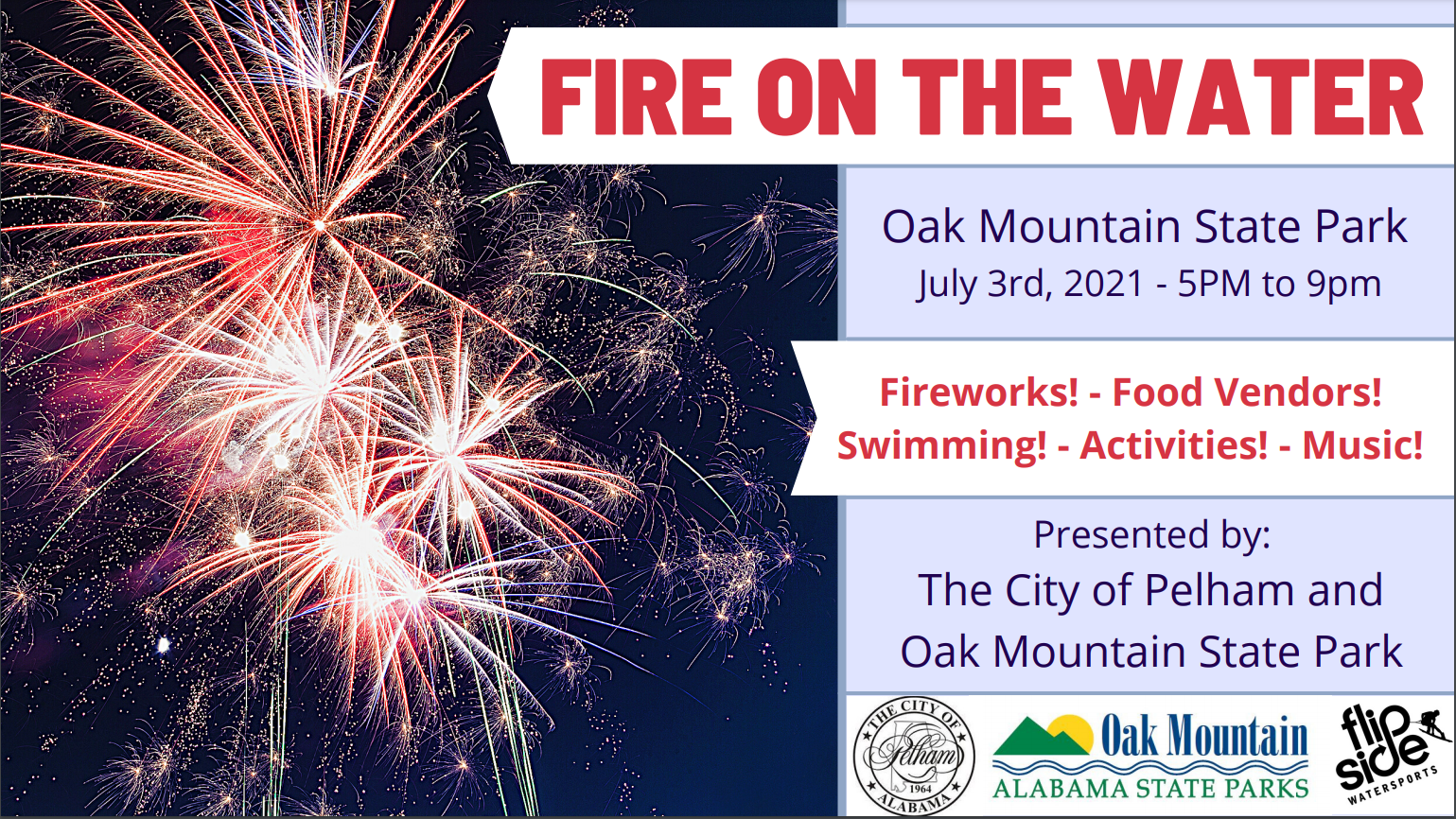 The City of Pelham will host its annual Fire on the Water celebration in partnership with Oak Mountain State Park on Saturday, July 3, 2021!
Fireworks go off at 9 pm Sharp!
*RAIN OR SHINE*
Gates open at 7 am! Come and spend the day with us! Grab a good spot on the beach and enjoy the day in the park as you wait for the show to start!
In the interest of public safety, a limited number of tickets will be sold for Fire on the Water. They cost $15, however, Pelham residents may purchase them at a discounted rate of $10 per ticket. Each ticket is valid for one vehicle carrying up to four people. A state-issued ID or utility bill is required for proof of residency.
Pelham residents also have the benefit of purchasing tickets a week before they officially go on sale. Pelham residents can buy tickets beginning Tuesday, June 1st, and sales open to everyone on June 8th.
No event tickets will be sold on July 3rd, and regular entrance fees will apply. Cash only at the gate.
Fire on the Water event tickets may be purchased at Oak Mountain State Park, either at the Ranger Station or at the Main Office. Entrance fees will not be charged for those coming to the park to purchase these tickets.
Both gates will CLOSE to the public at 7 pm SHARP. Please plan accordingly!
Remember, gates take CASH ONLY!
Annual Passes are valid on July 3rd, 2021.
There will be a DJ! Food Trucks will be on site as early as 1pm for the lunch crowd and will remain onsite serving until 9pm! Food trucks will take card payment.
We have beach volleyball, basketball courts, the treetop nature trail, playground, and fishing piers in the show's vicinity for you to enjoy all day!
Pelham's Matthew Blount Post 555, American Legion Post 555, will be joining us in celebration! They will be presenting the Colors at 8:45pm. This will be accompanied by the National Anthem! Join us in celebrating our Nation's independence with these brave heroes!
Beer will be sold by park staff on the Terrace from 5 pm until 8 pm. Beer will be $7 each and we will take cash and card payments! Look for the Logo Tents on the Terrace!
*NO OUTSIDE ALCOHOL ALLOWED. Please enjoy responsibly.*
Flip Side Watersports Is joining us again this year for some wake boarding entertainment! They will hit the water at 5pm and show off some tricks on the water for all to enjoy!! Their Skiers this year are some of the top wake boarders in the Nation. It's going to be a great show!
You can bring your own chairs/blankets for viewing the show, and you will be allowed to bring in your own coolers if you choose (no outside alcohol allowed). We will have picnic tables available throughout the event area, and there are grills scattered throughout the park that are open to the public! Picnic tables and grills are first come first serve!
Parking for the event is available on Terrace Drive. Come early in the day for the best parking space! We will have parking attendants on site beginning at 4 pm to help you find an open spot.
The Marina will be closed ALL DAY Saturday, July 3rd in preparation for the show. If you would like to rent a kayak/canoe/SUP, Flip Side Watersports will be open and renting all day on Beaver Lake!
Trails leading to the dam (the Lake Trail) on Double Oak Lake will also be closed for the entire day on Wednesday, July 3rd So do not plan on hiking or biking the Lake Trail.
We will have all boat launches on Double Oak Lake barricaded for Wednesday, July 3rd. If you are interested in bringing your own kayak/canoe/SUP you will need to utilize Lunker Lake or Beaver Lake at the North end of the park.
Paramedics will be on site and located in the Oak Room throughout the event. Please be sure to stay hydrated!
Click here- FB Event Link  for additional information! 
Click here- Fireworks Safety Tips Video
Click here- Fireworks Traffic Plan