Sunday Fairy Fun: Make & Take: Building Fairy House Furniture
Event Dates:
June 27, 2021, 10:00 am
June 27, 2021, 11:30 am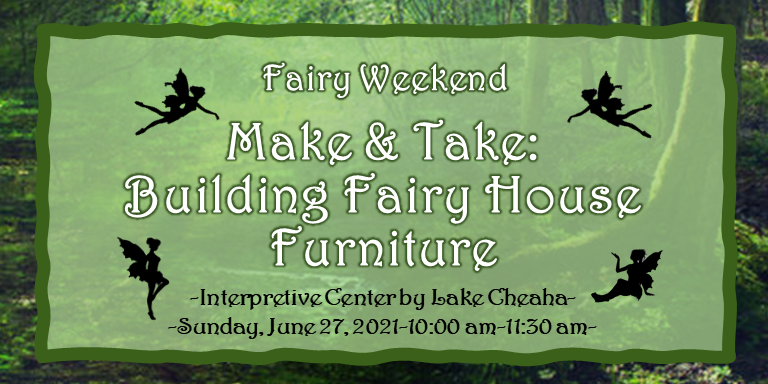 Sunday Fairy Fun: Make & Take: Building Fairy House Furniture
Welcome lovers of nature and the wee folk! Enjoy a magical weekend filled with storytelling, sparkling bubbles, whimsical fairies, fairy house building, and fun in the forest. Put on your wings, see nature as you've never seen it before, let your imagination run wild, and join us for this enchanted adventure. As our Park Superintendent (and fairy friend) Renee Raney says, "Nature joyously waits for you. She wants to feel your bare feet on grass and talk to you through the buzzing bees and peeping frogs. She hopes to watch you catch (and release) a firefly, to laugh with you as you splash in a mud puddle, to blow wind through your hair, and herald you with birdsong. Through wonder and imagination, you can discover that every moment in nature is a Once Upon A Time moment." The Mountain Store will be selling special "fairy fun kits" and more! Bring your little fairies and elves to Vista Cliffside Restaurant for a child's Fairy Meal with a special enchanted dessert (served to go for picnics or dine on the cliffside deck). Plan a campout: sleep under a canopy of trees, watch for evening fairies to ride across the sky on little brown bats, and listen for starlight fairy lullabies. Primitive Campers receive 25% off their stay (June 24-27, 2021).
Now that you know how to create a beautiful fairy home, expand your fairy knowledge to furnish it. Learn how to create your own fairy furniture from natural materials to take home for secret fairy gardens. Build a table, a chair, and a tiny fairy photo frame from natural materials. Limited space. Children must be assisted by an adult (using hot glue guns). Registration is REQUIRED for this crafting activity due to limited supplies. Call 256- 412-9938 or email Mandy.Pearson@dcnr.alabama.gov to reserve a space in the class.
For more information about International Fairy Day or Fairy Tale Weekend, email Mandy.Pearson@dcnr.alabama.gov or call 256 412-9938. The programs are free with gate admission and to overnight guests. We are committed to providing programs that are educational, fun, and safe. Family units will be spaced out from other family units. We will provide hand sanitizer stations.
Date: June 27, 2021
Time: 10:00 AM-11:30 AM
Location: Interpretive Center at Lake Cheaha; Park day guest admission $5 per adult; $2 per child