Amphitheater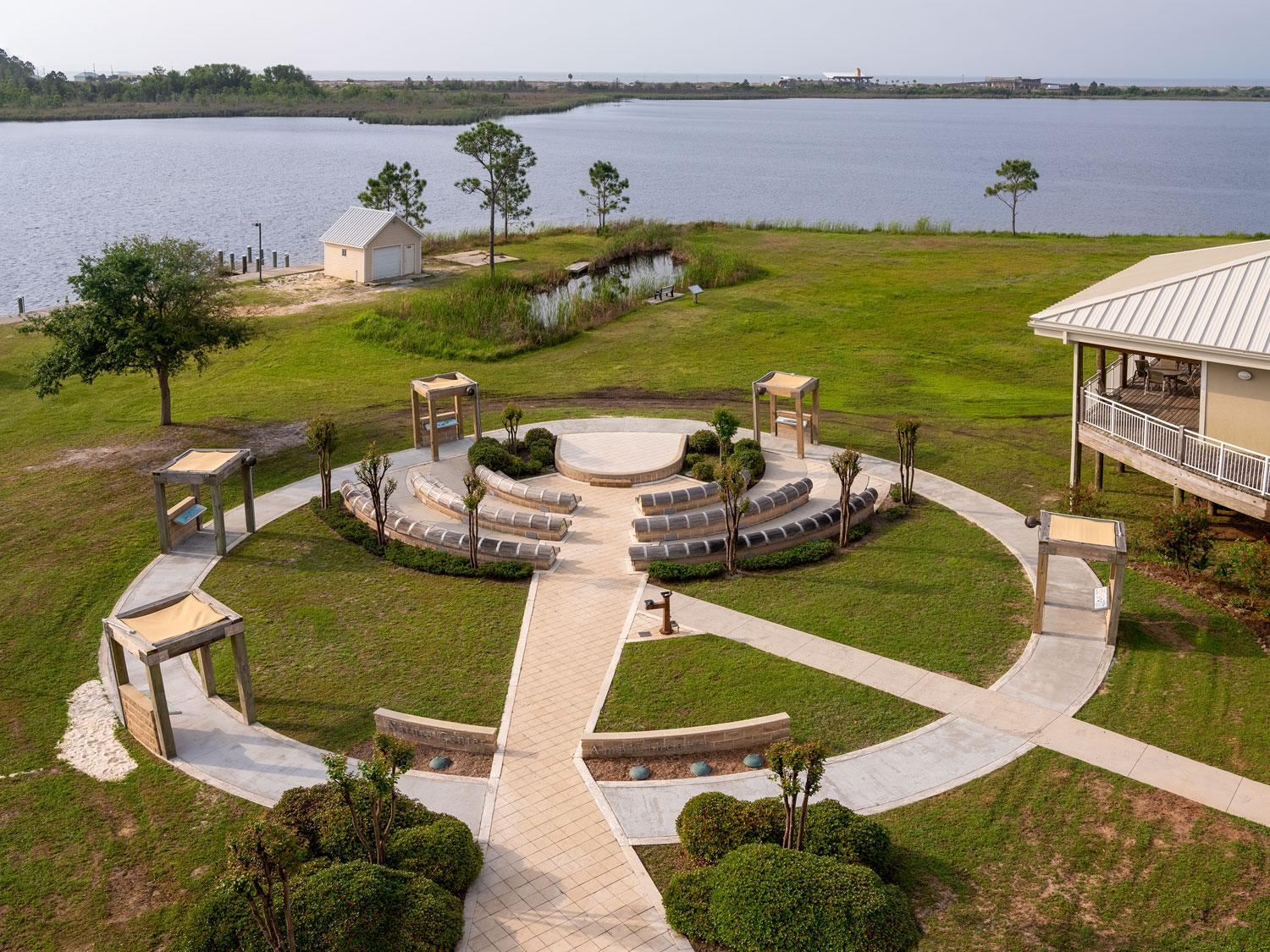 Gulf State Park Amphitheater
Looking for an outdoor event venue that's near the beach, but without all the sand? Look no further! Our Amphitheater will seat 75 people, and is located right next to our Education Building in the Campground.  This venue is the perfect location for a Sunday service or wedding ceremony. 
HOW TO RESERVE THE AMPHITHEATER
Please view the Amphitheater Reservation and Rental Guidelines.
For availability, please email gulfevents.statepark@dcnr.alabama.gov. If you would like to request a reservation, please fill out the paperwork below and return by email at gulfevents.statepark@dcnr.alabama.gov.  Please note the reservation is not confirmed until paperwork and deposit is on file. 
Contacts
Our event planner is available everyday from 8:00 AM to 4:00 PM to guide you through the rental process.
(251) 948-7275 Ext. 62101
gulfevents.statepark@dcnr.alabama.gov
If you are interested in using the Amphitheater for a wedding ceremony, please refer to the Wedding page for important planning information. 
RENTAL RATES
The rental rate for the Amphitheater is $103.00
Full payment is due when the reservation is made.
Rental time is from 8:00 AM to 10:00 PM
The Amphitheatre is not available on Thanksgiving, Christmas, New Year's Eve or New Year's Day.
 
GENERAL RULES
The Amphitheatre is an outdoor facility that is not monitored. It is the Lessee's responsibility to keep an eye on all of their supplies and decorations. Gulf State Park is not responsible for lost, damaged, or stolen items.
The facilities that surround the Amphitheatre are open to the public. In no way can you disrupt the use of these facilities or ask that they close or limit access during your event. 
You must cancel no less than 60 days prior to your reservation date for a refund. If you cancel 61 days or more prior to your reservation date, you will be refunded half the price of your rental. If the reservation is canceled 60 days or less prior to your reservation date, no refund will be granted.
 Please do not remove anything from the premises under any condition.
Rental time is from 8:00am to 10:00pm. All tear down must be complete and removed by 11:00 pm or additional fees may be incurred.
No additional tents or furniture are allowed to be set up or stored in the grass, under any buildings, or in the areas surrounding the Amphitheater.
Decorations must be free-standing. No staples, tape, glue, pins, nails, or other adhesives of any type are allowed. Decorations are limited to the Amphitheater area only.
Rental of the Amphitheatre does not include rental of the Activities Building, Education Building, or Nature Center. No part of any of these facilities should be used or decorated during the lessee's rental time.
Absolutely no alcohol is allowed at the Amphitheater.
USER RESPONSIBILITIES
The user is responsible for all set-up and tear-down.
The user is responsible for cleaning up after each function. All trash and debris will be taken to the nearest dumpster.
The area must be left in the condition it was originally found.
DAMAGE AND CLEANING
Damage to the facility or failure to leave it clean could result in the cancellation of any remaining scheduled events.
Should it be determined that you have not complied with these policies you will be assessed an additional damage/cleaning fee of no less than $50.