RV and Primitive Campground
Reservation Update:
Campers, thank you for your patience as we work to provide updates to you about existing reservations and scheduled reopening after damage from Hurricane Sally. If you have reservations scheduled to DEPART on or before November 1, your reservation will be automatically cancelled. We are working to process these refunds quickly, but please allow 7-14 business days. If you have urgent questions about your refund, please email gulfcampground.statepark@dcnr.alabama.gov, and we will respond as soon as we are able. If you have a reservation scheduled to depart after November 1, another update will be provided about your reservation by Tuesday evening (10/20). We understand the importance of reservation updates and want to make sure we provide as much information to you as soon as possible. We apologize for any delay you may have experienced and thank you for your understanding. Our utmost priority is ensuring you have a safe and enjoyable experience at Gulf State Park.
Monthly Bookings For November 2021-March 2022 Update:
Another important update is about the call date for making monthly reservations for November 2021 - March 2022. The originally scheduled call date of November 1, 2020 has been postponed until December 1, 2020. More information about the process for making next year's monthly winter reservations will follow, but please note that no monthly reservations will be made over the phone or in person on November 1 as originally scheduled. This change is to help us best serve all campers as we work to reopen the campground. Staff have been diligently working to ensure the campground can reopen as soon as possible, and we feel we can best serve you by making this change to the call date.
Camper Storage Update:
To our valued guests, if you have a camper in storage at Gulf State Park you can anticipate flooding damage. Please call 251-923-7635 for updates on when the flooding has receded so that you can assess the damage or make arrangements for the removal of your camper. Please, ONLY those guests who have a camper in storage call our campground staff seven days a week from 8 AM to 4 PM to make arrangements. All of these campers need to be removed when the water recedes.
Thank you for your understanding,
Park Management
Hurricane Sally camper storage flooding pics below......................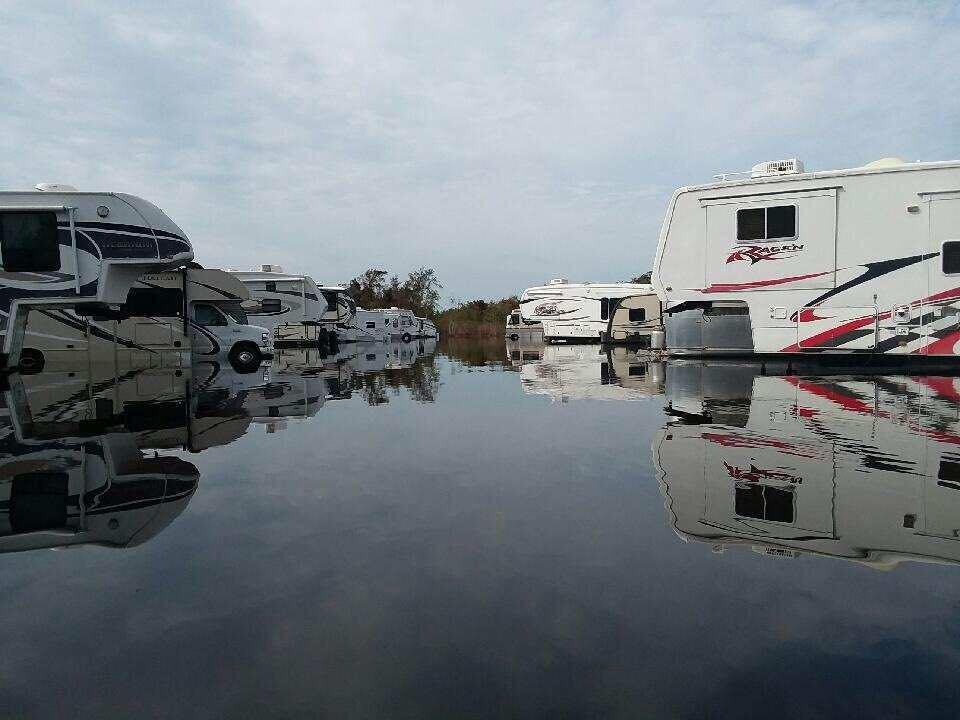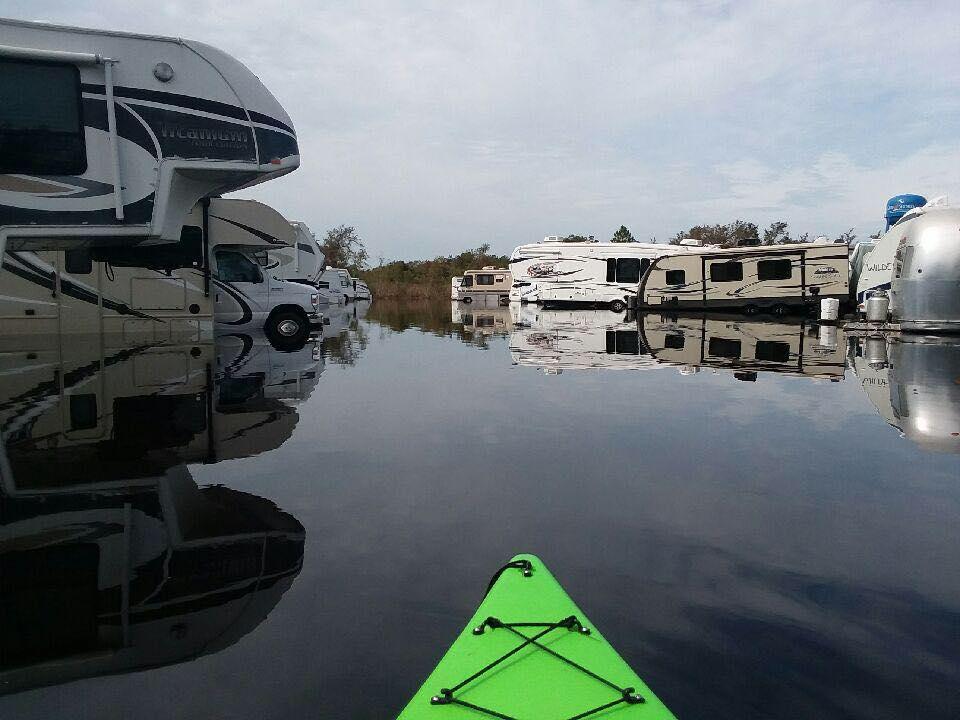 We are excited to announce that the new online camping reservation system is now live. Feel free to make your reservations by using the new online tool, calling the park office or simply walking in. We encourage advance reservations. Please keep in mind this online reservation system is new. If you experience any issues we would appreciate your feedback. Thank you for choosing the Alabama State Parks.   
New Online Camping Reservation Tool
More info about new reservation system. 
____________________________________________________________________________________
Welcome to Gulf State Park Campground
Located 1.5 miles from the white sand beaches, Gulf State Park Campground offers 496 improved full - hookup campsites with paved pads and with 11 primitive sites.  Tents are welcome on all sites.
All full hookup camping pads are large enough for RVs with pullouts and have picnic tables, pedestal grill tops (no fire rings yet but you are welcome to bring your own that are above ground). There are 11 modern, air-conditioned bathhouses throughout the Campground.
Amenities:
11 bathouses (6 of these are currently being renovated)
Laundry facilities
Access to trails that connect to all 28 miles of trails 
Nature Center with native flora and fauna displays and ongoing weekly activities
Tennis/pickle ball courts
Horseshoe courts
Volleyball courts
***ATTN: We are happy to announce that some of our bathhouses at the Campground are getting a much needed upgrade! Bathhouses 1, 2, 5, 6, 9, and 11 will be closed starting on July 1, 2020 for a complete renovation of the facilities. This will be a great improvement for our guests at the Campground!
Campground Rules and Regulations
Online Campground Reservations Here 
For faster service please try online first. The system does go down occasionally so please feel free to call us at (251) 948-7275 ext 1.
We have camper storage for $50 per month. Please email gulf.statepark@dcnr.alabama.gov for more info.
Special note:
Waverunners and jet skis are not allowed in Gulf State Park Lake Shelby for safety reasons.
Firewood: Buy it where you burn it. Leave firewood at home. Transporting firewood can bring invasive insects to our delicate forest. Please do not bring firewood with you.
Gulf State Park is home to many types of wildlife, including alligators. Please be aware at all times. For detailed information, please see our Wildlife Safety recommendations.