RV and Primitive Campground
Welcome to Gulf State Park Campground
Located 1.5 miles from the white sand beaches, Gulf State Park Campground offers 496 improved full - hookup campsites with paved pads and with 11 primitive sites.  Tents are welcome on all sites.
All full hookup camping pads are at least ~45' (most back-ins) to ~65' (most pull-thrus) long with more than enough room for RVs with pullouts, have picnic tables, and pedestal grill tops (no fire rings yet but you are welcome to bring your own that are above ground). There are 11 modern, air-conditioned bathhouses throughout the Campground.
Amenities:
11 bathhouses (2 of these are currently being renovated)
Laundry facilities
Access to trails that connect to all 28 miles of trails 
Campstore with food, firewood, camping supplies, souvenirs, bike rentals and more for sale
Nature Center with native flora and fauna displays and ongoing weekly activities
Tennis/pickle ball courts
Horseshoe courts
Volleyball courts
Campground Rules and Regulations
Make a Reservation
**PLEASE MAKE SURE WHEN YOU ARE READY TO SIT DOWN, LOOK THROUGH AVAILABILITY AND BOOK YOUR FUTURE RESERVATION THROUGH OUR ONLINE RESERVATION TOOL THAT YOU HAVE A TABLET OR LAPTOP IN YOUR HANDS OR YOU ARE SITTING AT A DESKTOP COMPUTER TO DO THIS.**
CURRENTLY, OUR MOBILE (your cell phone) VERSION IS NOT SET UP FOR YOU TO COMPLETE YOUR RESERVATION. (Besides that screen is WAAAYYY too small!)
**Visit our online reservation system to view sites, select best dates and pay at least your deposit to book reservation.**
CLICK HERE  FOR WINTER MONTHLY CAMPING REQUEST FORM - Available at 8am on 11/15/2022
For faster service please try online first which you can do 24/7. The system does go down occasionally so please feel free to call us at (251) 948-7275 ext 1 from 8:00 AM - 4:00 PM.
We are happy to announce that all of our bathhouses in the Campground have received a much needed upgrade!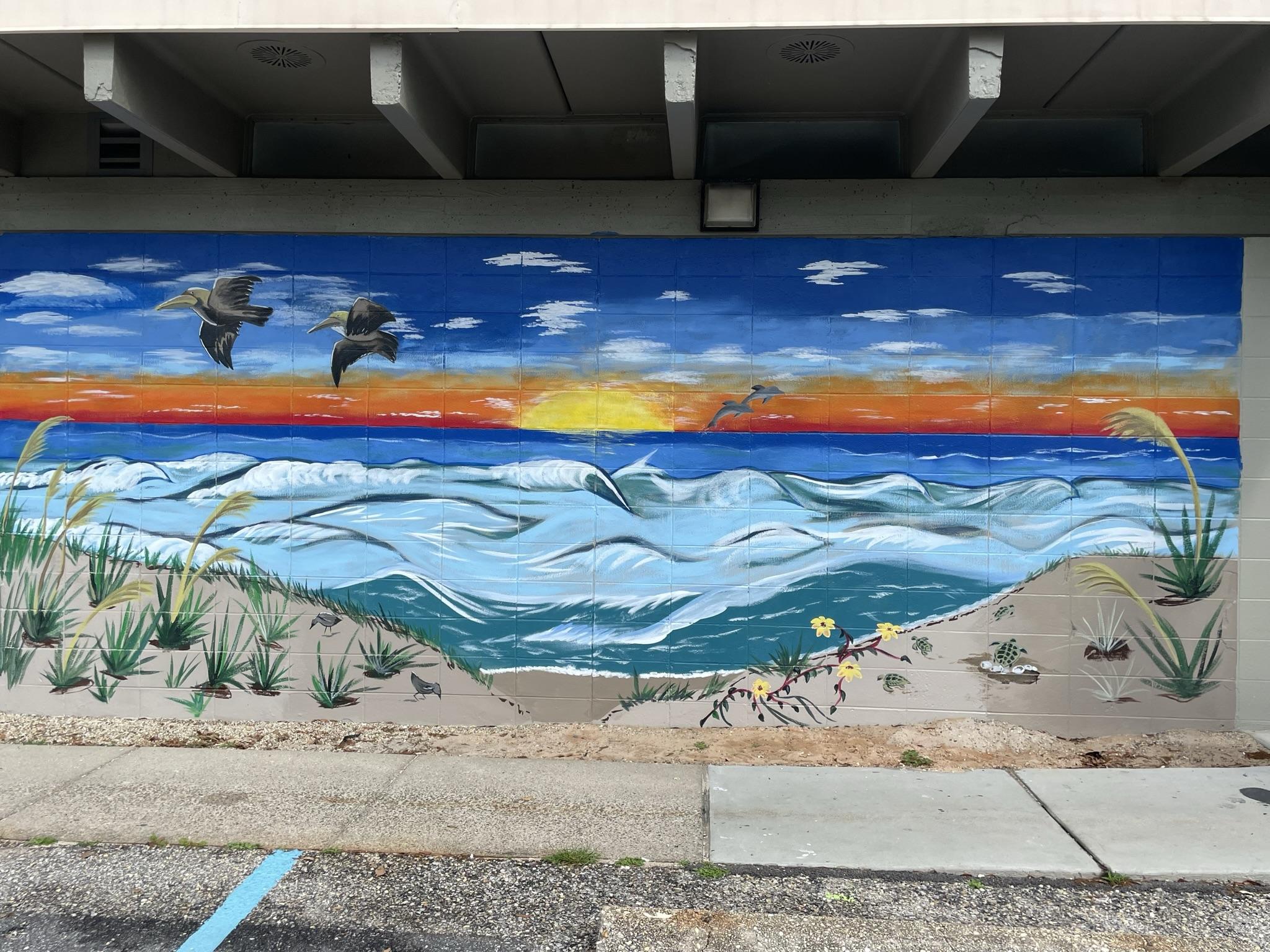 This beautiful mural was designed by Elyse Dilks and panted by the Gulf Shores High School Art Department. Elyse was a summer intern (2021) who loved teaching about reptiles and is an amazing artist. The students of Gulf Shores High School Art department brought out their artistic skills and worked together to complete this mural in just a few days! On your visit to Gulf State Park, remember to come by the mural and get a great family photo!
Special thanks to:
Elyse Dilks, Austin Boyd, Trenton Hinman, Alisha Daily, Brian Brunick, Allie Holiday, Maggie Myers, Julia Bratton, Deanna Hall, Fernanda Larenas, Stephanie Perkins, Kaleigh Davis, Ethan Sharkey, Anna Grace Fields, Aleah Ribierio, Liberty Goldman
Special note:
Waverunners and jet skis are not allowed in Gulf State Park Lake Shelby for safety reasons.
Firewood: Buy it where you burn it. Leave firewood at home. Transporting firewood can bring invasive insects to our delicate forest. Please do not bring firewood with you.
Gulf State Park is home to many types of wildlife, including alligators. Please be aware at all times. For detailed information, please see our Wildlife Safety recommendations.