Pier
Offering features such as covered seating for the concession area, indoor tackle and souvenir retail, comfort stations at the midpoint of the pier, and wheelchair accessible rail fishing, the new Gulf State Park Pier boasts features unavailable on the old pier which was destroyed in 2004 by Hurricane Ivan. At 1,540 feet, the new pier is the second longest pier on the Gulf of Mexico and has 2,448 feet of fishing space, not to mention a fish cleaning station.
 
The Pier is open 24 HRS all year round.
*Currently in effect* Pier Office and Retail Hours: Monday - Sunday: 6:00 AM - 11:00 PM
Memorial Day to Labor Day Pier Office and Retail Hours: Monday - Sunday: 24 HRS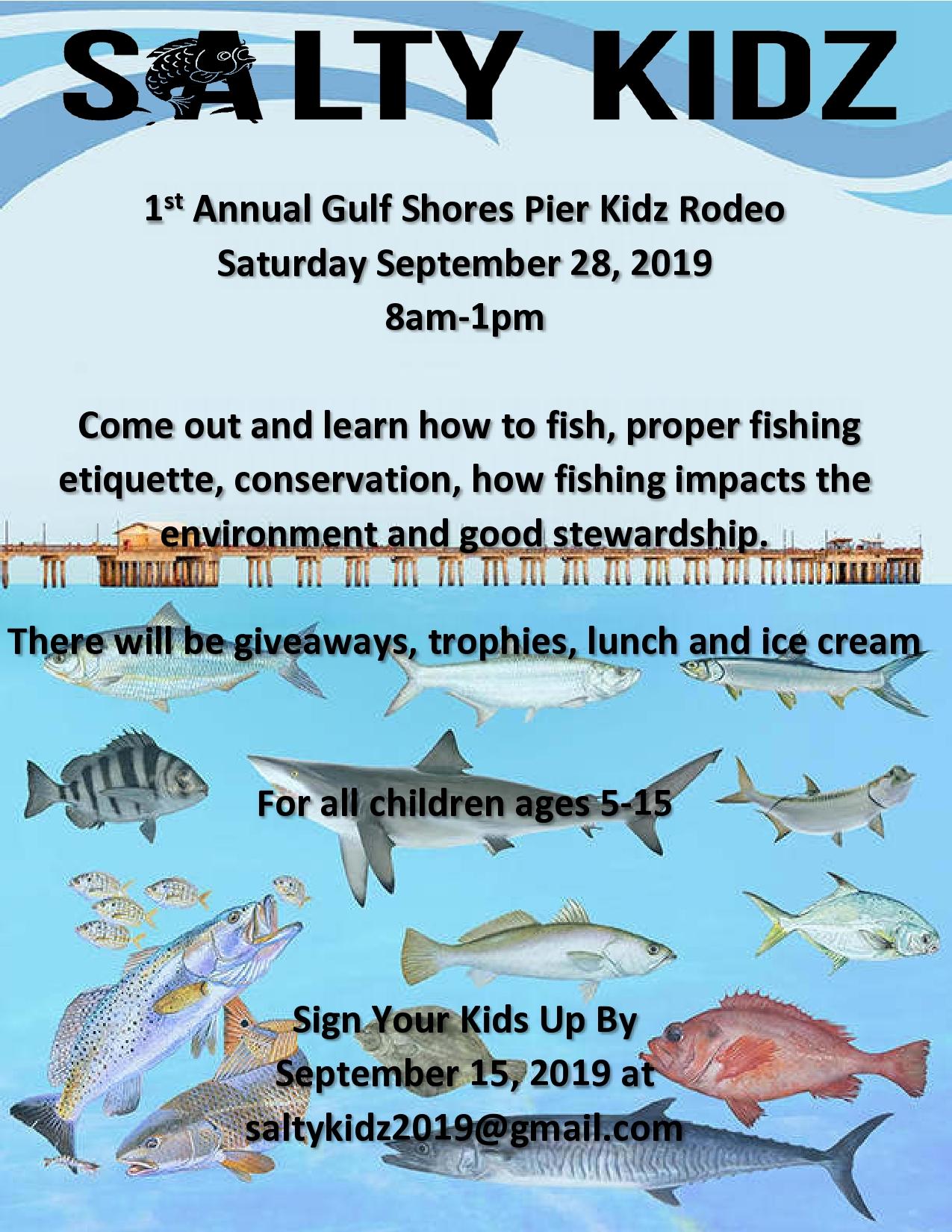 Fishing
Gulf State Park is home to some of the finest and most scenic fishing in Alabama. Whether you desire a sensational saltwater experience fishing on the pier or would rather freshwater fish from breathtaking Lake Shelby, there is something here for most fishermen who want to have a good time, enjoy the beauty of nature, and hopefully catch some dinner as well.
Pier Regulations 
The Pier does offer the opportunity to participate in Managed Shark Fishing Events.
Fees
This fee does not include an Alabama saltwater and/or pier fishing license which can be purchased online.
Fishing
Daily: $9.00      
Weekly: $41.00    
Monthly: $81.00     
Semiannual: $161.00  
Annual: $321.00  
 
Rod & Reel Rentals
4 Hours: $10.00
All Day: $20.00
 
Sightsee
All day: $3.00
One trip: $3.00
 
Children under the age 11 and under fish for free when accompanied by a paying adult.
 
Veteran's Wall
Veteran's get free sightseeing, discounted fishing permits ($6.00 daily pass), and specials throughout the year. The Veterans Sponsorship program is fund based. Contributions to the fund can be made by anyone for any amount at the Gulf State Park Fishing and Education Pier. Proceeds from Memorial Wall plaques are also contributed to the Veteran's Sponsorship program. For more information, contact the Pier Manager at (251) 967-FISH or via email.
Pier Rules & Regulation
1.    Limit 6 rods per Fisherman (additional rods $3.50 each)
2.    One fishing rod in use at a time
3.    Single line trolley fishing permitted (2 line prohibited)
4.    Bottom fishing up-wind/up current
5.    Float fishing down-wind/down-current
6.    Catch must be placed in container within 10 minutes
7.    No bait cutting on benches, tables, hand rails, or trash cans
8.    Underhand casting only of Sabiki style bait rigs
9.    No more than 5 hooks per Sabiki style rig
10.    Trash and bait must be discarded appropriately
11.    One crab ring per Fisherman (may not leave unattended, crabbing and fishing at the same time is prohibited)
12.    Keep bait and tackle off benches and trashcans
13.    Walking fish to the beach is prohibited
14.    Permit, license, and identification required
15.    Children under 16 must be accompanied by an adult
16.    Good conduct and sportsmanship required
17.    No more than 10 blue-runners/hard tails per Fisherman
18.    All coolers and containers are subject to inspection without notice by Enforcement Officers
19.    No open carry of firearms, only concealed firearms are allowed with permit
20.    Alabama Administrative Code 220-5-.13(2) – Failure to comply with reasonable conditions of occupancy and use of Alabama State Park facilities as prescribed and posted by the Department of Conservation and Natural Resources, for the protection and administration of State Park facilities and resources and the promotion of public health, welfare, safety or conveniences shall be unlawful.
If you should have any questions or concerns please address them by email to gulf.statepark@dcnr.alabama.gov or call our park Headquarters at 251-948-7275.
Pier House phone number is 251-967-3474. Dial 911 for all emergencies.