Pier
Gulf State Park Pier is now reopened!
Gulf State Park is proud to reopen the first 725 feet of the Pier for public use. 
The pier was significantly damaged during Hurricane Sally on September 16, 2020 and has remained closed while repairs were made. We are now opening approximately 725 feet of fishing space on each side of the pier. The Pier will be open to the public 24/7 with staff on site from 6:00 AM to 9:00 PM. In accordance with COVID-19 guidelines, the maximum capacity stands at 200 occupants. Considering the extended length of time anglers devote to their sport, and the fluidity of sightseers, the capacity will be monitored to allow the approximate proportion: 125 anglers and 75 sightseers.
There is covered seating for concession area and indoor retail shop with tackle and souvenirs. Signs along the pier share information on native fish, birds and other area wildlife. There are comfort stations at the midpoint of the pier and wheelchair accessible rail fishing. Fishing licenses and sightseeing permits are sold on-site.
Please the read the press release for complete details.
Photo Below: Billy Pope, ADCNR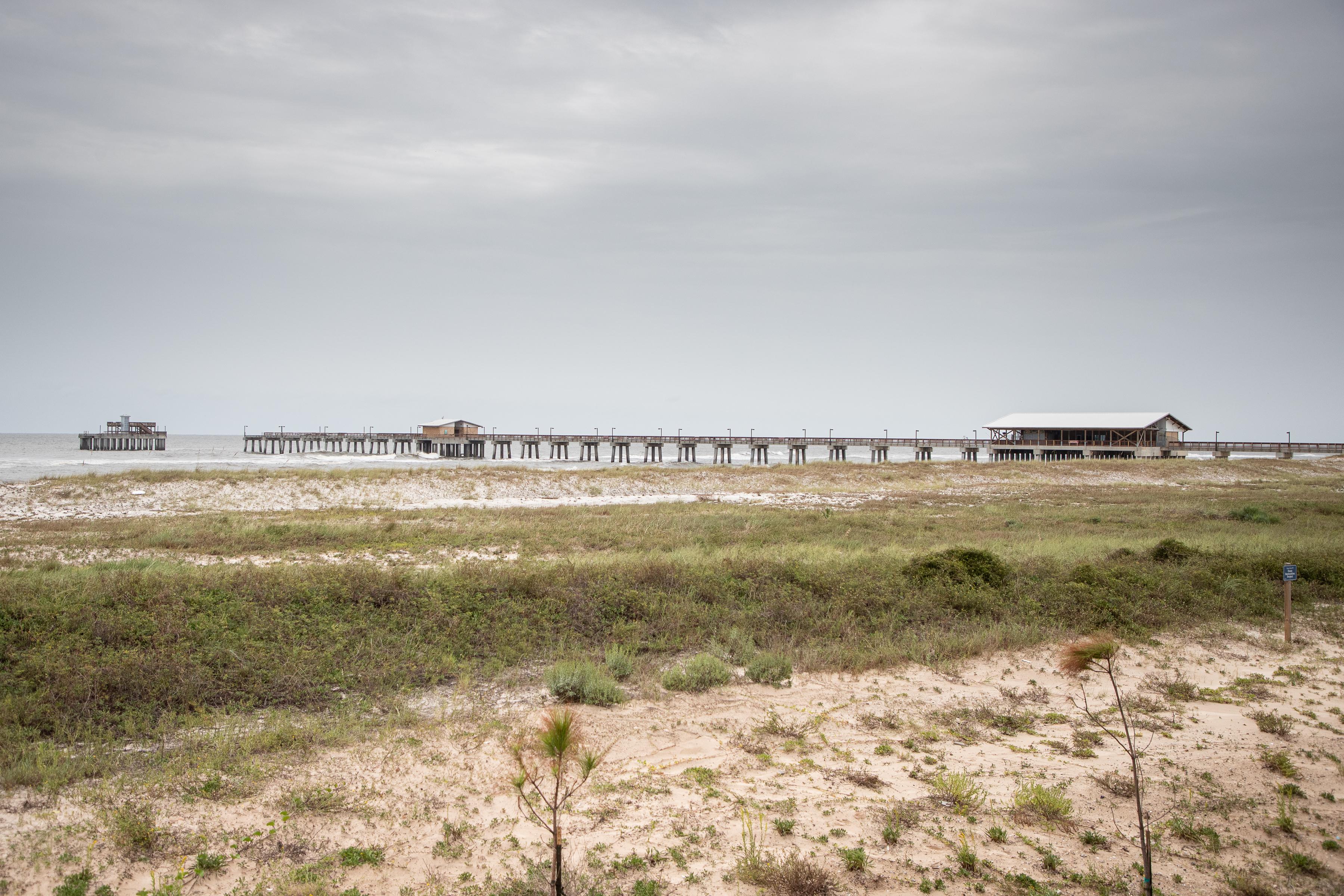 Fishing
Gulf State Park Pier offers a great fishing experience for any angler, beginner or seasoned. A variety of species can be caught from the Pier depending on the time of year: Sheepshead, Red Drum, Spanish Mackerel, Flounder, Florida Pompano, Cobia, King Mackerel, and more!
Please refer to Creel and Size Limits that apply to saltwater fishing.
Fees
This fee does not include an Alabama saltwater and/or pier fishing license which can be purchased online. There is a courtesy computer located in the Bait & Tackle shop that you are able to use to purchase a license online. 
Fishing
Daily: $9.00      
Weekly: $41.00    
Monthly: $81.00     
Semiannual: $161.00  
Annual: $321.00  
 
Rod & Reel Rentals
4 Hours: $10.00
All Day: $20.00
 
Sightsee
All day: $3.00
One trip: $3.00
 
Children under the age 11 and under fish for free when accompanied by a paying adult.
Bait and Tackle Shop
Current Hours: Monday - Sunday: 6:00 AM to 7:00 PM
Our shop offers a wide range of supplies that you may need for a successful fishing trip. We have frozen bait stocked, tackle gear in assorted materials and sizes, ice for coolers, souvenirs, and more! You can also access the courtesy computer here in order to purchase a fishing license online.
 
Veteran's Wall
Veteran's get free sightseeing, discounted fishing permits ($6.00 daily pass), and specials throughout the year. The Veterans Sponsorship program is fund based. Contributions to the fund can be made by anyone for any amount at the Gulf State Park Fishing and Education Pier. Proceeds from Memorial Wall plaques are also contributed to the Veteran's Sponsorship program. For more information, contact the Pier Manager at (251) 967-FISH or via email.
Pier Rules & Regulation
1.    Limit 6 rods per Fisherman (additional rods $3.50 each)
2.    One fishing rod in use at a time
3.    Single line trolley fishing permitted (2 line prohibited)
4.    Bottom fishing up-wind/up current
5.    Float fishing down-wind/down-current
6.    Catch must be placed in container within 10 minutes
7.    No bait cutting on benches, tables, hand rails, or trash cans
8.    Underhand casting only of Sabiki style bait rigs
9.    No more than 5 hooks per Sabiki style rig
10.    Trash and bait must be discarded appropriately
11.    One crab ring per Fisherman (may not leave unattended, crabbing and fishing at the same time is prohibited)
12.    Keep bait and tackle off benches and trashcans
13.    Walking fish to the beach is prohibited
14.    Permit, license, and identification required
15.    Children under 16 must be accompanied by an adult
16.    Good conduct and sportsmanship required
17.    No more than 10 blue-runners/hard tails per Fisherman
18.    All coolers and containers are subject to inspection without notice by Enforcement Officers
19.    No open carry of firearms, only concealed firearms are allowed with permit
20.    Alabama Administrative Code 220-5-.13(2) – Failure to comply with reasonable conditions of occupancy and use of Alabama State Park facilities as prescribed and posted by the Department of Conservation and Natural Resources, for the protection and administration of State Park facilities and resources and the promotion of public health, welfare, safety or conveniences shall be unlawful.
If you should have any questions or concerns please address them by email to gulf.statepark@dcnr.alabama.gov or call our park Headquarters at 251-948-7275.
Pier House phone number is 251-967-3474. Dial 911 for all emergencies.
Gulf State Park is home to many types of wildlife, including alligators. Please be aware at all times. For detailed information, please see our Wildlife Safety recommendations.