Shark Week
Shark Week at Gulf State Park: Fun for the Entire Family!
The annual Shark Week event will be hosted at Gulf State Park Pier from Monday, July 10th to Friday, July 14th, 2023. Each day, festivities will be from 10:00 AM to 2:00 PM.
Throughout the week, patrons can participate in a variety of events related to the iconic shark species in the Gulf of Mexico. Activities will include arts and crafts, a scavenger hunt, educational programs, a stingray touch tank and more! All the events this week will offer patrons a chance to dive deep into the incredible world of sharks!
Gulf State Park is excited to partner with regional organizations for Shark Week. Each day, Marine Resources Division of AL DCNR will have a touch tank filled with various ray species native to the Gulf of Mexico. Additionally, researchers from the Mississippi State University Marine Fisheries Ecology will be visiting hosting a variety of  AMAZING programs.
The admission fee for Shark Week is $3 per person. Parking is $3 for two hours and $5 for four hours. This purchase will also allow patrons to sightsee along the Pier.
Check out the schedule of programs hosted by MSU Marine Fisheries Ecology: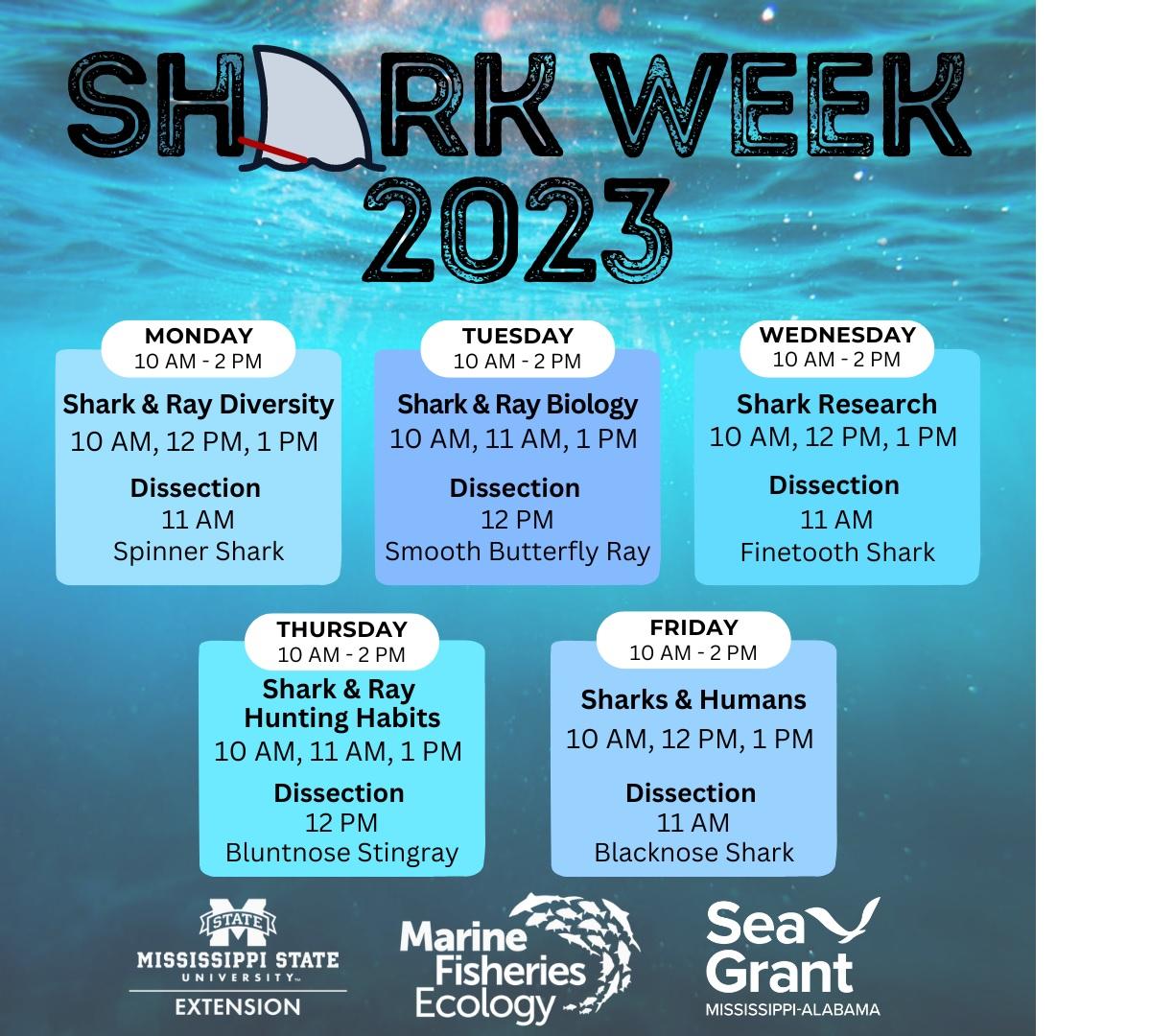 For more information on the daily programs offered by MSU, read the program descriptions below:
 Monday: Shark & Ray Diversity
Description of theme: During each of these sessions, you will view shark and ray species profiles along with real, preserved specimens and jaws to learn tips and tricks for differentiating the dozens of shark and ray species that inhabit the Gulf of Mexico. After that, don't miss a chance to check out our specimen and jaw collections hands-on and take photos with your favorites!
Tuesday: Shark & Ray Biology
Description of theme: During each of these sessions, we will discuss some unique biological features of sharks and rays, including skin and senses, internal organs, and reproduction. If this session captures your interest, consider attending our daily dissections at 11 AM on Wednesday and Friday and 12 PM today and on Thursday for an up-close perspective on shark and ray anatomy and physiology!
Wednesday: Shark Research
Description of theme: During each of these sessions, you will see what it's like to work offshore on our scientific "bottom longline" survey! We will also share some of our interesting research methods and results related to shark movement and migration as well as shark age and growth. Finally, we will round out the session with a special feature on deep water sharks.
Thursday: Shark & Ray Hunting Habits
Description of theme: During each of these sessions, you will learn what various sharks and rays eat, as well as the many ways their bodies (including their teeth) are adapted to help them catch and consume their favorite prey. We will also reveal some surprising discoveries about the diet of tiger sharks from our own research here in the Gulf of Mexico!
Friday: Sharks & Humans
Description of theme: During each of these sessions, we will discuss the complicated history between sharks and humans. You will learn about past events that prompted a widespread fear of sharks, the pioneering shark scientists whose work defined the field of shark research, and the eventual rise of shark conservation that will lead to a better future for these important apex predators. Finally, we will share ways to protect the oceans that sharks call home.