Miller's Bend Paddle Shack
Event Dates:
October 16, 2021, 10:00 am
October 17, 2021, 6:00 pm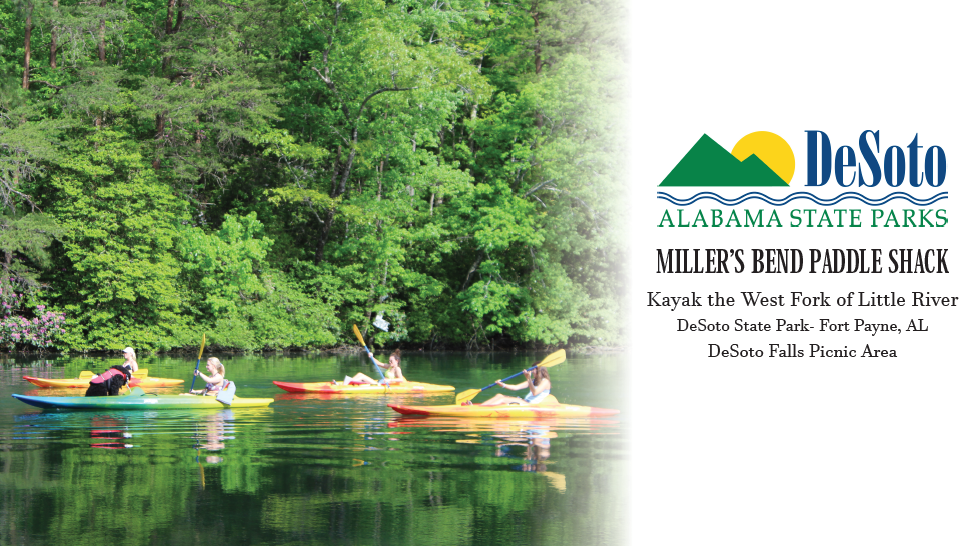 Miller's Bend Paddle Shack- (October 16-17)
Miller's Bend Paddle Shack in DeSoto Falls Picnic Area will be open this weekend, to help you begin your scenic kayak trip up the West Fork of Little River.
Rent sit-on-top kayaks to enjoy a peaceful flatwater paddle on Little River overlooking beautiful DeSoto Falls. Your adventure can be up to 4 miles round trip, or as long as you want to make it!
Paddle trips are perfect for individuals or groups. Life vests & paddles are provided.
Boat Shack Hours: Saturday & Sunday 10:00-6:00 pm (CST).
Kayaks are also available by reservation Monday-Thursday: Appointment only during the times of 10 AM-6 PM, $50 Minimum
Location: DeSoto State Park-Fort Payne, Alabama. DeSoto Falls Picnic Area, 7 miles from the main park area of DeSoto State Park. Coordinates: 34.549124, -85.589668.
Fee: Single sit-on-top kayak: $15.00 per hour. Tandem sit-on-top kayak: $25.00 per hour. Corcl's: $10 per hour.
Call DeSoto State Park's Lodge for info-256.845.5380 www.alapark.com/kayak-little-river