About Gulf State Park
Ahead of Labor Day weekend, the State Parks Division of the Alabama Department of Conservation and Natural Resources (ADCNR) has announced additional fire precautions for five State Parks in the southern portion of the state. Visitors and overnight guests at Gulf, Meaher, Bladon Springs, Roland Cooper and Frank Jackson state parks are being asked to take extra precautions with campfires and barbecue grills during the current dry conditions.  
"As park guests plan for the upcoming Labor Day holiday, we ask that they keep the recent hot and dry conditions in mind when it comes to campfires and grilling," said Greg Lein, Director of ADCNR's State Parks Division. "Those conditions have increased the risk for wildfires at state parks in south Alabama. We encourage park visitors and overnight guests to be very cautious with campfires and grills during this period until we get some much-needed rain and the temperatures moderate."  
The additional fire precautions at Gulf include the following:  
No campfires outside of designated day-use picnic areas, campgrounds or developed recreational areas.  
Barbecue grills and gas-fueled stoves are permitted only in designated day-use picnic areas, campgrounds or developed recreational areas.  
Do not use barbecue grills or gas stoves in areas that can scorch, burn or damage lawns or picnic tables.   
Place barbecue grills a minimum of 15 feet away from any flammable material such as grass, weeds, wood chips, brush or park facilities.  
Do not leave a campfire or grill unattended.  
Completely extinguish all burning fuel such as wood or charcoal before disposing of it in an existing fireplace, fire pit or barbecue grill.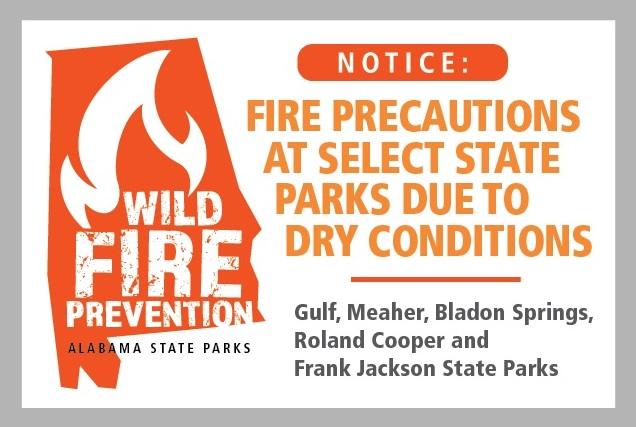 Recreation
There is something for everyone inside Gulf State Park. The beach pavilion provides picnic tables as an escape from the beach, the nature center is a great place for the kids to learn, the swimming pool provides refreshment for our guests and the Lake Shelby day use area offers kayaking and canoeing. For a change of pace while visiting check out the fishing and education pier, miles of biking on the Backcountry trail, beautiful flowers in the butterfly garden, and additional education at the  learning campus, interpretive center in the near future.
Gulf State Park has a multitude of activities to participate in that includes: Hiking. biking, fishing, exploring, geocaching, paddling just to name of few. We even provide beach vendors for things like parasailing and kayaking. 
Use the ADCNR Interactive Map to learn more about the Alabama State Parks.
Use this park map to help you make your plans. 
Accommodations
Book Online Campground Reservations Here. 
Book Online Eagle Cottage Reservations Here.
Book Online Cabin Reservations Here.
Book Online Lodge Reservations Here. 
Reconstruction of The Lodge at Gulf State Park, a Hilton Hotel, is complete, and new hostel-style accommodations are available nearby as well. The Lakeside Cabins and Eagle Cottages are also available for overnight stays. Longleaf pines and the local palmetto forest surround our four "woods cabins". Remaining "lakeside cabins" along Lake Shelby offer swimming, fishing, and sunrise walks right outside your front door. And with recent trail enhancements, waking up to jog or bike ride is easier than ever.
The park's 20 cabins provide guests with beautiful views of Lake Shelby or the beautiful longleaf pines and the palmetto forest of coastal Alabama.
Guests choose to stay at Eagle Cottages because of all the fishing, swimming, boating, and other activities found along the shores of Lake Shelby. This 900-acre freshwater lake is one of the closest to saltwater along the Gulf of Mexico.
From canvas tents to full hook-up RV sites, camping comes naturally to our guests. We offer a 496-site improved campground including 11 modern bathhouses, pull-thru sites, back-in sites, waterfront campsites, and ADA accessible sites. Our paved camping pads fit large RV's and provide full hookups with water, sewer, electricity, a picnic table, and pedestal grill. The park even has 3 new "glamping" sites and 11 primitive camping sites that include stone campfire rings, grill tops, and picnic tables nestled among the trees and along the creek.
AREA ATTRACTIONS
The park's close proximity to Gulf Shores, Orange Beach, Foley, Fairhope and Mobile, provides Gulf State Park with several retail and restaurant options to choose from. The Five Rivers Delta Resource Center, Weeks Bay Reserve, The USS Alabama and Meaher State Park are all within driving distance.